You may have heard of humans getting anemia, but did you know cats can become anemic, too? Anemia happens when an animal has fewer red blood cells than they should. In cats, this can be a symptom of several conditions, which must be diagnosed and treated by a veterinarian. Read on to learn more about anemia, its causes and symptoms, treatment options, and more.
What is anemia?
Anemia occurs when there is not enough hemoglobin, or healthy red blood cells, in the bloodstream. Hemoglobin's main job is to carry oxygen throughout the body. Without enough of it, your cat's cells cannot get the oxygen they need to remain functional. Anemia is often a symptom of a more serious medical condition.
Two types of anemia affect cats: regenerative and nonregenerative. With regenerative anemia, their body is making more red blood cells. Nonregenerative anemia happens when the body is not making more red blood cells. To diagnose this condition, the vet will collect a blood sample from your cat to perform a complete blood count. The test will let them determine which type of anemia your kitty has. From there, the vet can recommend other tests to determine the cause of the condition.
Symptoms of anemia can include pale gums, weakness, fatigue, increased heart rate, increased breathing rate, lower appetite, and higher water intake. The severity of your cat's symptoms depends on how quickly his red blood cell count has dropped. If your cat is experiencing any of these symptoms, ask your vet to evaluate him as soon as possible.
What causes anemia in cats?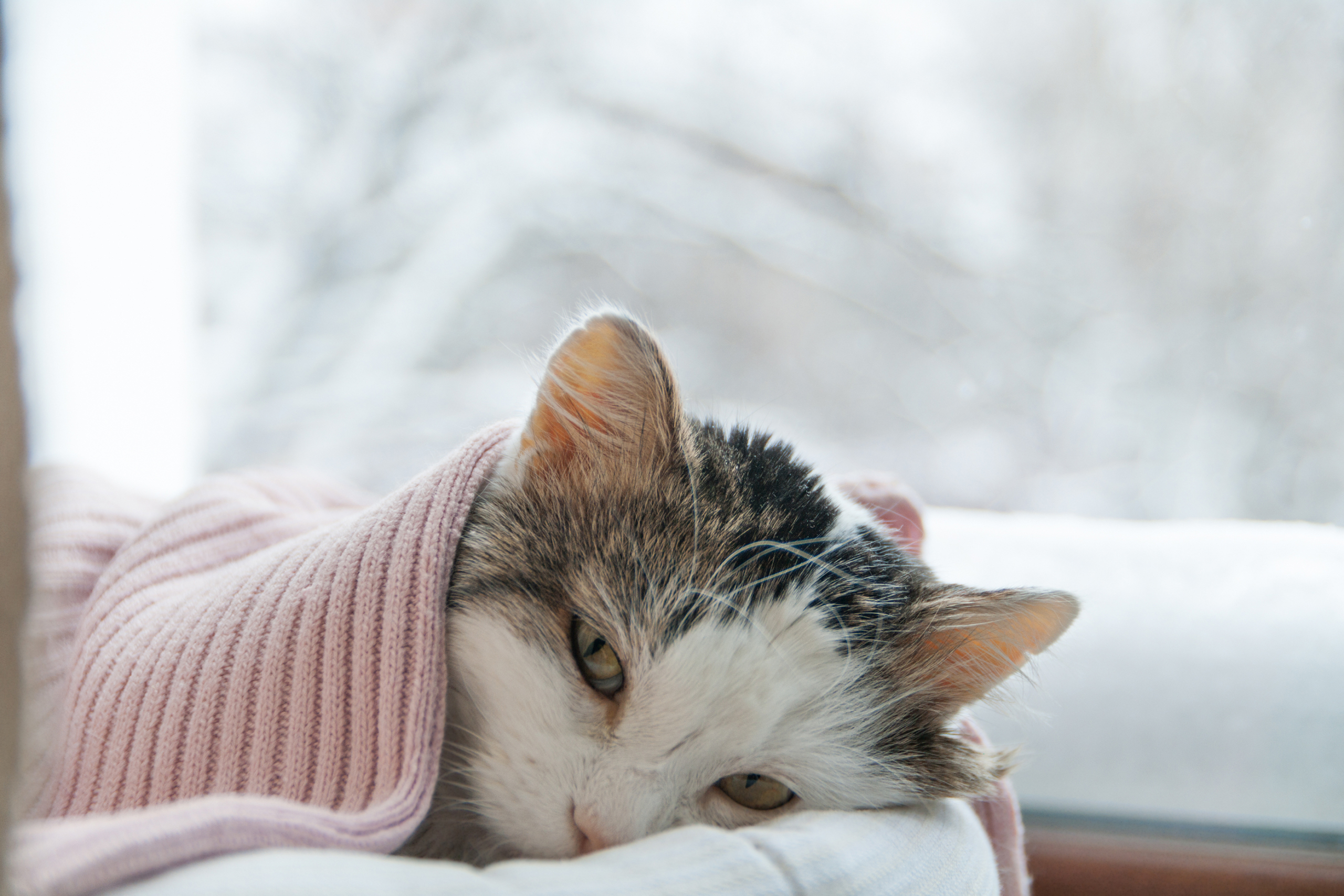 Because anemia is a symptom and not an illness itself, it can result from a number of conditions. Regenerative and nonregenerative anemia have distinctive causes. Regenerative anemia may be caused by blood loss from an injury, parasite, stomach ulcer, or a tumor. Ingesting a toxin, like medication, toxic plants, certain foods, or heavy metals, can also lead to this type of anemia. Another cause is hemolysis, a condition that provokes the body to destroy red blood cells because they appear abnormal. An infection could also cause your cat's anemia. Watch out for bacteria like Haemobartonella and viruses like feline leukemia virus and feline immunodeficiency virus. Sometimes, regenerative anemia occurs because of an inherited genetic disease.
Nonregenerative anemia has entirely different causes. Chronic diseases of the liver, thyroid, or adrenal glands and cancers can cause inflammation, leading to anemia. If your cat has kidney disease or blood marrow disorders, he may also experience nonregenerative anemia as a symptom. Sometimes, this condition can result from a poor diet. When a cat does not receive all the nutrients they need to stay healthy, they can develop anemia; this is not common for most housecats.
Treatment options
After your vet runs the proper tests, they will create a treatment plan for your cat. The remedy largely depends on the underlying reason for your cat's anemia. They may prescribe a combination of medications and dietary changes to help your cat regain his health. For example, if a parasite caused the anemia, they may prescribe a dewormer. If your cat has kidney disease, he may be put on a long-term hormone treatment to help his kidneys produce red blood cells or be given a cat food designed for animals with kidney impairment. In severe cases, your vet may give your cat a blood transfusion. To learn how to treat anemia in cats naturally, make sure your pet's current food is meeting his nutritional needs. Ask your vet for dietary advice during your next appointment.
Proper feeding and hydration for anemic cats
A balanced diet is essential to curing your cat's anemia and preventing it from returning. Follow your vet's dietary advice to learn how to get an anemic cat to eat and what to feed them to facilitate their healing. Your vet may prescribe an iron supplement or a special food to help your cat recover. The vet may also give you a list of foods your cat should avoid.
Getting a sick cat to eat can be a challenge. To encourage your cat to eat, leave his new food out all the time so he can eat when he pleases. If permitted, you can also try to make his meal more appetizing by adding a small amount of chicken, tuna, shrimp, or liver. The smell of these fresh meats should draw your cat to his food bowl and encourage him to eat.
Prognosis
Much like the treatment options, the prognosis for cats with anemia depends on the underlying reason for their condition and their overall health. For most cats who get diagnosed early and are otherwise healthy, chances are high that they will fully recover. In severe cases, however, anemia can be fatal. If a cat has cancer or an autoimmune disease, has ingested a serious toxin, or has suffered a traumatic injury, the prognosis is less favorable.
Regenerative and nonregenerative anemia are both severe conditions. If your cat suffers from any of the symptoms listed above, get him to the vet right away. Anemia can be deadly; the sooner you get him checked out, the sooner he can get the help he needs to recover.
Editors' Recommendations