Litter boxes are unsightly and smelly, especially if you live in an apartment and really have to keep the box in a central living area. But thanks to some creative cat people, you have more ways to hide litter boxes than ever before. From special furniture to creative DIY ideas, you can set up your cat's litter box so that it's out of sight, even if it's in your living room. By enclosing or concealing the box, you can help minimize odors and can even keep litter contained so your cat doesn't easily track it all over your home. These six ingenious ways to hide litter box odors and sights are creative and effective, and one of them might be right for your home.
Hang drapes
One of the easiest ways to create a hidden litter box is to add drapes to a piece of furniture, an open closet doorway, or the end of a hallway. You can use pressure-mounted curtain rods and curtains or drapes of your choosing to create a private, concealed area for your cat's box. When introducing your cat to the area, leave the drapes open for a few weeks, then gradually draw them closed so your cat realizes he can still easily walk through them and access the box.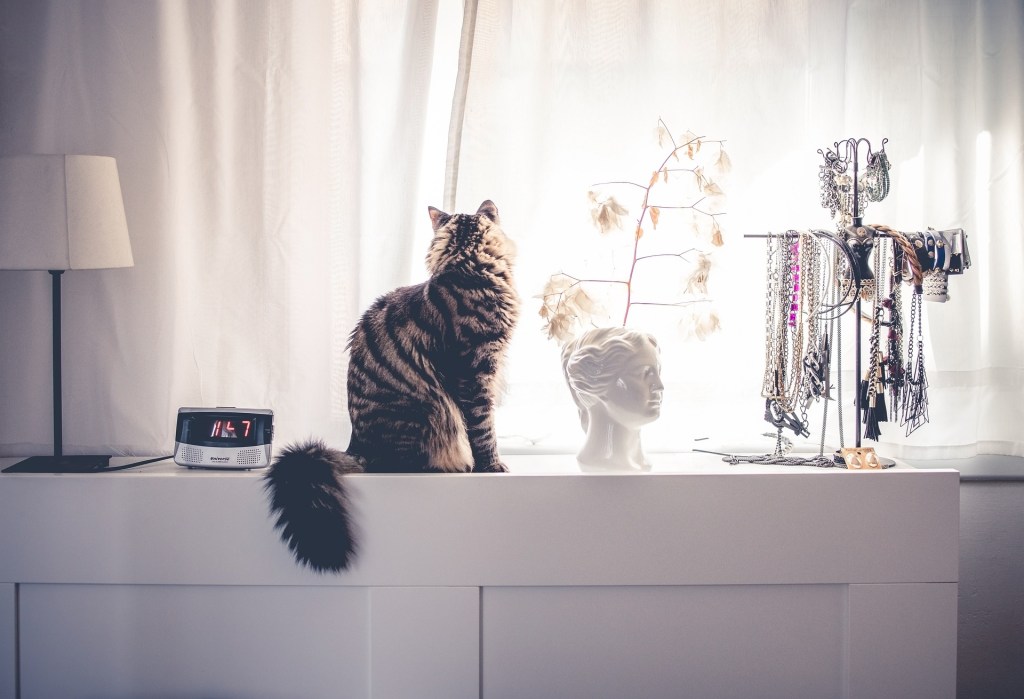 Put it in a piece of furniture
You can create a completely enclosed area for a litter box using a piece of existing furniture. Cat owners have successfully converted storage chests, shelving units, benches, and other pieces of furniture into litter box holders by adding a door or a panel. The furniture looks natural in your room, but the enclosed design helps mask litter box odor while also keeping litter contained. Be sure that you create an opening that's wide enough and positioned low enough for your cat to easily navigate.
Use an existing cabinet
An existing cabinet in your laundry room can be easily converted to hold your cat's litter box. You can add a panel and doorway onto the front of the cabinet or hang drapes or curtains across the opening. If your laundry room has a door on it, find a way to secure the door so that it's always partially open for your cat.
Alternatively, you can install a cat door right into the laundry room door. This design can be ideal if you have other pets, like dogs, whom you don't want to get into the litter box.
Build a custom box
If you don't have a piece of furniture that's quite right for the box, consider building an enclosure yourself. You can create a box enclosure to the exact measurements that you need, and by custom-building the enclosure, you can also choose a style and color that work well with your home's decor.
Buy a premade solution
If you're not feeling the DIY route, you can find countless premade options available online. Litter box furniture comes in nearly every size and style, so you're sure to find something that looks just right in your home.
When choosing a premade solution, double-check all the measurements, including the size and position of the cat door. Make sure that those measurements won't just work with your cat's litter box, but that they'll also work within the space available in the room. Think about how the enclosure opens and make sure it will be easy to access wherever you plan to place it in your home. You may also want to see how complicated the assembly is so you can ensure you have the right tools.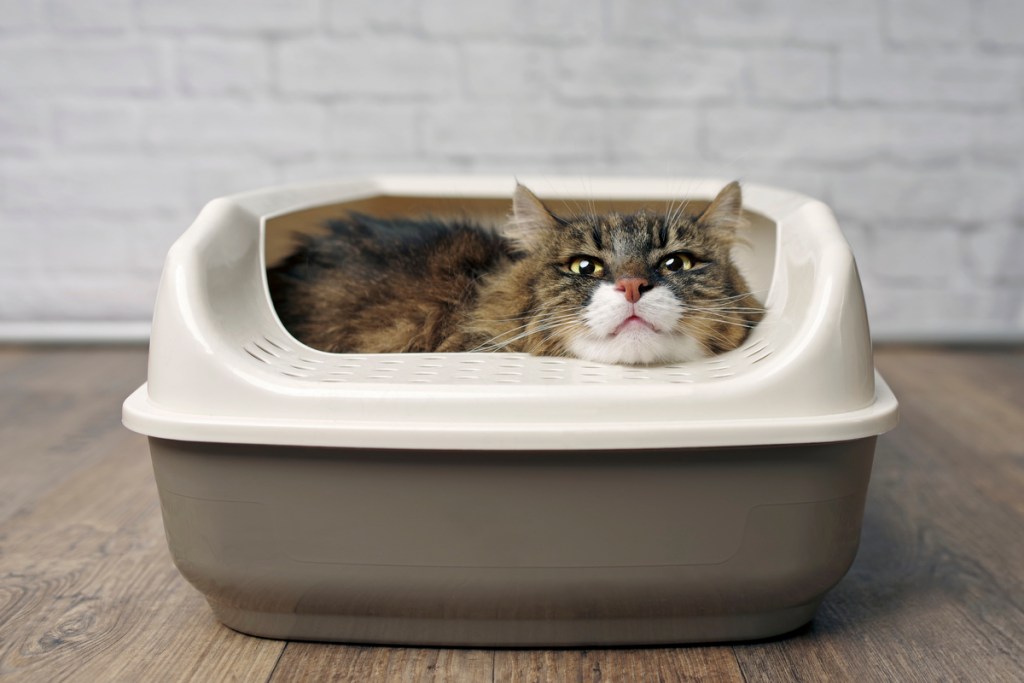 Tuck it into a quiet room
You don't always have to construct an enclosure for a litter box to keep it out of the way. You can place the litter box in a quiet room with minimal traffic, like a bathroom or even a guest room that's rarely used. In fact, some cats may prefer this. Cats with arthritis or pain that limits their mobility may find it difficult to get into an enclosure to access their box. Some cats may just not be comfortable getting into a dark space, and they may not be pleased if you try to hide their litter box.
When you make changes to your cat's litter box, including enclosing it or moving it, you'll need to make those changes gradually. Many cats are highly particular about their litter boxes, and a sudden change may cause them to boycott the box. If you're moving the box into a new room, move it just a few feet, then leave it for a few days before you move it again. If you'll be enclosing it, place it into the enclosure but leave the door open. You may need to do this for a few days or even a few weeks as your cat gets used to his new setup and learns that he can still access his box.
Editors' Recommendations