With their superior sniffers, oh-so-wrinkled bloodhounds can be quite fond of their treats. You can hand out just any old bloodhound treats, but not everything will motivate your dog in the same way. And since this breed is often trained for their skilled nose, the snack you use as a reward can change everything.
Even dogs at risk of obesity, allergies, or other dietary restrictions can enjoy a good treat, especially in moderation. Still, always consult your vet if you're unsure whether adding a new snack will benefit your pet's diet. Check out some of the best treats for bloodhounds.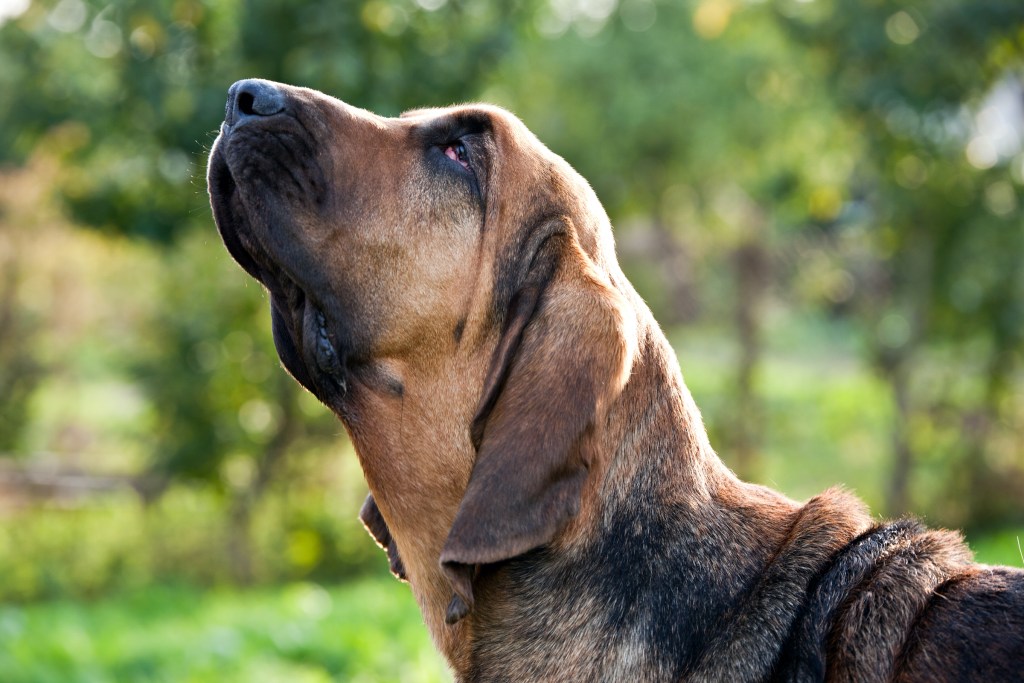 Comes in four sizes
Rawhide-free
Helps maintain healthy teeth
Your hound will go bonkers for these bonelike chews, and you'll love that it keeps him occupied for a while. Even though SmartBones look exactly like their rawhide cousins, they're made totally of meat, sweet potato, and veggies — a well-balanced treat! They're also fortified with vitamins and minerals, so you'll know your pup isn't getting any empty calories.
The chewy texture of these treats helps your pup clean his teeth without the safety risks of rawhide. This makes them much easier to digest than regular bones, as well. With four convenient sizes, you can find the perfect snack for your bloodhound — whatever his size.
Low in calories
Made with real chicken
No artificial colors, flavorings, or preservatives
Because bloodhounds are at high risk of obesity, it's not a bad idea to invest in a low-calorie treat for training and other snacks. Especially if your dog is a skilled beggar (and who wouldn't be with those big ol' droopy eyes?), the effects of frequent snacks will surely add up.
These diet-friendly treats are made with real ingredients, including chicken, to help your dog build lean muscle and preserve energy. They're naturally packed with vitamins and minerals, so you can rest assured there are no artificial colors, flavorings, or preservatives here. Even though they're so nutritious, they're delicious, too!
Texture is good for small and older dogs
Low in fat and calories
Works well as a reward when training your dog
These tiny treats are perfect for training your bloodhound, whether they're 10 months or 10 years old. The soft texture of Cloud Star Tricky Trainers Treats makes them easy to chew for puppies and seniors alike, while their softness won't ever dry out or crumble into pieces.
Despite their size, these little treats are no trick. The enticing liver flavor will be a great reward for bloodhounds who are training their noses, though the size won't spoil your pup's dinner. You also won't find filler ingredients like wheat, corn, soy, or rice. Chicken liver is the first ingredient!
Grain-free
Made with real chicken
Size of the treat is customizable
The stick treats from WholeHearted let you choose your own serving size, so they can last however long you need them to. With their long, slender shape, just snap them in half — or into whatever sizes you like — for the perfect treat every time. They come in at about 26 calories per whole treat, so you won't have to feel guilty about giving your bloodhound any amount of these delicious snacks.
WholeHearted's stick treats are grain-free, which may help reduce dietary allergy symptoms. However, you should always consult your vet when it comes to switching your pup's food.
Helps maintain healthy teeth
Gluten-free
Non-GMO
These alligator-shaped treats are meant for large dogs, so your bloodhound will have something to munch on for a minute. He'll love the fun texture and easily digestible ingredients (because no one likes tummy trouble), and you'll feel satisfied knowing your pup's teeth are being cleaned as he enjoys his bone.
WHIMZEES dental treats are all of what you want and none of what you don't; they don't contain any GMOs, meat, gluten, or artificial ingredients. Score!
You really can't go wrong with any of the treats on this list, though your bloodhound may prefer certain tastes (and scents) over others. Don't be afraid to give a few a try before settling on a regular snack — you've got to make sure your dog has truly found his favorite, right?
Editors' Recommendations