When it comes to our pups, we're always looking for the best — whether in grooming products, food and treats, or even the beds they sleep in. Many pet parents even like to pour an extra dose of TLC into their dog's products by making them themselves, so that's why we're here to show you how to make a dog bed for your own four-legged buddy.
DIY dog bed projects can be a fun, productive way to bond with your pup while perfecting your crafting skills. Want to know the best part? These projects can all be done in just one day, though choosing a bed that utilizes some of your greatest skills, whether it be sewing, measurements, or even design, will make the time go by even quicker. Who knows — maybe your next adorable home addition is waiting for you somewhere in this list!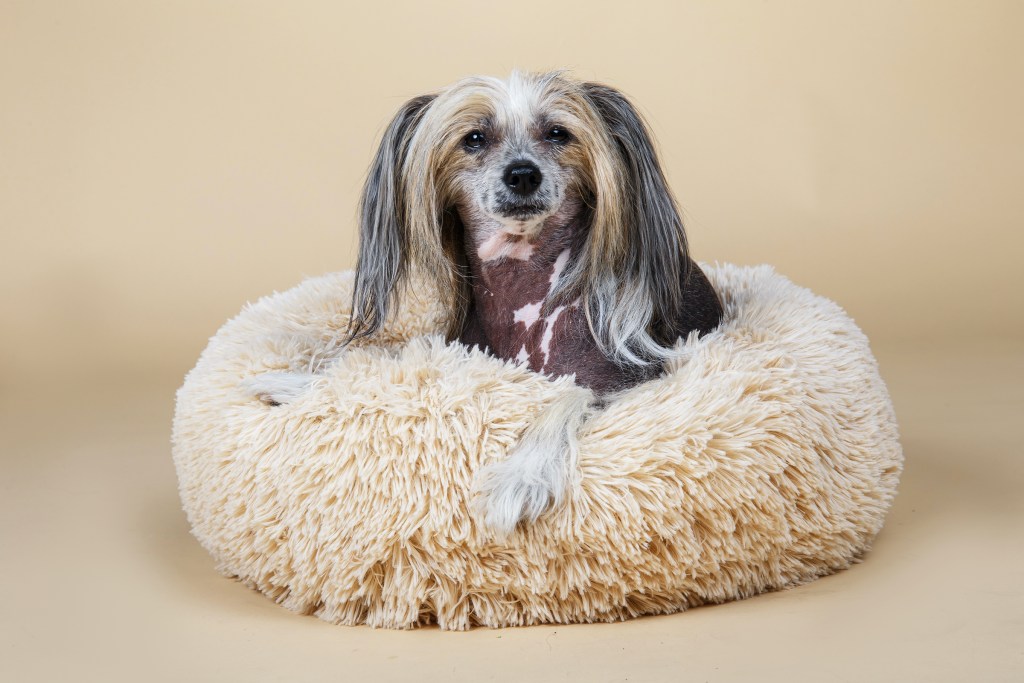 Fleece no-sew dog bed
You may have made a "no-sew" blanket as a child, but this project takes that idea to the next level. With just two large pieces of fleece, scissors, and your favorite comfy filler for your pup to lounge on (polyfill, memory foam, etc.), you'll have everything you need to get started.
When finding your fleecy fabric, make sure to get two pieces that are a foot larger on all sides than your intended bed size. You'll be cutting the edges of your fabric into strips and then knotting them together, just like this no-sew blanket tutorial from Joann. Here's where our project is different: When you have just a few more pieces to knot together at the very end, stuff your bed with polyfill, memory foam, or whatever you chose to keep your pet comfy. Don't forget to tie off the rest!
Turn a recycled tire into a new bed
For a project you can start and complete in about two hours (yes, you read that correctly), check out this cute and rustic idea from Practically Functional. This dog mama got an old tire from her local auto store, cleaned it thoroughly, and painted it bright pink for her pup. After you attach felt sticky feet and fluff up the inside with a foamy dog cushion, it makes a fun and cozy spot for any small dog to snooze.
There are a couple of fantastic details about this project that you just can't overlook. Firstly, you're helping the planet (and your local auto store) by recycling an old tire. Secondly, it's a super-customizable dog bed that can look adorable in nearly any home — just pick a paint and cushion fabric you don't mind seeing every day!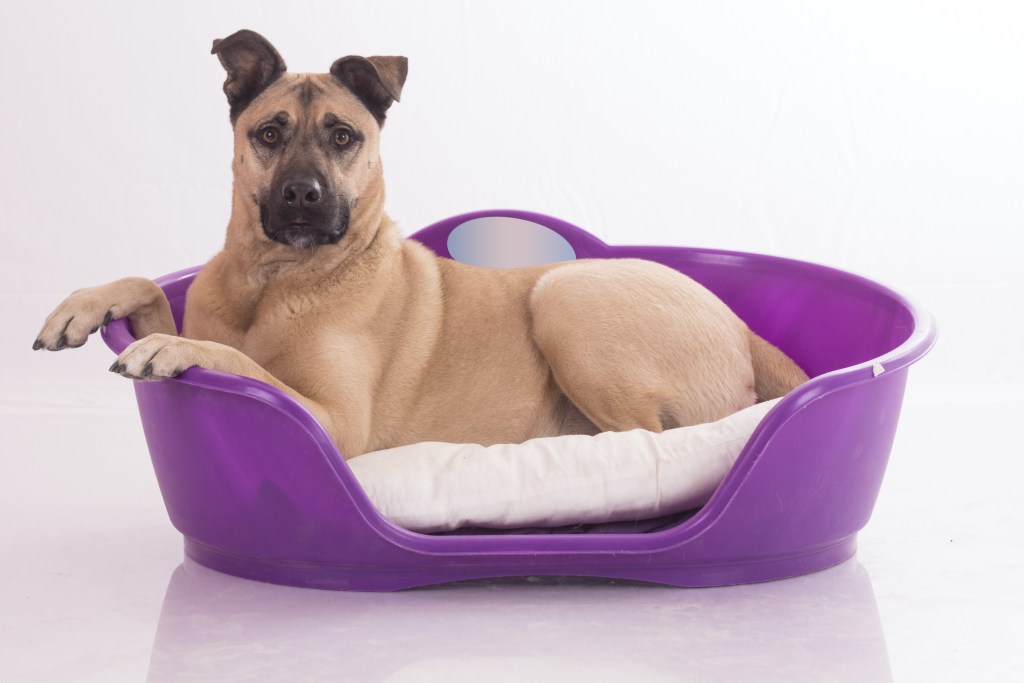 Simple-sewing memory foam bed
With this project, you'll make a large pillowcase for a comfy, canine-friendly mattress. Instead of investing in expensive craft foam, this artsy pet parent bought one twin extra-large memory foam mattress topper and folded it in half.
For the fabric cover, use an outdoor material that can withstand some wear and tear from your pet. Simple straight sewing is all you'll need to do to stitch two pieces together into a rectangular pillowcase. When stitching up the last side of the cover, you can sew on a zipper to make washing and refluffing easy. When you're ready, just stuff in the mattress pad, and you're good to go.
Woven nylon dog bed
For heavier breeds and larger dogs, some stuffing in a pillow may not be enough. Luckily, this creative dog blogger has a solution: She built a wooden frame out of two-by-fours, attached L-brackets for extra support, and used 2-inch-thick nylon to weave a supportive bed for her mastiff. Staples and upholstery tacks help stabilize the nylon and add an extra dose of luxury, though you can decorate your own dog bed as you wish!
Whether you build your own frame or recycle something you already have (or found), using woven nylon is a great option for bigger dogs. If you want, you can even add an extra layer of coziness with a padded cover or fluffy blanket.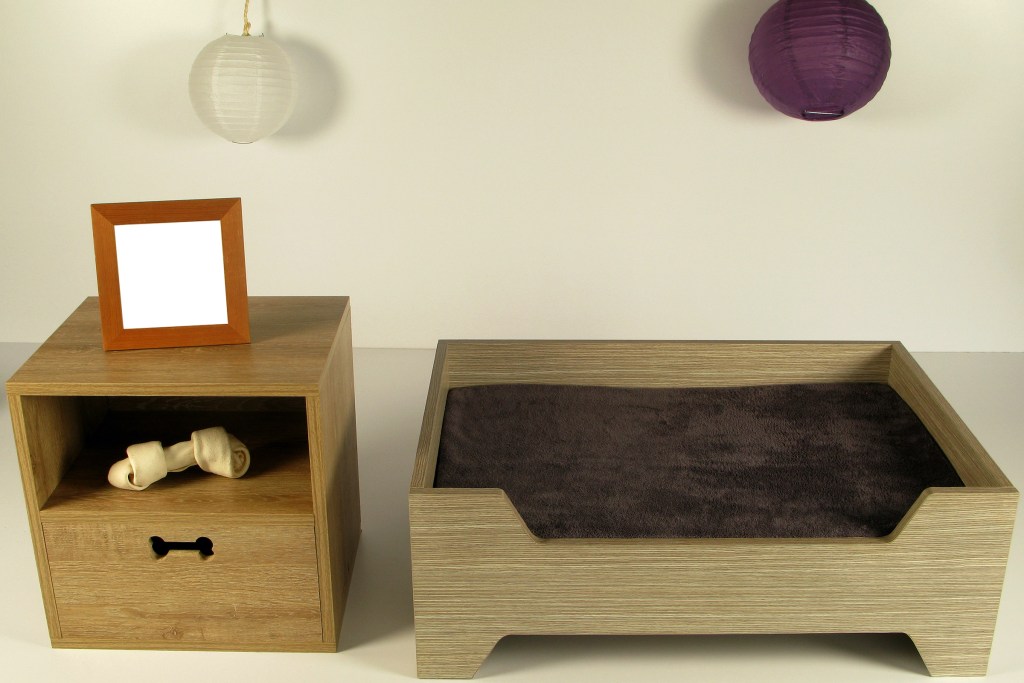 Upcycled pallet dog bed
For more experienced builders or those who want more of a challenge, constructing a dog bed out of an old wooden pallet can be a great day or weekend project. Of course, you'll have to dismantle the pallet before reconstructing it into a bed, just like they did with this project over at HGTV. These instructions have detailed descriptions and images of one specific build, though pallets can be reconstructed into nearly any shape or structure. Time to get creative!
With just a little planning and one spare day, you can build your dog the bed of her dreams. Don't forget to double-check the size of your materials so you know you're making a bed with the right dimensions, especially if you have a pup who likes to stretch out. This DIY is the perfect opportunity to try out a new skill or to use one of your talents to spoil your pup — as if she's not spoiled already!
Editors' Recommendations