The coziest time of the year is finally peeking around the corner — it's fall, y'all! While this season is jam-packed with fun things to do with friends, couples, or families, you can't forget about including some fun fall activities and treats for your dog. Your pup will love being a part of the action, and who doesn't love spending time with their furry friend?
Taking your large dog out and about can be extra challenging due to his size, but because autumn has so many outdoor activities, there are plenty of options for any breed. Wherever you go, make sure to double-check local dog policies so you and your pup can follow all the rules.
1. A leaf-peeping trip
Whether you take a walk around the block, take a hike with your pup somewhere nearby, or take a drive across the country, your dog will enjoy a trip to look at the autumn colors just as much as you will. He may not know why exactly you're staring at trees, but he'll have just as much fun smelling the smells and seeing the sights.
If you want to go above and beyond, you can turn this trip into a photo shoot for you and your furry friend. A simple festive bandana is all the pizzazz your pup needs to be ready for his close-up, and the autumn backdrops are oh-so-gorgeous.
2. Dog-friendly corn mazes
Another fall staple is the corn maze, well known for being just as frustrating as it is fun. If you think about it, a corn maze is really just an exceptionally complicated walk, so your dog will be more than happy to join in. He might even enjoy a little game of hide-and-seek (while still on the leash, of course) as you jump behind a corner before he can catch you. Even better, let your dog guide your way through the corn maze!
For this one, you'll want to ask ahead before you get in the car; only some corn mazes allow dogs to come with you. It's nothing personal; just to protect the crops and other farm animals!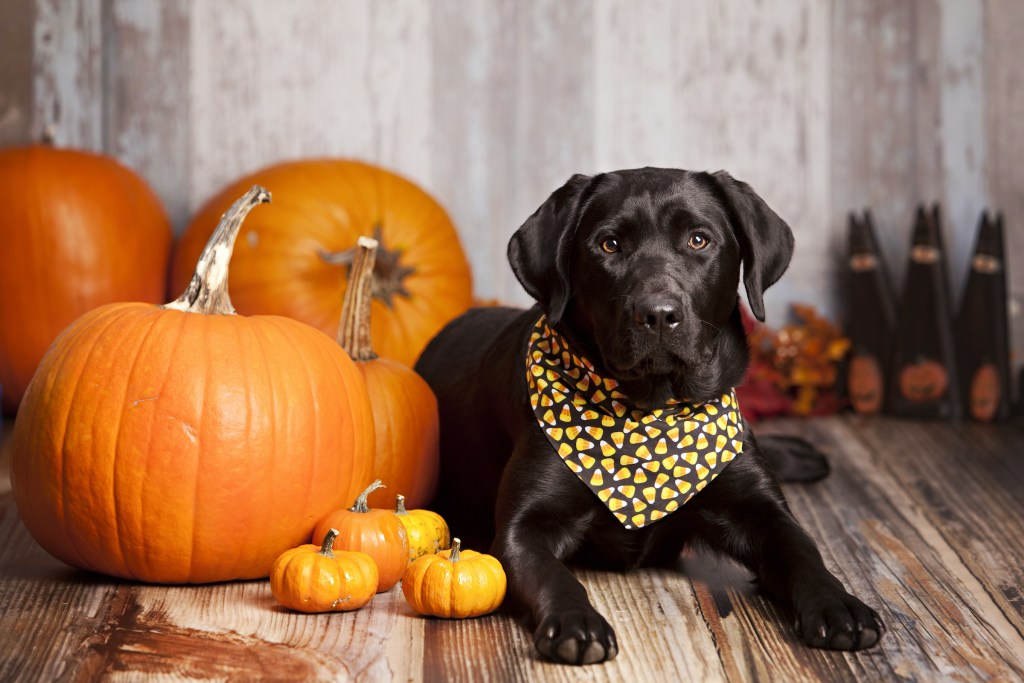 3. A trip to the pumpkin patch
When you think of fall activities, what's the first to come to mind? For most, it's definitely the pumpkin patch, which is just as festive and smile-inducing whether you're a child, a parent … or a pet parent!
Bringing a large dog to a pumpkin patch may not have been your first thought, but imagine how adorable it will be to watch your pup sniff curiously among the pumpkins. It's another prime location for an autumn photo shoot, whether you incorporate the whole family or leave your pooch as the star of the show.
4. Beer gardens
Traditionally, autumn is the time of the wheat harvest, which makes it the perfect season for beer, mead, and cider as well. The advantage to beer gardens is that they're often outdoors, which means your furry friend is probably welcome, too. With the fall weather at the right balance between too hot and too chilly, it's the perfect time to be outdoors.
Don't forget to indulge your pup in a snack and some water while you enjoy your libations. This is the ideal setting to meet up with a friend and even another pup, though anything too rambunctious may have to move to the park.

5. Baking, cooking, and eating
What is fall without its delicious treats? Turkey, pumpkin, and cranberries are just a few of the fall foods that are also safe for dogs to eat, though everything in their diet should be enjoyed in moderation. If you like, you can even concoct some homemade autumn treats for your beloved fur baby. With fresh ingredients like fruits, veggies, and meat, what's not to love? You might even want to make something for yourself while you're at it.
6. Apple picking
While we're on the topic of fall foods, what could be better than gathering fresh produce yourself? Apple picking is a popular activity at this time of year, and if you're lucky, you may find an orchard that allows pets, too. Some large dog breeds who were bred to work with their mouths, like retrievers, may even help you collect apples as you pick them! This might take a little practice, but who doesn't love a four-legged helper?
Whatever your vibe is this autumn — cozy, educational, adventurous — rest assured that there are plenty of activities your large dog can join in on. Whether indoors or outdoors, daytime or night, it's time to get creative, pet parents! A festive fall is just around the corner.
Editors' Recommendations