Comfy sweaters, leaves crunching underfoot, and the delightful smells of pumpkin and apple — who doesn't love the beginning of fall? This particular season also means another big change: back-to-school time for our kiddos. This isn't always a happy time for our pets at home, who have grown used to spending all summer playing with their favorite humans, and separation anxiety isn't all that uncommon in dogs this time of year.
So, what's a pup to do? This friendly dog seems to have found an answer: Walk to school with the kids, ensuring their safety as they cross dangerous streets.
We can't tell you how much we love this video, which was posted to the r/AnimalswithJobs subreddit. As a group of schoolchildren readies themselves to cross the street (in the crosswalk, of course), this friendly dog bounds over to traffic, barking at the cars to ensure they remain stopped. Once satisfied that the drivers don't plan to go anywhere, the self-appointed crossing guard dog moves back over to the kids, walking with them.
And when one white vehicle ignores the children in the crosswalk and just continues driving? Our dutiful pup gets angry, unleashing a torrent of barks at the offender.
Then the dog gets back to his job — helping the group of students — and once they've safely crossed, readies for the next group. In this particular situation, the dog puts itself between the kids and a car — yet another white vehicle. This vehicle has stopped, but inches up closer to the crosswalk as the kids pass, anticipating being able to move once the street is clear. Well, our crossing guard isn't having any of that, using both their body and their barks to keep the vehicle in place and the kids safe.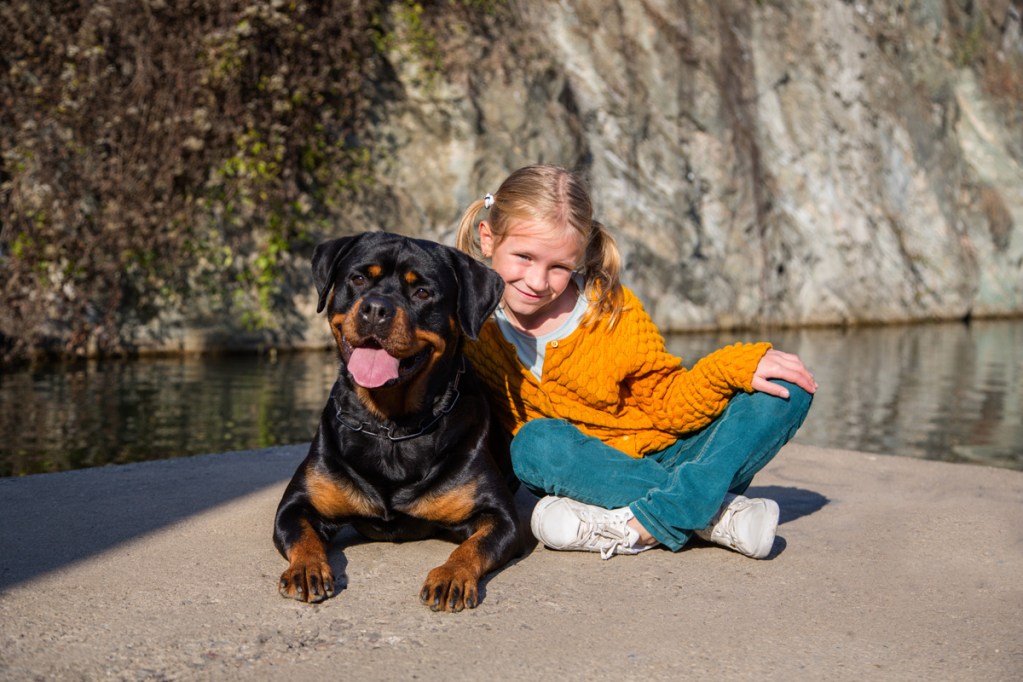 Do all dogs like children?
The behavior of this particular dog isn't that uncommon — there are many dog breeds known for being great family pets, specifically because of how well they can get along with kids. However, it isn't naturally a given that your dog and your child will get along right away. There are some things you can do to help that process along, so your child sees your pup as a lovable, friendly dog (and vice versa):
Supervise your dog's time with your kids
Both dogs and children can be cranky or irritable, and they're not always great at expressing their emotions (or understanding the other just wants to be left alone right now). Make sure you're around while they're still getting to know each other to avoid any disasters.
Make sure your child knows how to respect dogs
Pulling their tails, sticking fingers in their eyes, and pulling their ears isn't cute behavior and it needs to be stopped. Likewise, your children might genuinely love their dog, but don't realize the pup isn't appreciative of their super-tight hugs. It's your job to ensure kids know how to interact with dogs appropriately.
Reinforce positive behaviors in your dog
When your dog has a good moment with your child, give them a treat so they knows they did a good job. You should also be sure to train them how to be around kids — much like your child shouldn't pull their ears, dogs shouldn't chase after every kid they see either.
By following these steps, you'll be well on your way to having a pup who loves kids as much as our resident crossing guard.
Editors' Recommendations