Most cat owners have had this experience: You're sound asleep, when suddenly you're awoken by a cat yelling in your face, alerting you that it's time for breakfast. It doesn't matter if it's 10 a.m. or 5 a.m.; your cat will usually let you know when he's hungry. But if your cat seems like he's always hungry, it may be a more serious problem. While it's true that some cats just love eating, their habits may indicate an underlying medical problem. Here's what you need to know about cats that are always hungry.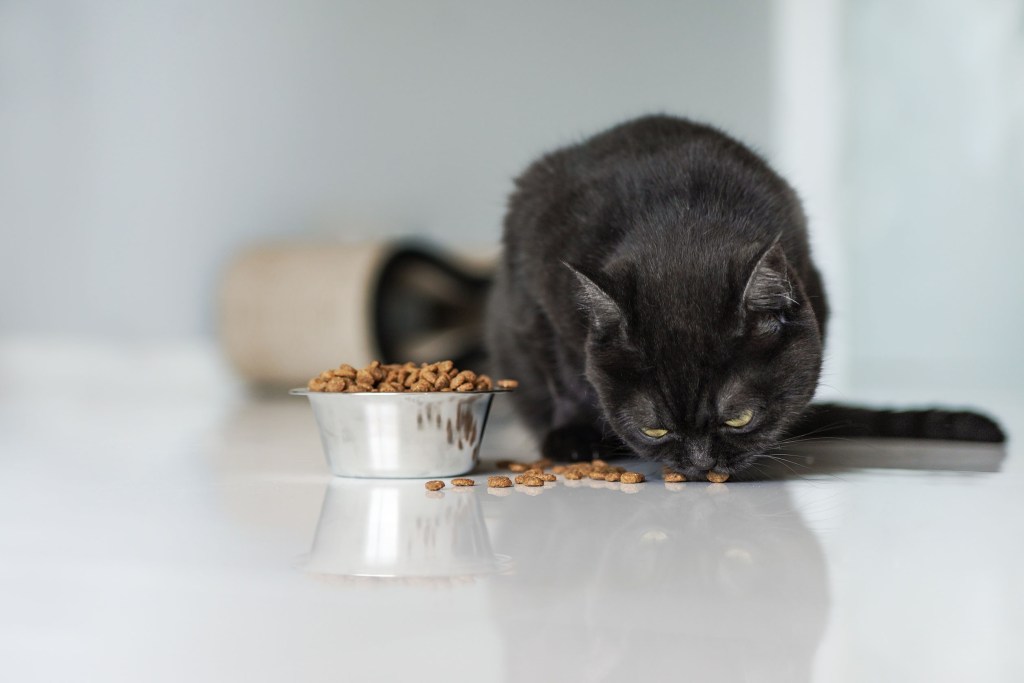 What are normal eating habits for cats?
No two cats will have the same eating habits. However, felines are routine-loving creatures who enjoy eating their meals at the same time every day. Often, they will remind you when it's close to dinnertime, usually by meowing or leading you to their food area. If your cat usually does this, there's no reason for concern.
Cats prefer to eat small meals frequently as they would in the wild. While some grow accustomed to set mealtimes, others may be more in touch with their instincts. They may ask for food throughout the day, even if they're not really hungry. If your cat doesn't usually beg for food between meals and abruptly picks up the behavior, take a closer look at his eating habits; this may be cause for worry.
Crying for food and treats
As you may have guessed, your cat is well aware of what time meals are supposed to be served. He will often meow and stare at you until you put food in his bowl. Although he's probably not starving to death (as he'd have you believe), he is still hungry and ready for breakfast or dinner. His crying is simply a reminder that it's time for food.
The same goes for treats. If you give him treats at a particular time, your cat might start crying for them. If you keep your treats in a specific place and your cat sees you standing near them, he may also begin begging. This is part of his routine, but it's no reason to worry.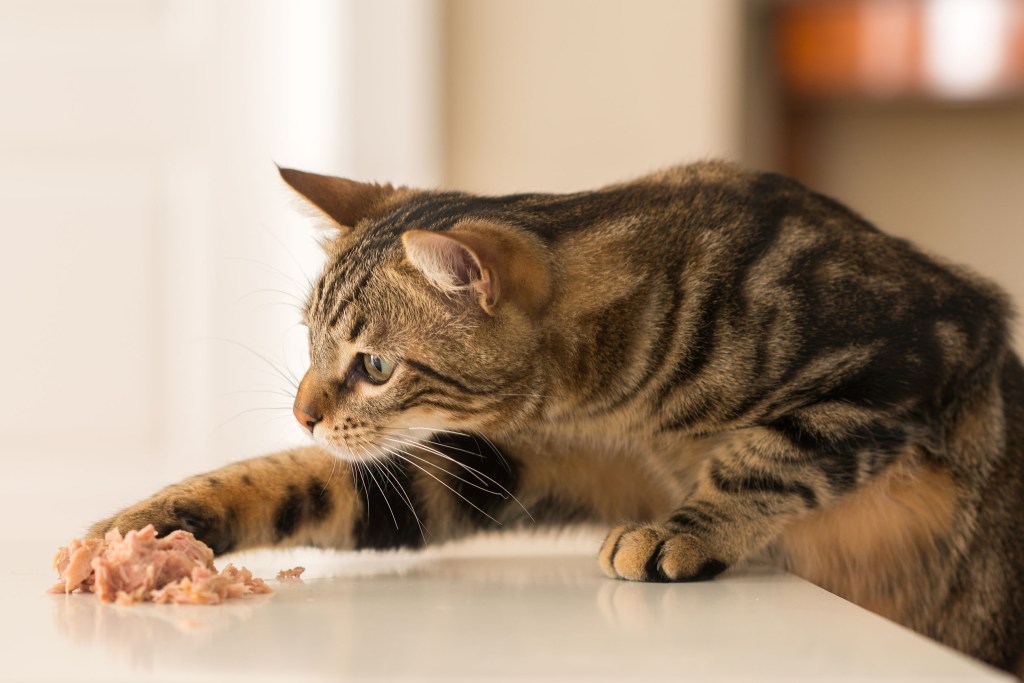 Stealing human food
It may seem like your cat is always hungry if he's constantly trying to steal your food. Cats are excellent jumpers and can easily get on the kitchen counter to grab a snack. Or he may see you enjoying your meal and want to try a little. While it may seem harmless at first, eating human food can be a difficult habit to break.
Don't leave food out on the counter or tables without supervision. Stop giving your cat table scraps if you don't want him begging for your food. Cats that aren't eating enough during the day may also try to steal your food. In this case, make sure your cat's portion sizes are large enough. If he's just not interested in his food, you may want to switch brands or add wet food to make his meal more appetizing.
Eating and weight change
Diet plays a huge role in your cat's overall health and weight. If your cat is always hungry and is gaining weight, you should feed him less, no matter what he tries to tell you. Some kitties just love food. However, overeating can lead to weight gain, making them more likely to develop medical problems, like diabetes, joint pains, and cancer.
If your cat always seems to be hungry and he's losing weight, he may have a health problem. Contact your vet right away in this situation. Some ailments that cause weight loss include intestinal parasites, diabetes, hyperthyroidism, and some cancers. Look for other symptoms like vomiting or diarrhea, too. If you notice strange behavior, set up an appointment with your vet.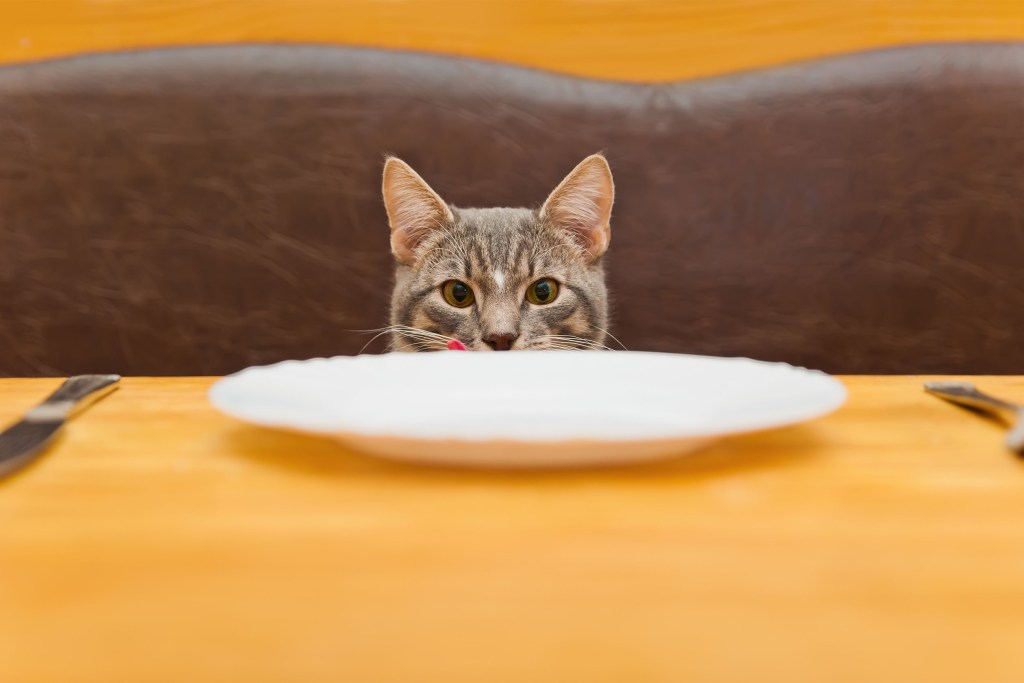 When to call the vet
Should you be concerned if your cat's always hungry? If your cat's weight is stable and he doesn't have other symptoms, you don't need to worry about your hungry cat. Most likely, your kitty is just food-motivated. Ensure he's getting enough food and that it is high quality and meets his nutritional needs.
However, if you notice a change in his eating habits, it's a good idea to talk to your vet to rule out any medical problems. Your kitty's behavior may have a simple explanation, but it's always best to rule out health issues first. From there, the vet can help you determine treatment options or offer suggestions to help your cat be less hungry.
Cats are very particular about their food. They love to stick with their habits, especially when it comes to mealtime. Some cats like to act like they're hungry, particularly if they think you'll give them food. As long as you are giving your cat enough food and his weight is stable, you don't need to worry about a cat crying for food. But if his weight changes and he's constantly asking for food, he may have a medical condition. Talk to your vet to learn more.
Editors' Recommendations