One of the downsides of Christmas: our pets love to mess with the holiday cookies, decorations, and presents alike. It can become particularly challenging to keep all the furry friends in check when the family comes into town and chaos ensues. Truthfully, these celebrations might actually endanger your animals if you aren't careful. But most of the time, when our canines and felines get into mischief during the holiday season, they're no worse for wear. This sweet cat, for example, gets more than she bargained for when she tries to tackle the house Christmas tree.
Picture the perfect standoff: Two enter the ring, only one leaves fully standing. Such is the case when this mouser decides to size up her Christmas tree courtesy of u/loocollander on the subreddit r/CatsAreAssholes. Of course, she takes a second to prepare for the perfect leap (notice, you can hear her unsuspecting humans in the background). However, as she looks all the way to the tree topper, we all know exactly what's coming. Kitty springs into action, grabbing at the star on top of the tree…and of course, the whole thing comes down with her — don't worry, she jumps off in the knick of time to avoid any damage to herself. We can't say as much for the fir, though, which looks a tad worse for wear. The post is fittingly entitled, "Why have a star on top of your Christmas tree when you can have a shooting star instead?"
As u/fuzzytradr posted in response, "Takedown mission completed." It's true, perhaps this was the cat's goal all along.
We also agree with u/Upset-Way3823, who said, "I've watched this so many times. This is amazing? (amazing to watch – I'm sure a PAIN to deal with)." Naturally, she doesn't think so.
Upon close inspection, you'll also find that she wears the so-called cone of shame. Payback perhaps?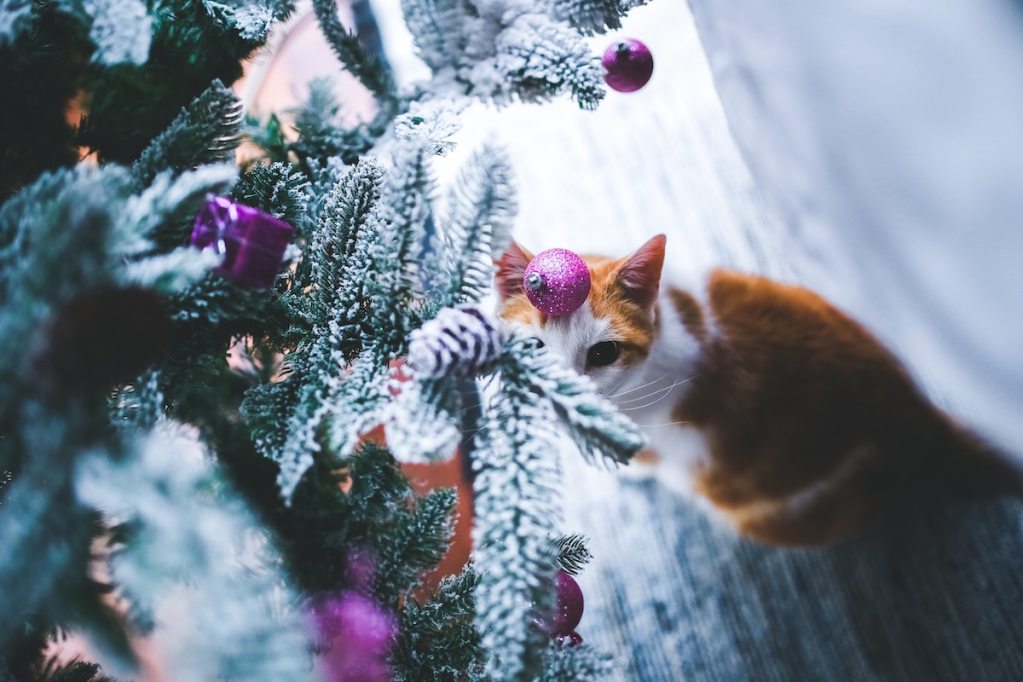 How to have a cat-proof Christmas tree
Any time you have a Christmas tree with a cat, you're asking for at least a little bit of a showdown. Commenter u/Ok-Mood-8604 gave some good advice: "I haven't had a tree, live or fake, in years because of the cats. About five years ago, my sister made me a ceramic one. It's really cute & the cats don't bother it." Another, u/BGMcKay, remarked that "We have two cats. Our tree is fastened to the ceiling. This post is why."
If you really must have a live tree, go for the foil and citrus method, where you wrap the trunk in aluminum and put a few orange peels around it (you may need to replace them every so often). You can also designate a cat-free zone (if such a thing is allowed to exist) and put your Christmas tree in a separate room with a lock.
No matter which holidays you plan to celebrate this season, you'll need to put in a little extra prep to keep your four-legged friends from making a mess of things. And if you do put up a tree, maybe leave the topper off this year.
Editors' Recommendations