We have all been on the receiving end of tiny pet kisses that warm our hearts to infinity. Sometimes sweet kitties and puppies even give each other affection by delivering plenty of happy licks to their canine or feline friend. Everyone wants their dogs and cats to get along but this pair takes it to the next level.
Watch as the most precious kitten gives her giant dog friend "smol kisses" on the Animals Being Bros subreddit posted by u/westcoastcdn19. Keep in mind this little kitten is approximately the size of the dog's head yet smooches with abandon. She's totally engrossed in her job though, and dutifully cleans him with her tiny tongue. Meanwhile, the pooch opens his eyes and indulgently lets her continue, happy that they are besties.
Everyone in the comments was quick to praise the little cat, but u/Boojibs got inside her mind with "'This bath is going to take 17 hours to complete, fyi' – kitten, probably" and u/Sal_Ammoniac responded, "'You smell like a dog, all over! I gotta fix that!'" While cats and dogs can be friends, they still have their natural preference for their own scent apparently.
We especially loved this clever comment, "Well, I'm peanut butter and jealous" by u/Dutchbaked. Finally, u/ZuesLeftNut pointed out, "Imagine if people bonded the same way every other mammal on this planet does. LET ME LICK YOUR FACE." Who knows, maybe the world would be better if we all acted like our furry friends.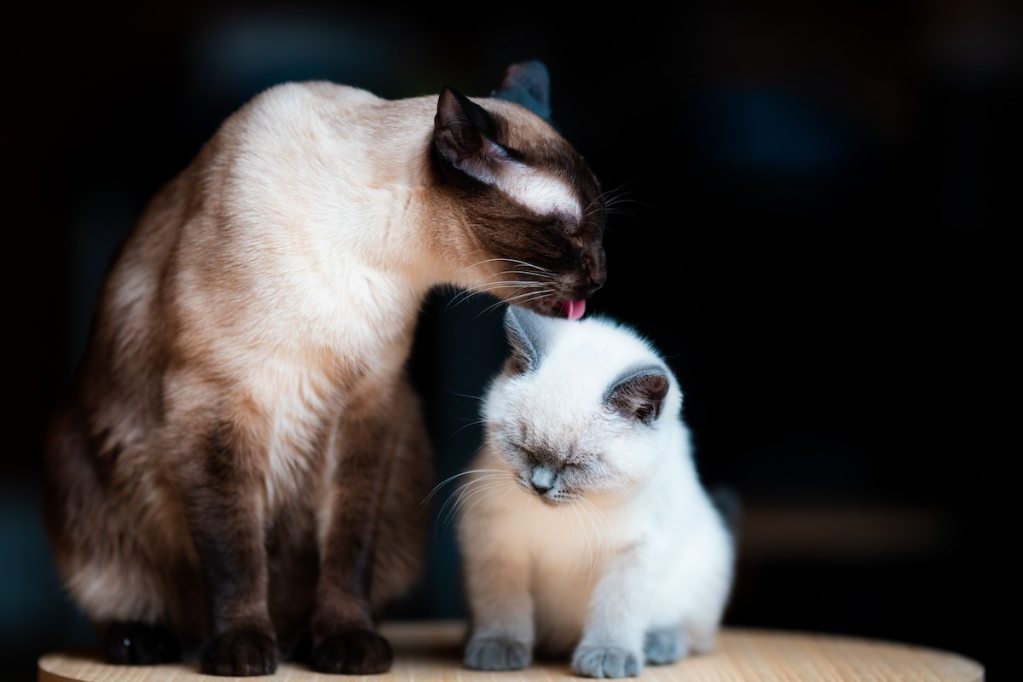 Why do animals give each other kisses?
Remember that without us, dogs and cats don't have any way to bathe except with their tongues, so you will probably notice your animal cleaning themselves daily. However, while licking is often functional, it can also be a sign of affection and even hierarchy. You'll sometimes see the subservient animal grooming the dominant one as a reminder that they support their leader. But mostly, it's just affection between friends; even in the wild, wolves lick each other in the pack. One last important thing to note, sometimes obsessive cleaning actually means that something is wrong. For example, animals lick a lot when they (or their friends) have parasites or an infection. If this behavior is unusual for your pet, reach out to your vet for a check-up.
We humans live for the sweetness we find when our pups and kitties get along and bond. One good way to foster that relationship is to introduce them slowly and give them time to get used to each other. It's essential to make sure they are good with one another before giving them more space to interact intimately, like with grooming. Still, if you're lucky enough to have a mixed-species home, that will bring all of its inhabitant joy.
Editors' Recommendations