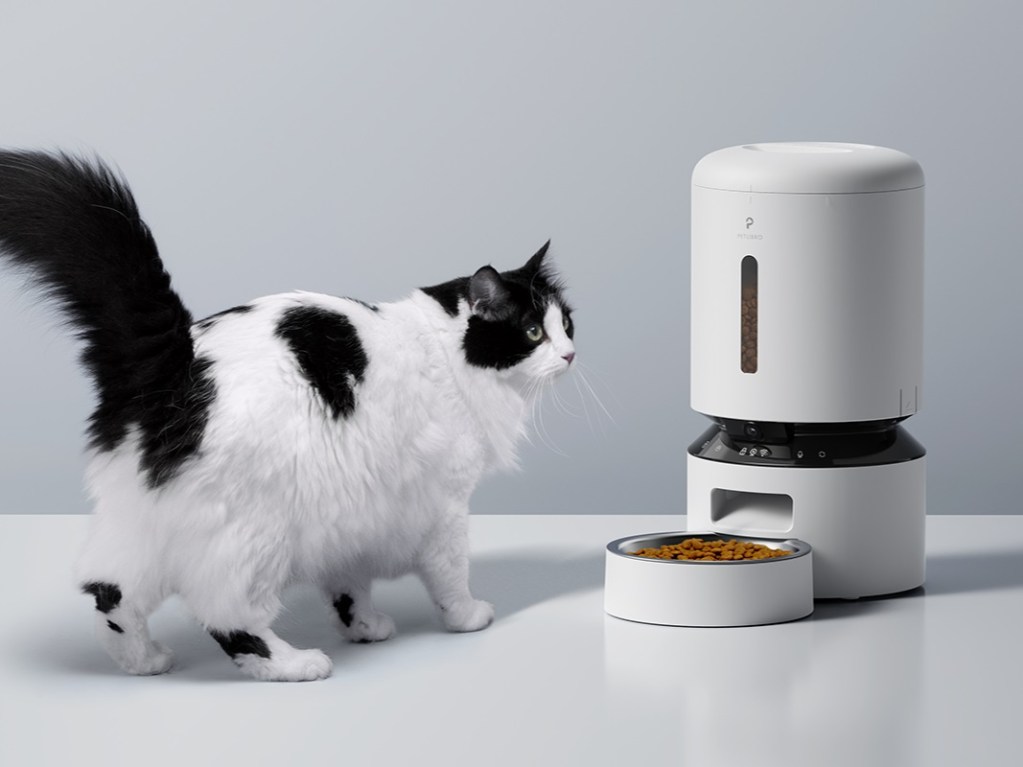 It makes perfect sense to keep an eye on our furry companions to better understand them. For example, if they're not drinking water or eating their food, it could be a sign that something bad is going on with their health, outside of being picky. The problem, however, is that most of us lead busy lives, and we can't always be home or right there to watch – spot, fido, or whiskers surely get the run of the house as a benefit. But thanks to smart technology, we can keep an eye on our pets, even remotely. Cue PETLIBRO's automatic feeder with a built-in camera called the Granary Camera Feeder. It has a 1080p HD webcam and can capture or record your pets eating in real-time so that you can check in and better understand their health. If their eating habits or behaviors change, you'll know right away.
The HD camera has a 145-degree wide-angle lens, which gives you a wider perspective, allowing you to see more of your pet's feeding status and the surroundings. Moreover, it has night vision support, so even if the lights are off in your home or it's dark, you can still see what your best friend is doing. Of course, there's a lot more to it, but as far as automatic cat feeders go, this thing will make your life – and your pet's life – much better. Let's paw in.
You should also know that from November 23rd until November 27th, there will be an exclusive Black Friday deal available for 24% off.
What can the Granary automatic feeder do?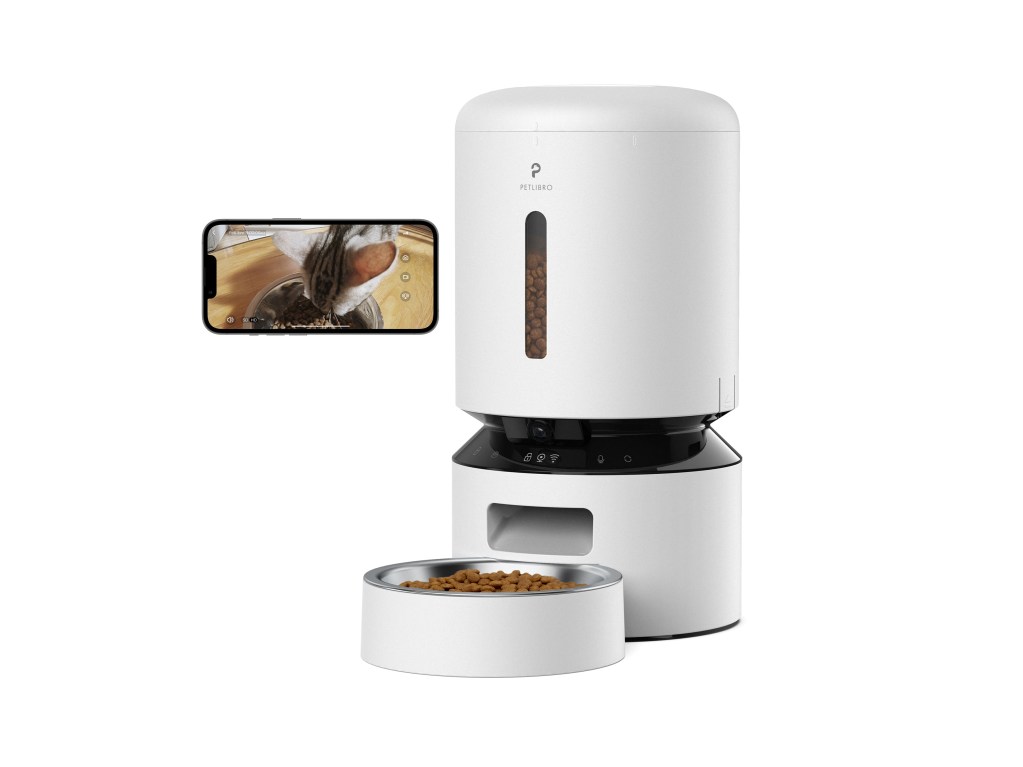 First and foremost, it's a feeder. You load food into a reservoir at the top, which holds 5 liters or enough for up to ten meals, and every day at a designated time, it will dispense the food for your cat or dog to eat. It's designed for cats, but you could also use it to feed small dogs. The food chunks need to be between 2 and 15 millimeters in size.
The feeding scheduler works on its own, but you can always connect using the PETLIBRO app – the Granary supports 2.4GHz and 5GHz WiFi networks. A rotor implemented in the tank base works with the twist-lock lid, desiccant bag, and sealing strip to seal the food between feedings and keep it fresh. That way, you don't have to worry about it drying out, going bad, or little critters getting into it.
Meanwhile, an infrared safety system will stop the food from dispensing if your pet's paw is detected in the feeder area. Low food reminder alerts also let you know when it's time to refill the reservoir.
But beyond that, it has a built-in 1080P HD camera, which you can use to watch, check on, or playback videos of your pet. A TF card – MicroSD – or cloud storage is necessary to record the videos. If your pet is near the feeder, you'll get alerts right on your phone, and you can begin watching remotely in real-time. You can even snap still photos or begin talking to your pet using your phone's microphone. If you can't check in right away, that's fine because, after a motion alert, the system will begin recording to show you what's going on and precisely what your pet is doing.
A special "preserve routine" allows the system to share a comforting call featuring your voice anytime your pet is near the feeder. For example, you can say "Hi honey" or "I love you," and with the two-way voice system, you can also talk to them live.
Why the PETLIBRO Granary camera monitoring feeder?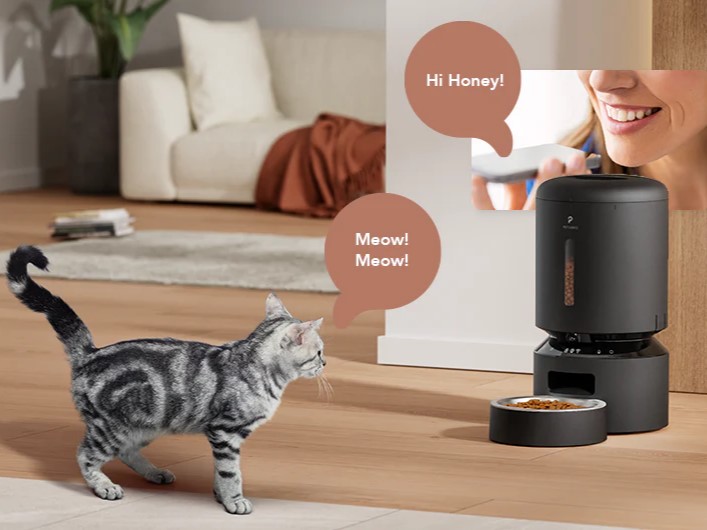 Is there ever a time you don't worry about your pets when you're not home? We absolutely understand that anxiety, but with something like PETLIBRO's Granary automatic cat feeder and camera, you can check on them any time. You can also ensure they're eating healthy and eating on time, and foster your relationship with your furry companion, whether you're home or away. Try interacting with them through the camera and two-way voice system, it's a lot of fun.
With something like the Granary taking over feeding duties, it gives you the opportunity to have a night out or gives you peace of mind while traveling or working. Better yet, when you're ready, you can check in to make sure everything is safe and your pets are happy.
PETLIBRO also offers several versions of the Granary, including an app-enabled version, a fully programmable version, and a dual food bowl version if you have multiple pets. Whichever model works for you and your pets, you can be sure that it's going to make all of your lives better while helping to maintain your furry friend's health and happiness.
From November 23rd until November 27th, you'll be able to take advantage of an exclusive Black Friday deal for 24% off. It won't last long, though. If you're interested, hurry and grab this smart cat feeder.