There isn't much you can do to your home that's more exciting than getting a pool, especially if you or your family particularly enjoy the water. Your four-legged family members may be tempted to get in on the action, too, but dog safety around pools should always come first.
Luckily, keeping your pup safe this summer doesn't have to be hard. With just a little bit of planning and communication between family members, everyone will have the knowledge and abilities they need to help Fido have fun without worry. Here are a few important safety tips for pools with dogs, whether your swimming spot is in-ground or above-ground.
Keep your dog supervised at all times
It should go without saying that a little supervision goes a long way in keeping your pet safe around pools. Just like you would watch a young child near the water, you should always have an eye on your furry friend — even if she knows how to swim. Accidents do happen sometimes, so someone should be there to step in just in case.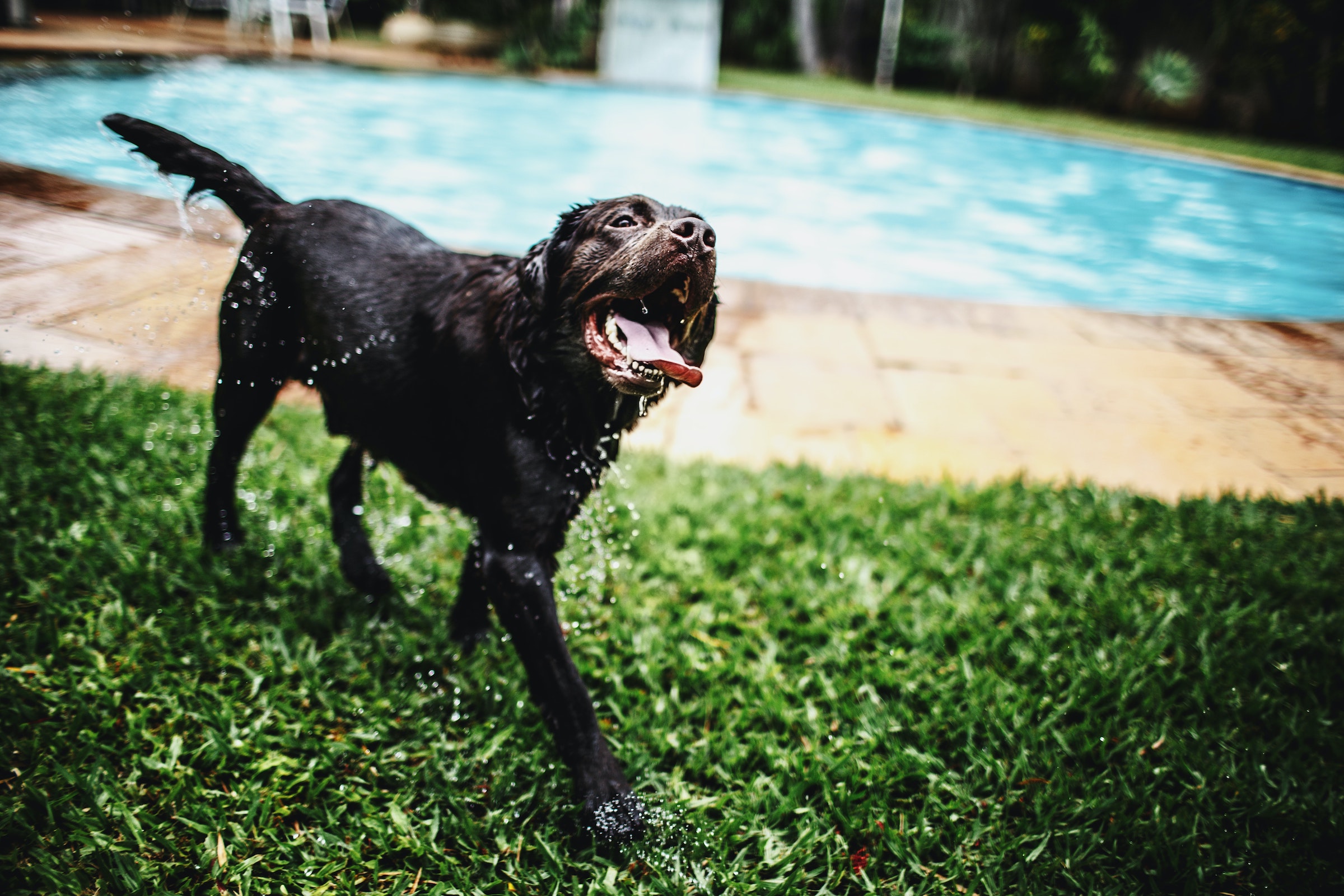 Use a gate to block the pool
Whether you use a simple pet gate to keep your pup enclosed, or you opt for a full-on fence around your pool, your dog will be much safer if she can't get to the water. Many pet gates and outdoor playpens are easy to move and set up, too, so it won't be a hassle every time you want to swim without concern.
Help your dog practice swimming
Many dogs take to swimming naturally, whether they're shown by another pup or simply jump in for themselves. Still, not every dog is like this, even if they're from a breed that typically loves water.
If you choose to expose your dog to the pool, be in the water with her. This ensures immediate help if your dog slips on the wet ground or needs a minute to figure out the dog paddle. Her swim lesson will be immensely easier if your pool has steps or another way for your furry friend to introduce herself to the water at her own, comfortable pace.
Teach your dog a way out of the pool
While you're practicing the dog paddle with your furry friend, help her figure out how to use your pool's ladder, steps, or ramp. With her paws and nails, it probably won't be as easy for her as it is for you to exit the pool, but it can still be a saving grace should any accident occur.
Even dogs who know how to swim well can be injured or killed by a pool they can't exit. As horrifying as the thought is, a pet can exhaust herself while paddling around looking for a way out, especially if no one knows she fell in the pool in the first place. This is why installing an exit that's accessible to your dog can literally be a lifesaver.
Invest in a canine life jacket
Whether your pup is a novice or a pro at swimming, a life jacket will surely give you some peace of mind while she's in the pool. The Frisco Ripstop Life Jacket is a great example with many safety features to praise: a grab handle on the top, adjustable straps for the best fit, and a D ring for attaching leashes. Make sure to properly measure your dog's chest, neck, and width for a proper fit. Safety first!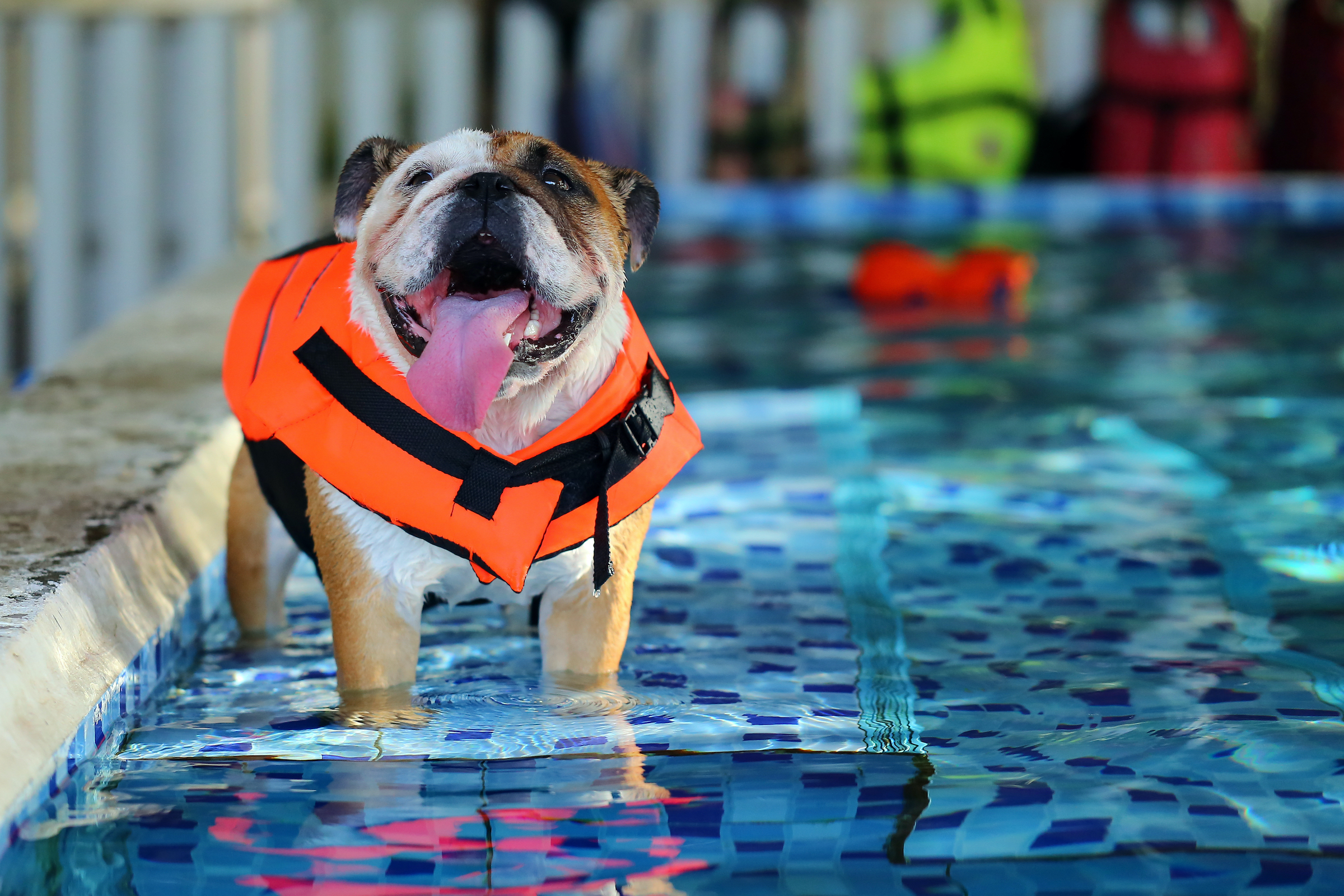 Keep your in-ground pool covered
Above-ground pools may not be easy for a dog to jump or fall into, but in-ground pools can be a hidden danger. A distracted, impaired, or older dog can easily walk right in if they can't see where the ground ends and the pool begins.
Thankfully, this has a simple solution: making sure your in-ground pool is covered and secured. Double-check that the cover is bolted down so it won't slide off should a curious pup wander on top, because it does happen!
Make sure everyone knows the rules
One other essential key to this equation is keeping everyone on board with these safety measures. Family members, roommates, partners, and guests should all be aware of gates to keep closed, what to look out for, and when to intervene.
It can be more difficult for younger family members to understand these rules, especially if there have been any changes. Swimming with their beloved dog probably sounds fun, after all, but an adult should be present near the pool as well. You really can't be too careful!
With these tips and your watchful eye, your dog will be safe and cool while chilling by the pool this summer. It's totally fine to try out a few safety methods before deciding on one (or several) that best meet your needs — it'll all be worth it once you find the best combination to give you peace of mind. Whether she tries out the water or not, your dog will be a part of the family fun, which everyone will treasure.
Editors' Recommendations