As fun as the 4th of July is for many Americans, our dogs can't necessarily say the same. Those fireworks we love are too loud and bright for a lot of pups, especially when they seem to go on nonstop throughout the night. Thankfully, there are several vet-approved products to help combat canine anxiety, including the now-famous ThunderShirt, which is only one of the best dog anxiety vest options.
If you've ever wondered, "Do anxiety vests work?" you're in luck — we've got answers. According to the VCA, anxiety vests are thought to help pups manage their anxiety symptoms by providing a comforting hug or swaddle. It's important to note that giving your dog an anxiety vest will not address the source of his anxiety, so it's not a one-stop solution for a stressed pet. Nevertheless, they can be a helpful addition to your dog's comfort routine.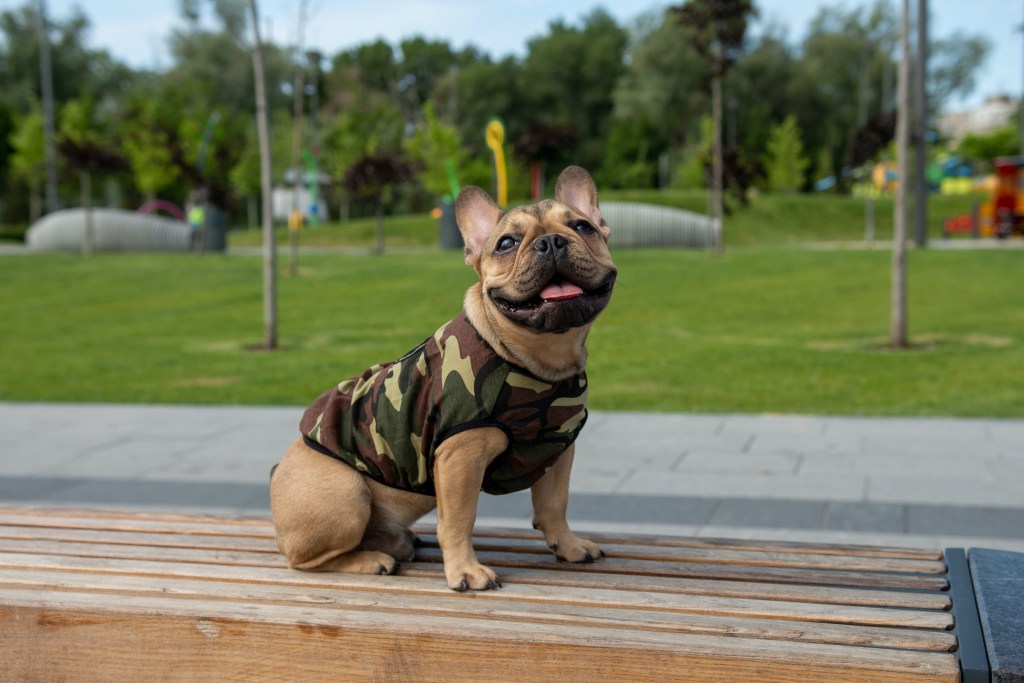 Comes in seven sizes
Easy to get on and off
Washable
This is the anxiety vest that most pet owners are familiar with, thanks to the company's strategic marketing. According to customer reviews, though, the vest really delivers on its promises. Pet parent FrankieHudson2 uses their ThunderShirt to help their two pit bulls stay calm when guests are over, which shows that fear-based anxiety isn't the only issue this product can help with.
With ThunderShirt's patented design and breathable fabric, your dog will be snug, comfortable, and cool. The last thing you'd want is to be hot and sweaty while you're trying to calm down, after all!
Comes in three colors and five sizes
Fabric resists collecting hair
Machine-washable
With the American Kennel Club's original take on the canine anxiety vest, called the Calming Coat, your pup can spend this July 4th in peace. Many dog moms and dads who are hesitant to try this kind of treatment felt more comfortable buying a vest from this trusted organization, as well. Some reviews praise how quickly their dog relaxed after putting on their Calming Coat.
To put on this sweater, simply wrap it around your dog and pat the Velcro straps shut — easy as pie! It comes in three serene colors, so you can find one that best matches your pet's personality.
Comes in seven sizes
Features lavender and chamomile for additional relaxation
Includes sound therapy
This patent-pending vest combines compression with aromatherapy and sound therapy — three methods of relaxation that do wonders for both people and pups. The wrap works the same way as other anti-anxiety vests: by applying a gentle, comforting pressure around the body.
A taglike pendant also plays a relaxing sound to keep your dog distracted and chill. It comes with scented pieces to put in the pendant — lavender and chamomile — for an even stronger sense of all-around security. These two scents are safe for dogs and should not be substituted with anything you have at home.
Comes in six sizes
Machine-washable
Easy to get on and off
This calming vest is the best of both worlds: It'll help your dog stay both comfy and calm but doesn't have as many bells and whistles as other products. This makes it even easier to get on and off your dog, a big help for pet parents who aren't accessory savvy. Instead of any complicated buttons, this wrap is all Velcro and zippers. With elastic in the bands and at the neck and leg holes, you'll get the perfect, slightly snug fit.
Comes in five sizes and four colors
Easy to get on and off
Machine-washable
For pet parents on a budget, the YESTAR Comfort Dog Anxiety Relief Coat is just the thing. They love the quality of the breathable fabric and the adjustable straps — just check out reviews! One German shepherd mama admits that while it took her fur baby a minute to get used to the vest, it made a world of difference (for her dog and for her!) once he got comfy. Nothing beats a happy pup, after all. And that's the goal!
Whether your budget is on the higher or lower end, you'll find effective dog anxiety vests available to try. Give your pup some patience and TLC while he's getting used to his new jacket — it'll all be worth it!
Editors' Recommendations