Whether they're toys, miniatures, or standards, humans have a long-standing love affair with poodles. These intelligent dogs, known today for their fashionable haircuts, were first bred in Germany more than 400 years ago to be water retrievers (their original name in German, Pudelhund, means "splash hound"). Even then, their haircuts served a purpose. Although hunters cut their poodles' coats so that their dogs could swim freely, they often left longer hair on the chest, hips, and leg joints to insulate their dogs from the elements.
Today, even though poodles are still excellent retrievers, their haircuts are more fashion than function. If you own a poodle, these are the tips you need to take care of their coat between visits to the groomer.

What's in a haircut?
In the days when poodles were sporting dogs, their haircut helped them do their jobs better. But because of their beauty and intelligence, the poodle eventually moved from the hunting fields to the parlors of the wealthy, who saw the poodle's coat as a way to make a fashion statement. As a result, their hair was often clipped to match the fashion trends of the era.
According to the American Kennel Association, only two specific haircuts — the continental (or lion) and English saddle — are acceptable for poodles who compete in Westminster-level dog shows today. Popular cuts for our noncompeting poodle friends include:
Summer cut, which removes much of their dense coat during the hot season
Teddy bear cut, where the fur is cut 1–2 inches long all over the body, including the face. Breed experts caution this cut is harder to maintain at home.
Utility cut, which features a topknot and tail pouf. All other fur (except for face and feet) is scissor-clipped to the same length.
Miami cut (or bikini cut), where fur is shaved on the face, tail, and feet — a great cut for poodles with skin sensitivities
Due to poodles' thick, dense coats, breed experts recommend they be professionally groomed every three to six weeks. And even if you're not doing anything fancy, the routine you adopt at home between visits to the groomer is key to keeping your poodle's high-maintenance coat healthy.
Brush your poodle frequently
One of the main reasons a poodle's coat requires so much care is that it's actually hair, not fur. What's the difference? Fur will grow only so long before it falls out (shedding). Hair grows until you cut it.
As with humans, a poodle's hair needs to be brushed frequently to keep it from matting. Matted fur can cause skin irritation, which, left untreated, can develop into skin infections. Depending upon your dog's coat, you can brush him daily. If his hair doesn't tangle easily, aim for at least two to three times a week.
Groomers recommend using a slicker brush to get rid of debris, loose hair, and mats. This type of brush also is good for improving blood circulation and distributing natural skin oils, which keeps your poodle's coat healthy.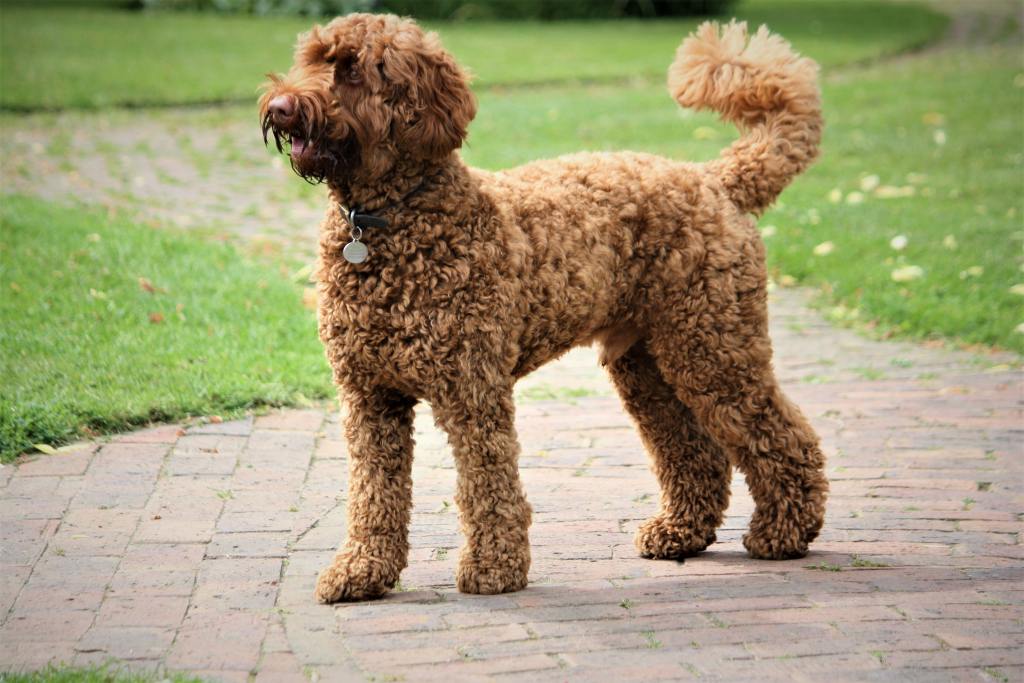 Bathe, rinse, and condition
If visits to the groomer are few and far between (or you have an active dog who always seems to find water at the dog park), you may need to bathe your poodle between appointments. If you're not sure which type of shampoo and conditioner to use, ask your veterinarian or groomer to recommend one that is right for your dog's skin and coat.
Make sure you brush your pet's hair thoroughly before bathing to remove any debris, dead hair, and matting. Rinse his coat thoroughly after shampooing, as any soap residue can cause skin irritation. Because his coat is actually hair, consider working a canine conditioner in to keep his coat from matting.
Blow dry
It might seem frivolous to blow-dry your poodle's hair after a bath, but it'll save you from having to brush mats out of his coat later on. Air drying can cause your poodle's coat to form tight curls that mat easily.
If you'll be bathing your poodle often, consider investing in a blow dryer for dogs. Otherwise, your handheld blow dryer will work just fine — just make sure you choose a cooler setting so you don't burn your dog's skin.
Use a slicker brush to lift his hair so you can dry the coat close to the skin. Dry your dog's head and ears first, gently, then move down his body in sections, making sure each one is dry before you start on the next.
Grooming necessities
But before you lather up, take stock of your supplies. Place these essentials in easy reach:
Dog shampoo appropriate for your dog's skin and coat
Canine conditioner, to help keep tangles at bay
Slicker brush, to remove debris and mats and distribute natural oil in the coat
Straight-edged scissors with rounded tips, so you can safely trim hair around the face and eyes when needed
Blow dryer, to dry your dog's coat soft and fluffy
You may leave the fancy cuts to your groomer, and who could blame you, but there's no reason you can't help maintain your poodle's beautiful coat between appointments. With frequent brushing and an occasional bath or two, you can keep your poodle's tresses looking as lovely as anyone else's in the family while keeping his skin and coat healthy in the process.
Editors' Recommendations