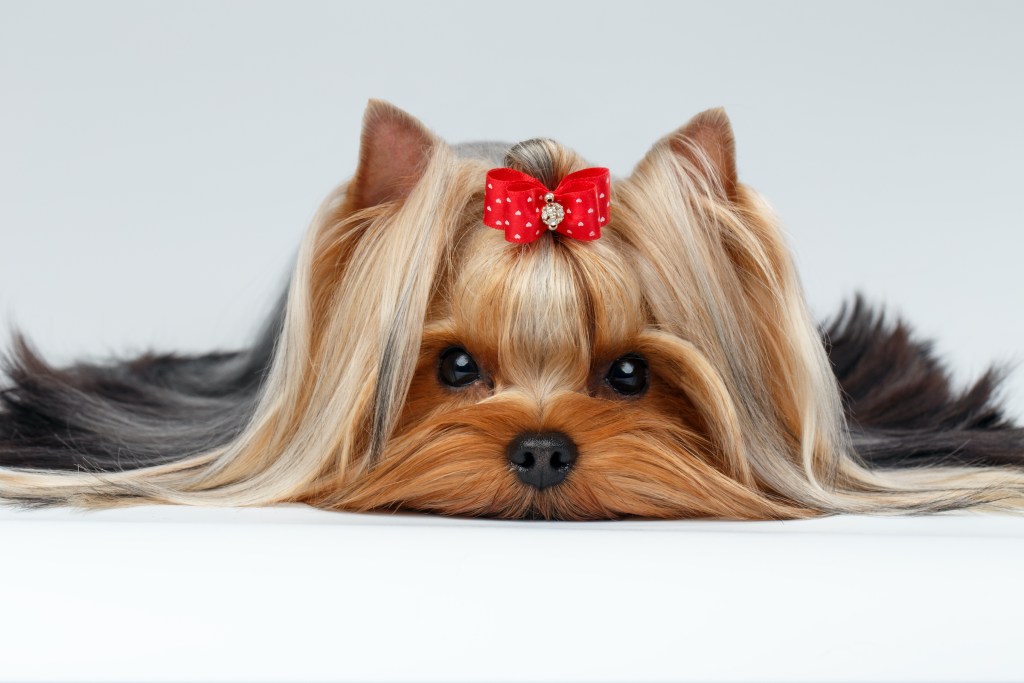 Whether you're a canine pro or new to the dog world, Yorkshire terriers are one of the most recognizable dog breeds. Maybe it's their teeny-tiny size, their brown and black markings, or the numerous celebs like Kristin Cavallari and Giselle Bundchen who have allowed their Yorkie dogs to ride in their designer handbags. But whatever it is — no one's questioning these cuties' recognizability.
As you may have guessed, parenting a Yorkie dog can be a rewarding experience. Small in stature, this breed boasts a massive personality. However, Yorkies also have a big (and sometimes bad) reputation. Despite their tiny size, they're known as rather vocal dogs and considered high-maintenance pets. While some of these claims are unfair, others have some truth.
Like all breeds, Yorkies are great fits for some homes and not for others. Here's what to know if you're considering making a Yorkie dog your new best friend.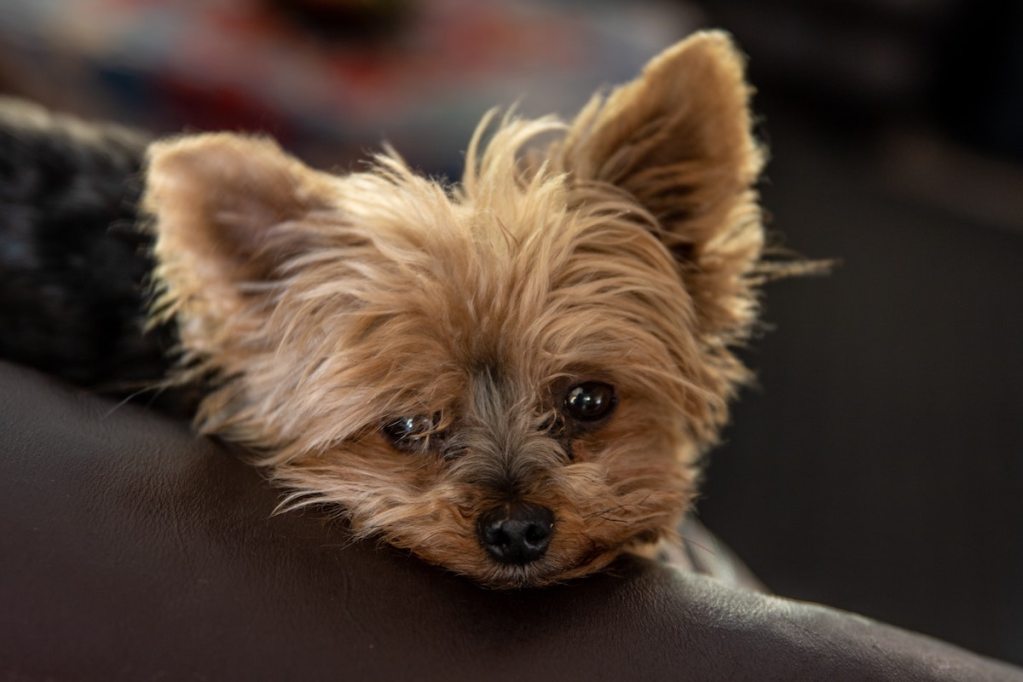 The history of the Yorkie dog breed
Long story short, Yorkshire terriers are British toy dogs. As their name implies, the first Yorkies probably hailed from Yorkshire, a county in northern England.
The Yorkies' story began when Scottish weavers traveled to England during the mid-1800s to find work. These migrant workers brought multiple types of terriers with them, including one called the Broken-Haired Scotch Terrier. These dogs' small stature came in handy because it allowed them to hunt mice and other small rodents inhabiting the nooks and crannies of textile mills and coal mines. This breed first began showing in England in 1861, but by 1974 the name "Yorkshire terrier" became the breed's official name.
In 1878, the American Kennel Club was the first kennel club to recognize the Yorkie. English Kennel Club followed in 1886. After that, the tiny dogs became a favorite of the Victorian upper class, paving the way for supermodels and reality TV stars to embrace the little terrier dog.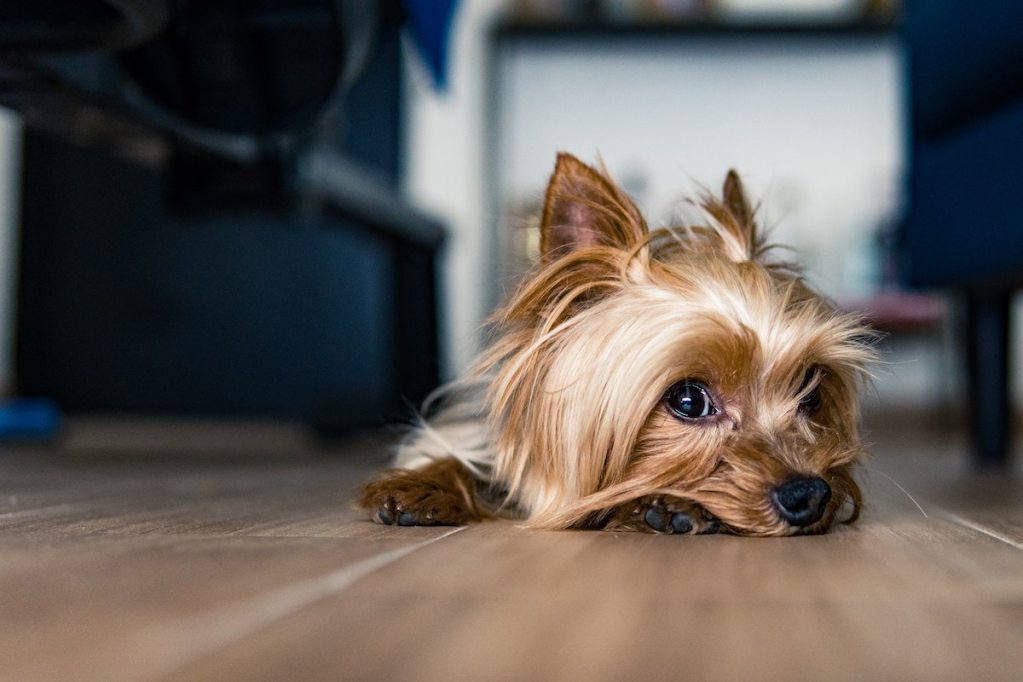 A complete guide to the Yorkshire terrier breed
Celebrities love Yorkies, but is the breed right for your family? Learning about a breed's physical and social characteristics can help you make an informed choice. Whether this breed is best for your home, you'll have a lot of useful knowledge about a popular dog breed.
Yorkshire terrier physical characteristics
Purebred Yorkies must meet breed standards in order to qualify for dog shows, but pets are only measured on one standard: love. Still, your Yorkie will likely follow these physical characteristics, including:
Height: 7-8 inches
Weight: 7 pounds on average
Coat: Floor-length, silky, and shiny. Adult Yorkies can have a few different coat color patterns, including blue and gold, blue and tan, black and gold, and black and tan.
Lifespan: 11-15 years
Common health problems in Yorkies (every breed has a few)
Like many tiny dog breeds, these lively pups have pretty long life spans — 11 to 15 years. However, Yorkies have some common health problems you'll want to know if you plan to bring one into your home. No one wants to think about their dog getting sick, but knowledge is power — and it can help you get your pet prompt care. Yorkies are prone to:
Bronchitis
Luxating patella (a dislocated kneecap)
Lymphangiectasia (an intestinal issue hallmarked by diarrhea)
Portosystemic shunt (a liver problem often diagnosed at birth)
Cataracts
Digestive issues
Tooth decay
Gum disease
Hypoglycemia (low blood sugar)
Because Yorkies are tiny, any procedure that requires anesthesia can be riskier for them. Your vet can provide you with the best insights into whether a procedure is worth the risk, but you can reduce health risks for Yorkies by:
Scheduling regular vet checkups
Keeping your Yorkie up to date on vaccines and monthly preventatives
Feeding your Yorkie a balanced diet
Limiting treats to 10% of their daily food consumption
Leaving out fresh water
Brushing their hair daily — their long coats require extra grooming
Social characteristics of Yorkies
Yorkies pack a ton of personality into their tiny bodies. These dogs absolutely adore their families and are very loving toward the people in their household. Believe it or not, Yorkies are generally good with small children and make great first pets.
Still, you want to monitor interactions between pets and small children, including Yorkies. Even the tiniest hands can look big to a Yorkshire terrier, and small children often lack awareness about how to treat a pet. But with time, love, and patience, a Yorkie and a small child can become lifelong buddies.
Although Yorkies can be yappy and can make fantastic watchdogs, a friend of yours is a friend of your Yorkies. These tiny pups are hit or miss with other dogs in the home, but they tend to be very open to new people. Some Yorkies prefer to be the only pet in your house, while others will at least tolerate another furry friend. This is why it's important to get to know your dog!
Yorkies are very playful and energetic. Though they're often considered lap dogs because of their size, they were once working dogs. They require frequent mental and physical stimulation like any pet, so prepare for lots of short walks and play sessions.
Finally, don't let the rumors fool you. Yorkies are whip-smart, eager to please, and take well to training. All dogs benefit from training ASAP, including this breed.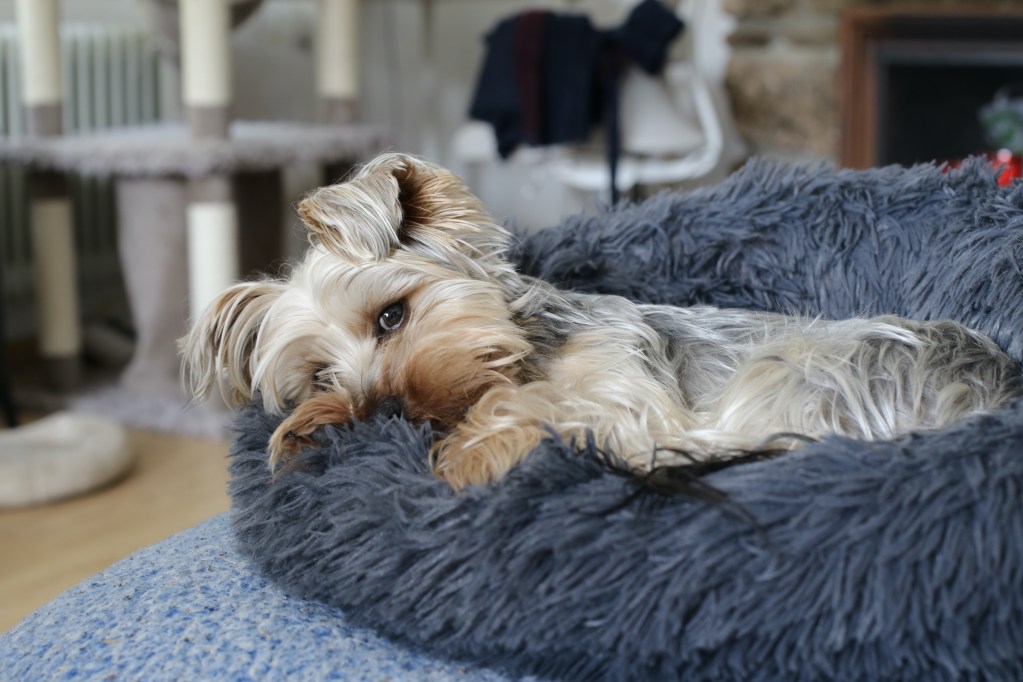 How to know if a Yorkshire terrier is the right breed for you
Now that you know the Yorkie basics, you might feel ready to decide whether this dog is perfect for you. However, it's important to be realistic about what kind of home you can provide, too. After all, it's easy to assume that a tiny dog works well for anyone! In reality, Yorkshire terriers need a very dedicated owner who can commit to daily brushing, feeding, play, and — of course — love. These little dogs may be adaptable in small homes like apartments (or even being carried in a purse for the day), but their big personalities require lots of attention and companionship! Yorkies aren't just dogs — they're members of the family.
No two dogs are alike. Even dogs in the same litter will have unique personalities and physical traits, like human siblings. However, breeds do generally have similarities. Therefore, researching and getting to know specific breeds is a great place to start your search for a pet. From there, reach out to local shelters and rescues, reputable breeders, and even a vet if you have one. They can provide you with information on breeds and aid in your decision.
It's always a good idea to have everyone in the home meet a potential new dog — any current dogs included — to ensure everyone is on board. Yorkies tend to have long life spans, and you want to ensure you can provide a proper home for one every day.
Editors' Recommendations