With cooler fall temperatures just around the corner, pet parents dream of taking their dogs on long outdoor adventures. Some might even be planning pet-friendly getaways. Autumn is certainly a wonderful time to get outside and enjoy nature, and where better to do this than in a U.S. national park? Many of these wonderful parks are pet-friendly. Following are four national parks that are incredible in the fall, and your dog will love them, too.
Acadia National Park, Maine
Fall is the perfect time to visit Acadia National Park. The weather in the park in early September is lovely, with daytime temperatures in the low 70s, perfect for hiking with your dog. While this park attracts millions of visitors every year, the crowds thin out in the fall, making it a more enjoyable experience. The fall foliage is spectacular, and according to the National Park Service (NPS), the best "leaf peeping" dates typically fall between October 13 and 22, although this can change slightly from year to year.
About the park
Acadia National Park shelters the natural beauty of the highest rocky headlands along the Atlantic coastline of the U.S. Visitors can enjoy 27 miles of historic motor roads, 158 miles of hiking trails, and 45 miles of carriage roads.
Pet policy
While many areas of the park don't allow pets, 100 miles of hiking trails and 45 miles of carriage roads are open to dogs. You can also do day hikes with your dog on Isle au Haut, a community off the coast of Maine and part of the national park. Pets ride for free on the ferry to the island. Once there, you and your dog can have fun exploring the island's beautiful forests and pathways.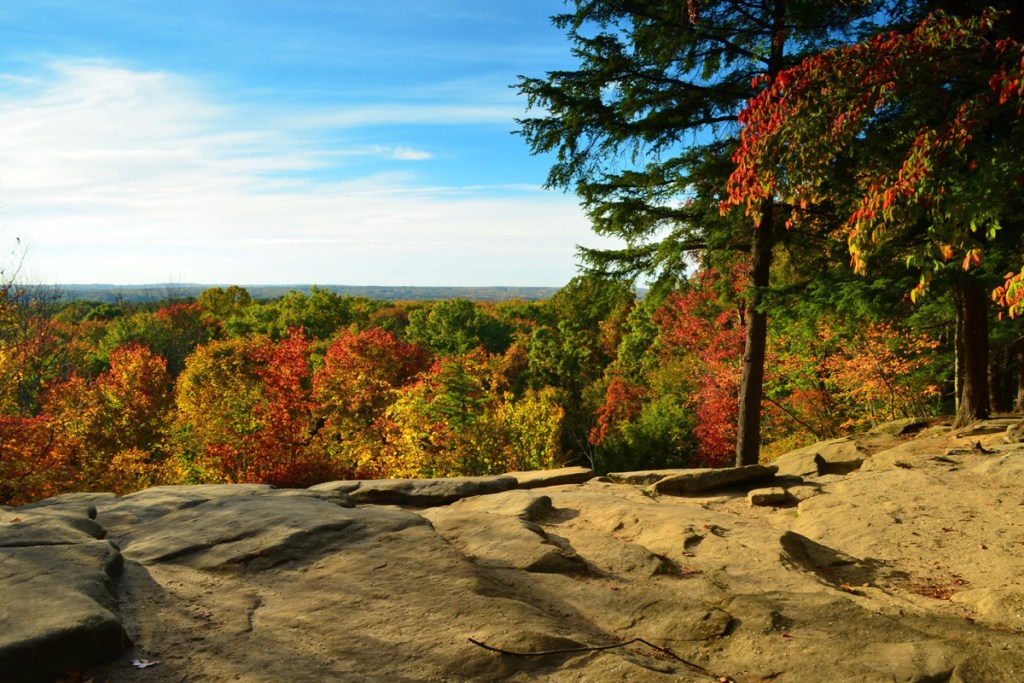 Shenandoah National Park, Virginia
October is a terrific time to visit Shenandoah National Park, with its more than 500 miles of hiking trails. Fall visitors can drive along the park's Skyline Drive and stop off to take in the awe-inspiring colors from several vantage points. Pet parents and dogs will have fun exploring the network of hiking trails and be rewarded with cascading waterfalls and gorgeous panoramic views.
About the park
Shenandoah National Park extends along the Blue Ridge Mountains in Virginia and encompasses more than 200,000 acres of protected lands.
Pet policy
Of the 500 miles of hiking trails in this park, less than 20 miles are off-limits to pets. That leaves lots of trails for you and your dog to explore. Dogs are allowed in most places in the park and there are pet-friendly rooms available in the lodges within the preservation.
Congaree National Park, South Carolina
This wonderful park is located in the midlands region of South Carolina. It has a humid subtropical climate with mild winters and warm, wet summers. The National Park Service highly recommends visiting Congaree National Park from September through November when the average daily temperatures are in the low 70s and there's low humidity. The flies also are not a problem in the fall, making it a great time to visit with your dog. Fall colors peak here between October and early November.
About the park
According to the NPS, Congaree National Park is the largest intact expanse of old-growth bottomland hardwood forest remaining in the southeastern U.S. Because the majority of the park lies within a floodplain, the terrain is generally flat with only slight elevation changes. So, hiking here won't be too strenuous for you or your dog.
Pet policy
Congaree National Park welcomes pets. Dogs are allowed on all trails, including the boardwalk and in the campgrounds.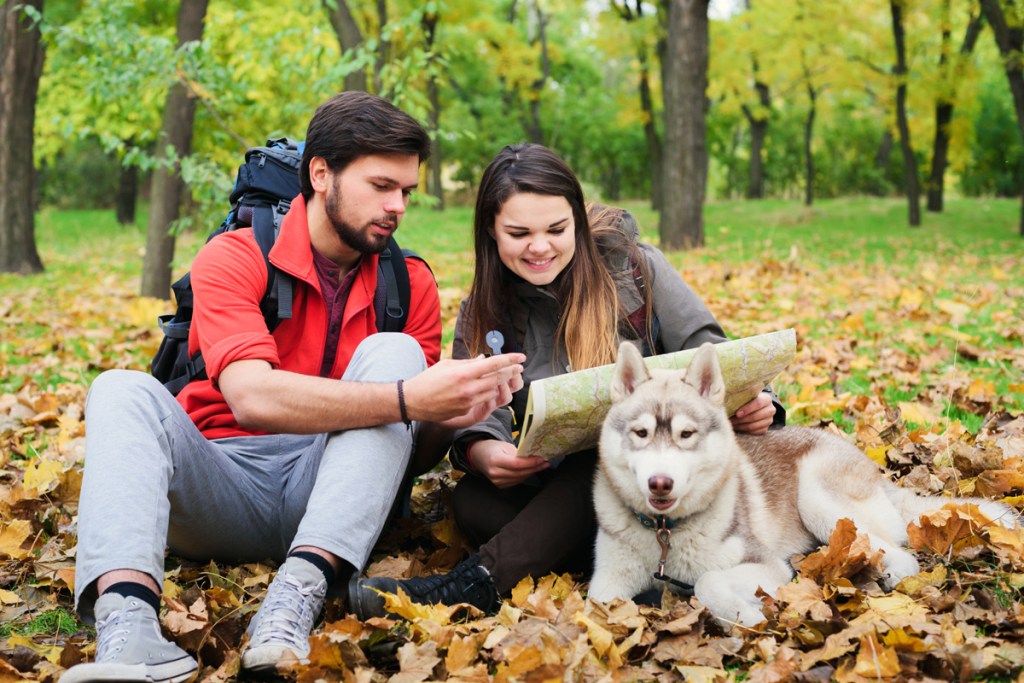 Cuyahoga Valley National Park, Ohio
This national park is home to lots of deciduous forest, making for a spectacular color display in the fall. Typically, the last two weeks of October are when you'll enjoy the gorgeous reds, oranges, and yellows in Cuyahoga Valley National Park.
About this park
This might be one of the lesser-known national parks in the U.S., but it's a valuable refuge for native plants and wildlife. The Cuyahoga River winds through this park that includes deep forests, rolling hills, and open farmlands. It's also home to the Ohio & Erie Canal Towpath Trail that takes visitors along the same path mules walked to tow canal boats loaded with goods and passengers.
Pet policy
Dogs are allowed on more than 100 miles of hiking trails as well as on the Ohio & Erie Canal Towpath Trail.
It's an honor, not a privilege, to visit U.S. national parks with our dogs. These parks have strict rules to ensure the preservation of the natural environment. It's important that pet parents obey these rules, which include keeping dogs on a 6-foot leash at all times, picking up poop, and steering clear of areas that are designated as off-limits to pets. By respecting park rangers and other visitors, everyone, including our pets, can continue to enjoy some of the most beautiful U.S. national parks.
Editors' Recommendations