As the weather warms up, your golden retriever may bring fleas and ticks into your home. These insects pose serious health risks to you and your pets. Some of the most common tick-borne diseases in the U.S. include Lyme disease, babesiosis, ehrlichiosis, and Rocky Mountain spotted fever. Flea infestations can cause skin irritations and spread tapeworms. It's important to use some type of flea and tick preventative on your dog.
Flea and tick treatments for your golden retriever
The flea and tick preventative you use will depend on your golden retriever's age, lifestyle, and health status. Always discuss any product with your veterinarian before using it on your dog.
This monthly topical treatment has been around for more than 20 years and is considered to have a wide margin of safety among veterinarians. It's available without a prescription and is one of the more affordable preventatives. Topical preventatives are a great option for golden retrievers with sensitive stomachs or food allergies.
How it works: Frontline Plus contains fipronil and (S)-methoprene and kills adult fleas, flea eggs, flea larvae, adult ticks, and chewing lice. The insecticide is stored in the dog's oil glands and dispersed through the hair follicles to offer parasite protection.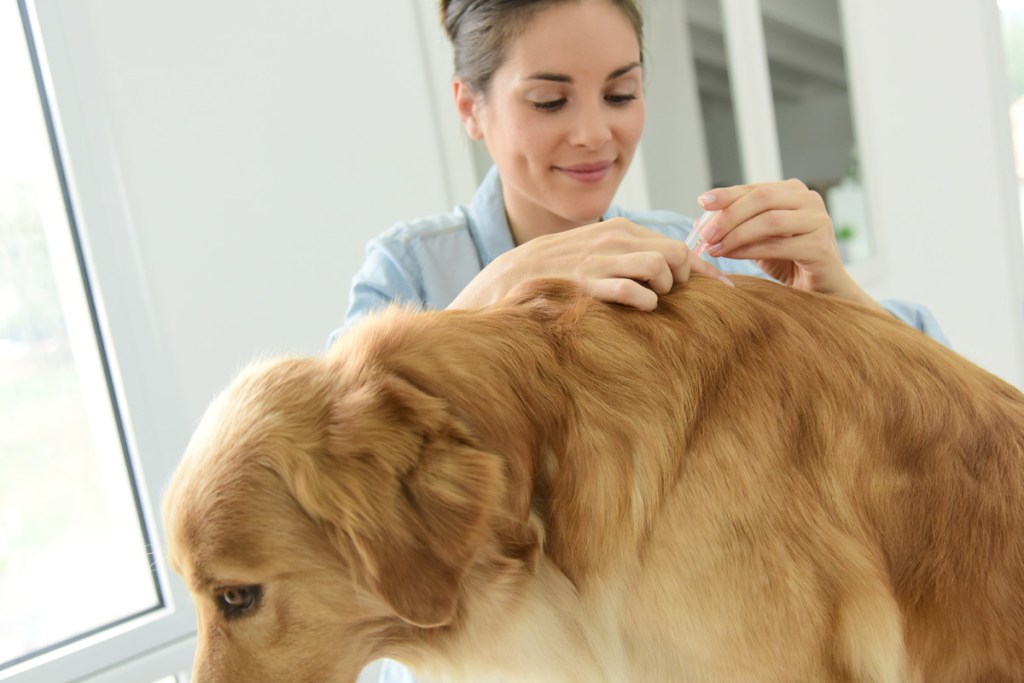 Veterinarians recommend this topical preventative because it kills parasites quickly while also acting as a repellent. The solution can be purchased without a prescription and is applied monthly.
How it works: The active ingredients imidacloprid, permethrin, and pyriproxyfen kill fleas, ticks, and mosquitoes on contact. Insects don't have to bite a dog to die. In households with cats, pet parents need to seek veterinary guidance before using this product, as permethrin is toxic to cats.
This is an oral preventative given in the form of a chewable and is available only by prescription. It was chosen as the best overall flea and tick medication of 2021 by Dr. Erica Irish, a veterinary adviser to the Golden Retriever Society. It's popular with veterinarians and pet parents because it offers such a wide range of prevention. Oral flea and tick medications are a great choice in households where children or other small pets may be in danger of coming into contact with a topical treatment before the solution has fully dried.
How it works: The ingredients sarolaner, moxidectin, and pyrantel work together to prevent flea infestations, kill ticks, treat and control roundworms and hookworms, and help prevent heartworm disease. Simparica Trio was included in a 2018 Food and Drug Administration alert and is not recommended for dogs with a history of seizures.
If you prefer to use a preventative shampoo for your golden retriever, then Adams Plus Flea & Tick Shampoo with Precor is a great choice. The Adams line of pet products has been recommended and sold by veterinarians for more than 30 years. This shampoo is enriched with oatmeal, coconut extract, lanolin, and aloe, making it a perfect option for dogs with sensitive skin.
How it works: The active ingredients (S)-methoprene, pyrethrins, and piperonyl butoxide kill flea eggs, flea larvae, adult fleas, ticks, and lice for up to 28 days.
This is a natural flea and tick preventative and a great choice for pet parents who prefer to avoid chemical treatments. The spray is a No. 1 Best Seller on Amazon and has more than 600 reviews and a four (out of five)-star rating on Chewy.
How it works: This preventative uses a blend of natural peppermint and clove essential oils to kill fleas, flea larvae, flea eggs, ticks, and mosquitoes on contact. As with all products, be sure to read the instructions carefully before applying.
Pet owners considering using natural products to control fleas and ticks need to be aware that even some herbal products are not always safe for pets. For example, products containing the essential oils cinnamon, geranium, tea tree, lavender, bay, and eucalyptus can cause severe allergic reactions in pets and people. The American Veterinary Medical Association offers tips on what to ask your veterinarian before using any flea or tick preventative.
Editors' Recommendations