We know one of the most challenging parts of owning fish is cleaning the aquarium frequently. No one wants to set aside an afternoon to remove each fish, bag him, and then scrub out his poop from a tank. We recommend investing in a submersible aquarium pump that will take care of all this for you. These days, you can find a quiet but effective pump to filter your water without keeping you up at night.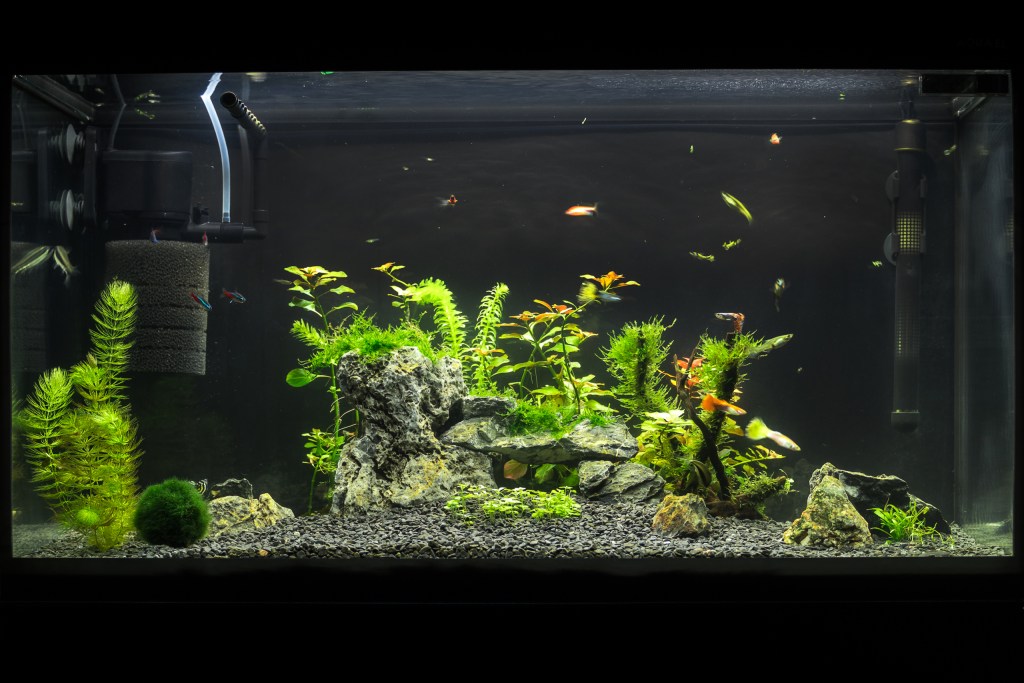 Tetra Whisper IQ Filter
One of the most important things to think about when choosing your filter will be the noise factor. Lots of aquarium pumps keep both your family and your pets wide awake and disturbed. But many fish are also sensitive to the flow level of the water in their tanks. The benefit of the Tetra Whisper is that you can control the output. If you have a betta or other delicate fish, you can turn the pump down so as not to disrupt their natural current. Replacing the cartridges is easy, which allows you to keep the pump running longer without a full cleaning.
Aqueon Freshwater & Saltwater Circulation Aquarium Pump
As every fish owner knows, once you get your first swimmer, you want to buy 100. The Aqueon pump can filter very large and dirty tanks that host multiple fish species. Because of the high filtration rate, it does require maintenance, but the continuous water flow helps keep your tank squeaky clean. Many fish will prefer this type, and its energy-saving features will ensure you aren't utilizing too much electricity to maintain your habitat.
Vivosun Submersible Pump
This pump delivers convenience because you can place it almost anywhere in the tank. Attach this filter on the side or bottom of your tank using the suction cups, and it'll stay in position. The Vivosun is perfect for ponds or aquatic environments where you're trying to keep everything natural since you can easily disguise it among your plants and other decorations — it's made to blend in with the surroundings.
Hygger Quiet Submersible and External Water Pump
While this fancy filter is a little higher end than the others on this list, it's ideal for those who want full control of their aquatic system. This unit can be completely regulated with the external controller, but it can be used only in an indoor environment as the controller is not waterproof. It can also function in low-water habitats, so you can install this pump in a partially filled tank. When the water gets too low, the machine will automatically shut off.
The best aquarium water pump for you will depend on your specific setup and needs, but we bet you'll find one of these useful. Whether you're buying a filter for your plants, fish, turtle, or pond, there's a submersible filter out there that will stay quiet and also get the job done, keeping your pet's home clean and your pet thriving.
Editors' Recommendations