Fish are a perfect option for pet owners who don't want the high-maintenance care that comes with dogs and cats. But before you head out to the pet store, you might ask, "What do I need to know before buying a fish tank?"
For many beginners, choosing the right type of fish is more challenging than they might think. There are tons of different freshwater fish available, with a variety of colors, sizes, temperaments, and care requirements. Keep reading to learn about the seven best freshwater fish to keep in your aquarium and how to care for them.
If you're interested in more, you can also find out what are the best small sharks for your home aquarium.
Common goldfish
When you think of keeping a fish as a pet, you probably imagine the common goldfish. While some expert fish keepers warn against these fish, they can be a great option for beginners. Goldfish are easy to care for and exceptionally resilient. These fish can become quite large and grow up to 12 to 14 inches. Common goldfish need 30 gallons of water per fish. Additionally, they would be best in a single-species aquarium; goldfish will try to eat any fish or plant that can fit in their mouth.
Neon tetras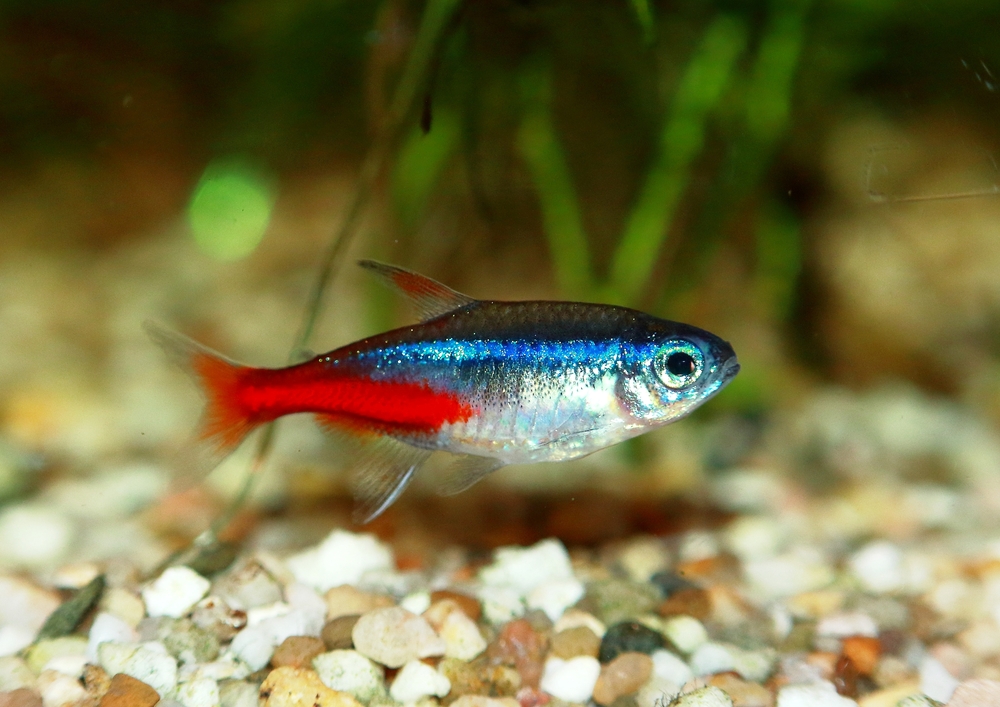 This small, well-known species is one of the easiest fishes for new fish owners. You may recognize it by its bright blue body and red stripe. The neon tetra grows to only about 2.2 centimeters, which means you can keep a lot of them in your freshwater aquarium. These fish also have a calm and passive temperament. Neon tetras are happiest in groups, living in aquariums with lots of rocks and plants for hiding.
Betta fish
Another fish you will see in a lot of freshwater tanks is the betta fish. These are brightly colored, meat-eating fish who are simple to care for. Bettas are small fish that can be kept by themselves or in a larger tank with other compatible species. These fish get along with tetras, corydoras, and other peaceful fish. Just be sure to keep them away from other betta fish, or you may find out why they're nicknamed "Siamese fighting fish."
Angelfish
You can tell an angelfish by its delicate fins, beautiful stripes, and distinct shape. You'll find many types of angelfish at your local pet shop, including zebra, veil, koi, and marble angelfish. Because they can grow to be quite large, it's best to keep them in tall tanks that hold at least 55 gallons of water. Angelfish get along with tetras, rasboras, and other community fish. However, it's ideal to keep only one of these fish to prevent any territorial fighting.
Platy fish
Platies are beautiful fish that come in a variety of vibrant and unique colors. For those who want to keep several species of fish in their aquariums, platies are an excellent choice. Platy fish are peaceful fish that do well in freshwater communities. So, what fish go well together in a freshwater tank? Platies are very social and enjoy living with mollies and guppies. They also need a combination of proteins and plant-based foods, but they can eat meat-based foods as well.
Mollies
If you're looking for an easygoing fish with simple care requirements, consider adding mollies to your freshwater aquarium. These fish are omnivorous, meaning they eat plants and animals. Mollies can grow to be three to four inches long, and, unlike many other common tank fish, they breed with ferocity and give birth to live fish. If you don't want mollies to overtake your tank, keep only one gender of the species.
Corydoras
Cory catfish, also known as corydoras, are another excellent addition to any freshwater aquarium. They are passive schooling fish who tend to congregate at the bottom of the tank where they can scavenge for crumbs. There are more than 100 species of corydoras; some of the most popular include emerald green, panda, albino, and bronze cories. Cories can range from one to three inches long and prefer to be in groups of three to six.
There are so many types of freshwater fish that would be a welcome addition to any aquarium. These seven fish are colorful, beautiful, and, perhaps most important, easy for beginners to take care of. Hopefully, this guide provided you with some helpful suggestions and will make you consider some species that you hadn't thought about before.
Want to know if you can keep seahorses in your home aquarium? Check out our guide.
Editors' Recommendations