If your indoor cat spends hours in the window watching the outdoors, it might be time to find a way that he can venture out safely. A catio can be the perfect solution. Catios are enclosures that allow your cat to spend some time outdoors while still being safely contained and protected. They come in all different shapes and sizes, so choosing the one that's right for your cat can be a bit of a challenge. That's why we've done the work for you. We've highlighted three of the best catios you can buy. Any one of these options can give your cat a taste of the outdoors — safely.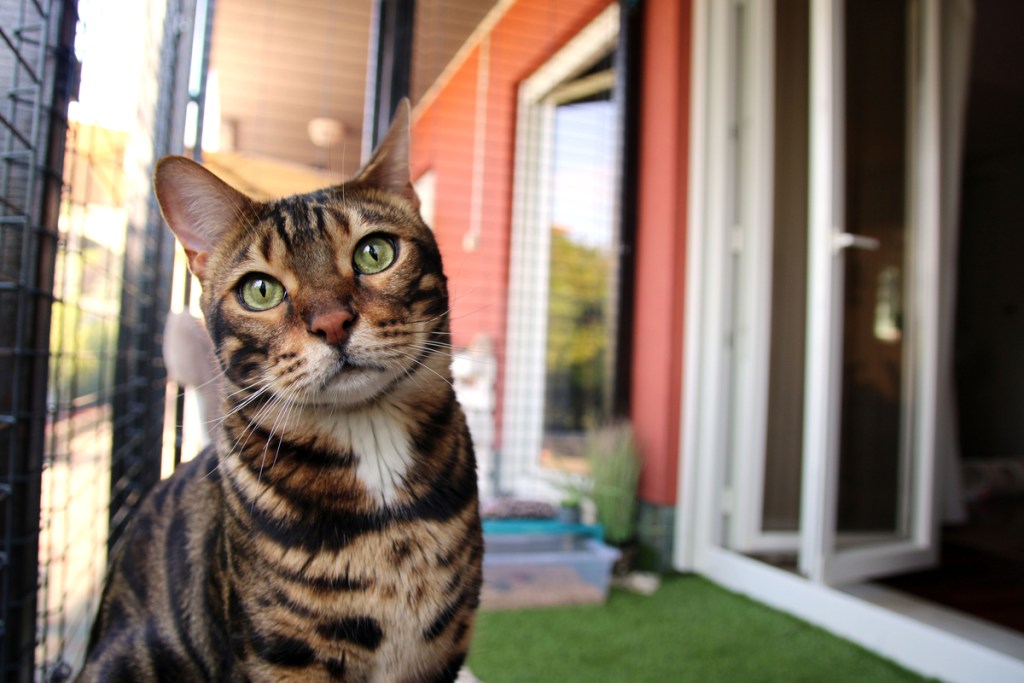 Portable
Has over 30 square feet of space
Good for indoor and outdoor use
Easily portable and convenient to set up, the Outback Jack Happy Habitat Cat Playpen Tent keeps your cat secure while he enjoys some time outside. The tent offers over 30 square feet of space, giving your cat plenty of room to stretch, laze about, and explore the outdoors. This tent folds up into a carry bag, so it's super easy to store and transport. It includes pegs to stake it down securely and comes with a zippered door that's easy to access but keeps your kitty secure. This collapsible tent weighs just 4 pounds, and the mesh sides provide plenty of ventilation.
Offers three platforms
Good for multiple cats
Weatherproof design
The PawHut 71-in x 32-in x 44-in Large Wooden Outdoor Cat Enclosure Catio Cage with three platforms is a fully enclosed outdoor pen that you can put on your patio or in your backyard to give your cat some fresh air. With its three elevated platforms, all your cats can climb, jump, and explore. The catio is made with a solid wood frame that's protected with a pet-friendly sealant for durability. Strong metal wire also helps keep your cat secure and safe. The catio features a flat roof that's covered with asphalt for extra protection against the weather. An oversized front door with latches makes it easy to put your cat in and remove him safely.
Comes with removable wheels
Good for multiple cats
Good for indoor and outdoor use
The GUTINNEEN Cat House Outdoor Cage Large Catio is a versatile catio that you can use in multiple ways. It's equipped with four wheels so you can easily move it around the patio or yard, or you can remove the wheels for more permanent use. The catio is equipped with three large tiers for climbing and perching. It has separate spaces for one or two cats, so your kitties can enjoy quiet time alone as needed. The sturdy fir construction provides this catio with plenty of strength, and durable metal wire helps keep your cats safe. It's equipped with two large front doors and small pull-up access windows, so it's easy to catch your cats as needed. A waterproof asphalt roof adds durability and makes this catio suitable for both indoor and outdoor use.
When choosing a catio, look for one that's well built and strong to keep your cat safely contained. Be sure to choose a product that has strong door closures to help prevent escapes. Keep in mind that even with a solid catio, it's still important to keep a close eye on your cats while they're outdoors. Loose dogs or other animals could stress, threaten, or harm your cats, so use the catio only while you're home and close by. Your indoor cats may be nervous about the catio at first, so give them plenty of time to adjust, with short introductory sessions complete with treats, toys, and praise.
Editors' Recommendations