Many animals beg instinctually from birth — think of the tiny bird beaks that open wide to accept their mom's proffered worm (or spit up). But your puppy or kitty might never stop asking for extras no matter how old she gets. In the wild, it makes sense to eat food as it's available because the animal doesn't know if there will be another meal coming along soon. Some pets really lean into this behavior though and will all but demand their dinner from their pet parent any time they please.
One of the major reasons our pets continue to give us the big brown eyes to score a snack — it works! This cat certainly has figured that out, but she has decided to take a slightly different approach. In the funny cat video amazingly titled "Hooman, I need dis," the subject adorably paws at her food while staring down her person (and the camera).
At the end, the cat looks directly at us, seeming to say "What part am I not making clear?" Top commenter u/Whole_Chicken_4248 took the human's side with "'and what's the magic word?'" In response, user u/zeke235 channeled the feline with: "Now." Or better yet "Meow" says u/Purple_Platypus789. Best of all, this cat begs for food on the Cat Taps subreddit, which is definitely a place you'll want to frequent for more polite kitties.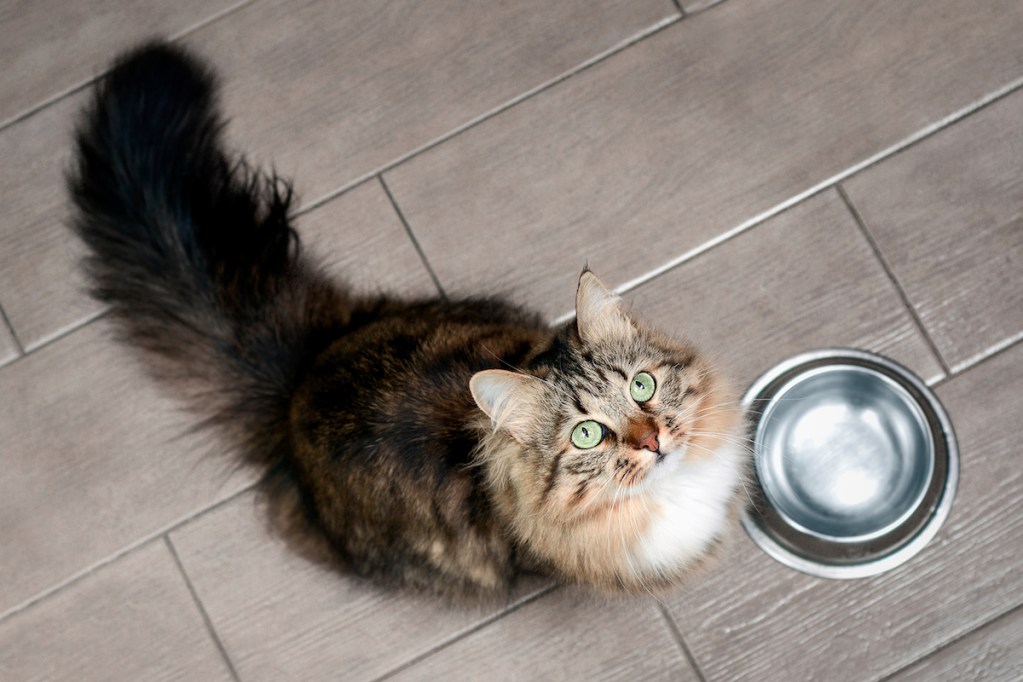 Can you teach a cat not to beg?
While this little one surely asks nicely, yours might turn into a yowling terror every time she wants food. The first step is not to give in so, despite what all the commenters suggested, you probably should wait a few minutes until you give your animal their meal, or at least until the behavior stops. If you're thinking that will never happen, one option is to put her into "time out" by removing the desired food item or the cat herself until she stops. Lastly, try "counter-conditioning" which means giving her something else when she begs such, as pets or a favorite toy. That will temporarily distract her without giving in to the demand. One quick note: sometimes cats beg excessively because they aren't getting enough to eat or they aren't getting proper nutrition. If the begging seems out of character or has been ratcheted up a notch for no reason, talk to your vet, who may recommend blood work or other tests to rule out an underlying issue (such as a thyroid problem or similar disease that can cause insatiable hunger).
While it might be cute and funny when we catch our cats begging on video, you probably don't want to give into this behavior too often or your furry friend will know exactly what it takes to get her way. Try some of these tricks to get her to stop begging, but remember that slipping her the occasional treat in response to a "feed me" face won't do any lasting damage.
Editors' Recommendations