There's no better way to bond with your cat than by treating him to some new toys, and the Frisco company provides you with potentially endless cat toy choices. Not only are these toys fun to look at, but they're designed to also be extra appealing to cats, thanks to features like catnip and moving parts. If you want to bring out your cat's playful side, then adding some new toys to your assortment is sure to get him interested. These are some of the best cat accessories you can find, and they're perfect for both kittens and adult cats.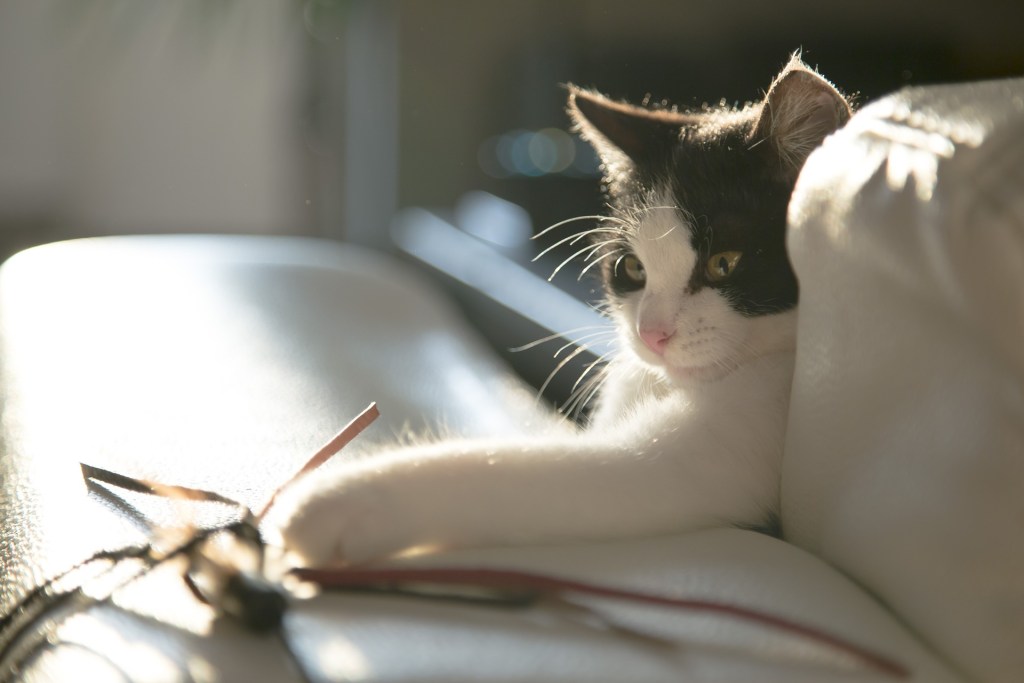 Available in two colors
Can stimulate a cat's hunting instincts
Lightweight and soft for easy play
If your cat loves to help you mop the floors, then he'll love the texture of this moppy ball. Lightweight and floppy, it's easy to chase and bat around, while the soft material is ideal for kicking and chewing before settling down for a nap.
Good for solo and interactive play
Can stimulate a cat's hunting instinct
Fuzzy texture makes it good for naptime, too
Sometimes the simple, classic toys are the best, and that's exactly what this mouse delivers. The fuzzy texture will pique your cat's hunting interest, and the toy's shape is made for batting, chasing, and carrying through the house. It's ideal for both solo and interactive play, perfect for your little hunter.
Nonskid pads keep the toy in place
Can work for both single and multiple cats
Comes with a replacement butterfly piece
This toy is designed to grab your cat's attention and keep him engaged in active play. The tracks are equipped with a ball that your cat can bat around, while a fluttery butterfly on the top of the tracks offers even more fun. The track is mounted on nonskid pads to keep it in place, so your cat can play and swat without having to chase the unit across the floor. This toy offers both exercise and mental stimulation, and with three colorful balls and two butterflies, it can capture your cat's attention even when you aren't home to play with him.
Comes with a vial of Canadian catnip
Can remove catnip to machine-wash the toy
Can stimulate a cat's hunting instinct
Perfectly fuzzy and filled with catnip, this little squirrel is all too tempting and will have your cat going wild. The refillable compartment means you can add new, fresh catnip to keep the toy extra enticing. The plush squirrel stimulates and satisfies your cat's hunting instincts while providing plenty of exercise. It includes a vial of Canadian catnip, so you'll have everything you need to capture your cat's interest and encourage him to let his wild side out.
Cute design
Packed with both catnip and crinkle paper
Comes with two toys
Satisfy your kitty's sweet tooth with this pair of plush doughnuts. They're soft enough to be gnawed on and bitten, and they're packed with both catnip and crinkle paper to capture your cat's attention. They're perfectly sized for engaging play and batting, and their round shape makes it easy for your cat to send them flying across the floor.
Cool retro design
Helps maintain good scratching habits
Includes optional catnip packet
Let the games begin! This game toy's retro design makes it entertaining for you, while it will help your cat satisfy his scratching instincts. The corrugated cardboard is naturally appealing to cats, but it also includes a packet of catnip if you need more to catch your cat's attention. This toy can even help protect your furniture by giving your cat an appropriate outlet for his scratching habits.
With these best cat gear options, you can keep your cat active and entertained. Quality toys provide valuable exercise opportunities, perfect to help your cat manage his weight. These toys let your kitty burn off extra energy and keep his mind occupied, so he's less likely to be bored or lonely or to use his energy by racing around your house at two in the morning. All the toys that we've highlighted are designed to appeal to your cat's natural instincts, increasing the chance that he'll use them right away and think they're all just purr-fect.
Editors' Recommendations