Our pets are often our kids and can act just as wild and funny as our human children. Some of them even enjoy the things that we like, especially attention and toys. This cat, Meep, takes it to the next level though as he's taken to stealing the baby bouncer at all hours of the night and day (as long as the tiny human isn't using it, of course). Meep is definitely setting a new standard for funny cat videos that we love to watch and rewatch thanks to his owner u/SpookyPie20 and u/swan001, who shared it with the caption, "I mean your cat really is YOUR baby."
It's not just the baby bouncer that this kitty loves. If you watch closely, you'll see he's also playing with an attached toy while he wobbles up and down. That's probably the thing keeping him there more than the bouncing motion, as cats often don't like to be bobbed around, at least by us, their lowly owners. Still, he's clearly enjoying the ride!
One user directed us to his bottom half: "That is hilarious! And, what a cute kitty! I was also going to say, it looks like Meep is wearing a diaper…" remarks u/camarokrzygirl. That's not the only one who was mesmerized by this feline's adorableness with u/Constance374 saying, "Omg—his little feets!!!!❤️" You'll notice his tail too is somehow poking out at the bottom and twitches with excitement as he tries to grab the hanging toy once and for all. But we think u/Colourofsulfur summed it up best in pointing out, "Well he is a baby too!" We're sure Meep wholeheartedly agrees with this sentiment.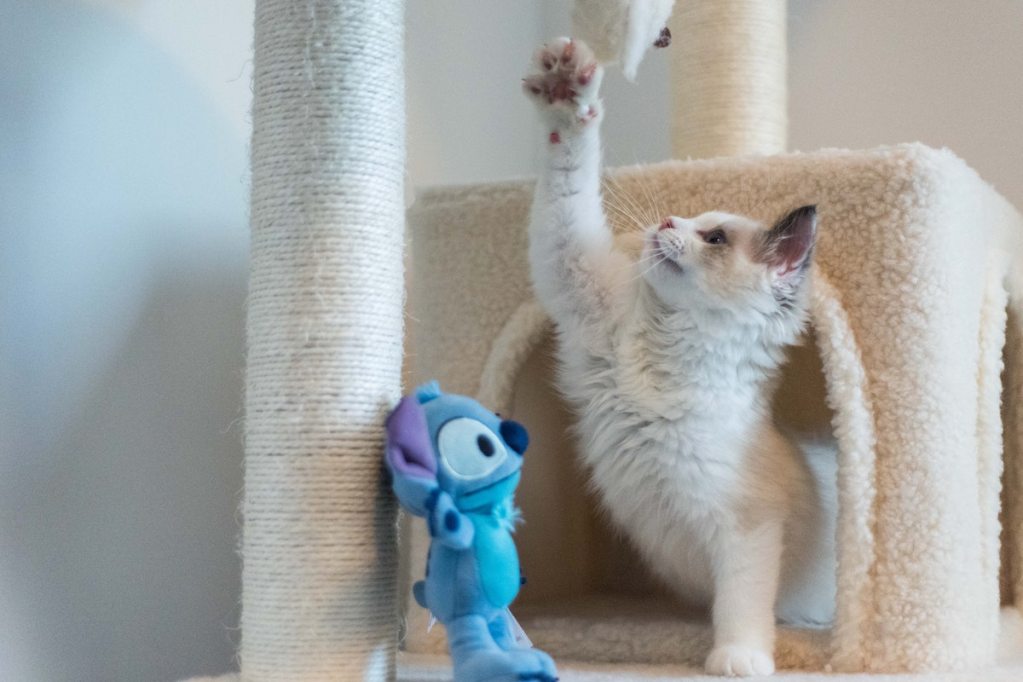 Why do cats like to play?
There's a simple explanation for this particular cat behavior: it's a result of their hunting instinct. Just as when Meep bats at his hanging toy, a cat in the wild (or his ancestors) would have used their paws to capture small animals for food. Kitten playing also allows them to practice the correct skills and develop them over time, which is why you might notice your pet grow out of a few of these behaviors as they age. In adulthood, your cat might only agree to play with something if you really encourage it. Stick with toys that move, smell interesting, and provide rewards like a treat or catnip if you want to watch your older kitty mess around with a toy.
Even though many cats lose interest in their toys as they mature, you can continue to entice them with interactive games and play. Hopefully, Meep never outgrows the bouncer though, as it's too cute for words. Even if he eventually quits acting like a baby and gives up the favored baby soother, we'll still have this sweet reminder that cats just want to be kids too.
Editors' Recommendations