From towers to beds to scratching posts, there's tons of furniture you can buy for your feline friend. Cat furniture can provide your pet with stimulation, give them a place to sleep, and prevent them from scratching your furniture. Plus, nowadays, there are plenty of modernly-designed options available on the market. Here are some of the best contemporary cat furniture pieces that you and your cat will both love!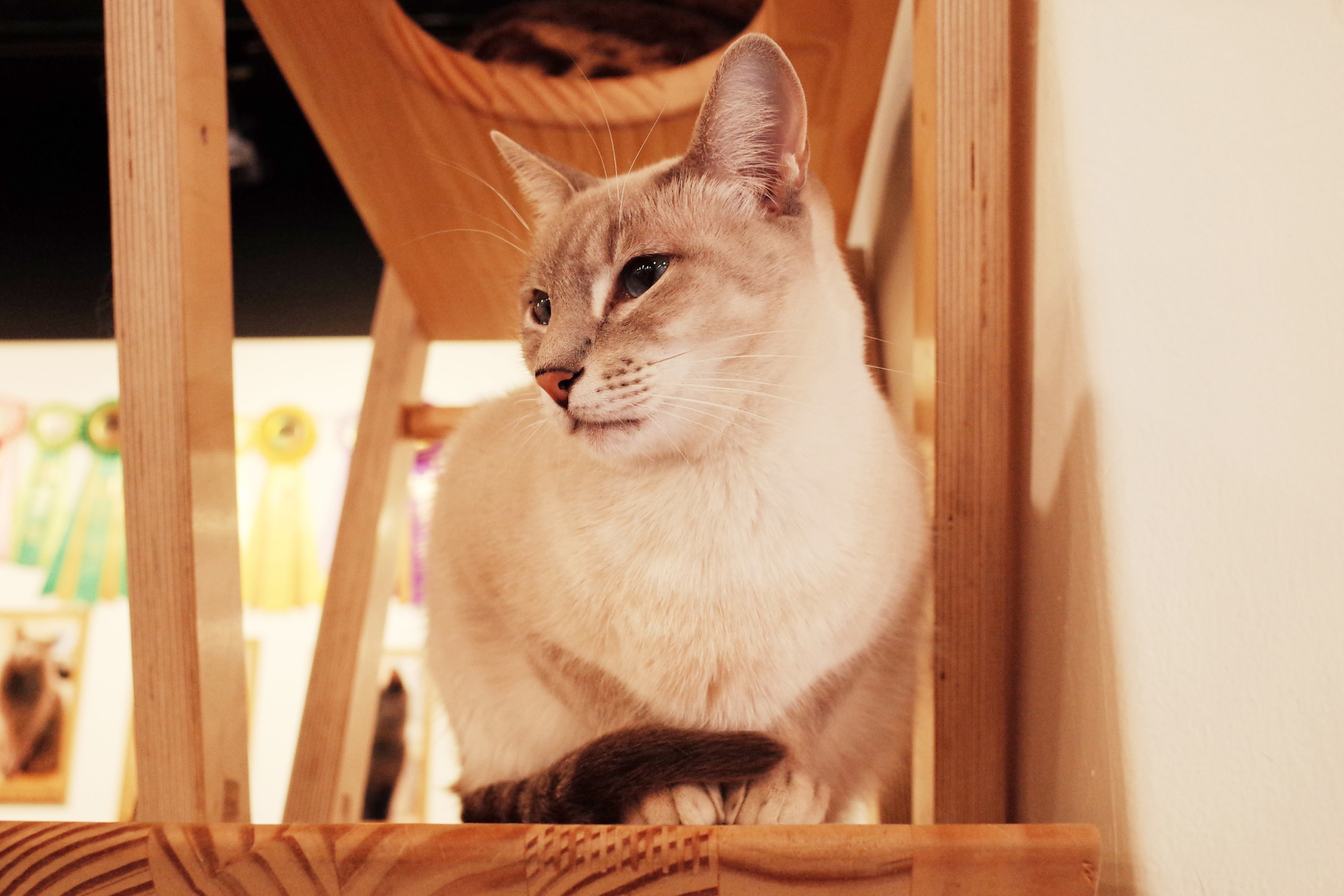 Vesper cat trees
The Vesper cat tree will please even the pickiest of cats, with multiple platforms, scratchers, and a comfy box for lounging. The platforms have cozy memory foam cushions where your kitty can sleep and relax all day long. Vesper offers several different designs of varying heights, the tallest measuring 47.9 inches. The sleek design is also available in three modern finishes: Walnut, oak, or black.
Katris modular cat tree
Who didn't love playing Tetris growing up? Now your cat can enjoy it too. The Katris cat tree comes with five different-shaped blocks, which you can arrange in any design you want. The design is super durable and can withstand up to 300 pounds for some serious scratching, climbing, and jumping. It's available in seven different colors, including teak, white, maple, and multicolor.
Furrytail Boss Cat elevated bed
With a contemporary bowl-shaped design, this cute cat bed will look fantastic in any modern home. The Furrytail Boss is an elevated, half-spherical bed that offers cats an enclosed space to sleep and relax in. The 360-degree rotation adds a degree of fun for your kitty, and the anti-skid feature makes it safe for play. Plus, for your benefit, the breathable lining is easy to clean.
Dr. Nono Cat House
This decorative cat condo will complement any home's decor. With its unique diamond design, your cat will have plenty of space to rest and relax inside. There's a plush cushion inside for added comfort and a large opening for easy entry. The Dr. Nono Cat House is also handcrafted with an extended base for added stability.
Sauder Natural Sphere Cat Tower
The Sauder Natural Sphere Cat Tower provides your kitty with everything they'll need for rest and playtime. It features a scratch pad, hanging toy, scratching post, and a sleeping pod. The spherical bed on top comes with a comfy cushion inside. Plus, its unique metal and plastic bristle design will add a touch of style to any room.
Cat Craft Tunnel Bed
Your cat is sure to love this funky tube-shaped bed. The gray Cat Craft Tunnel Bed is fun for kitties to run through, jump on, and lay in. There's an easily washable cushion inside, which makes sleeping even more comfortable. Plus, the brown wooden legs add a modern accent that will match the rest of the furniture in your home.
7 Ruby Road Wall Mounted Cat Hammock
This one-of-a-kind piece of cat furniture is mounted on your wall. The 7 Ruby Road Wall Mounted Cat Hammock comes with three elements: A hammock for sleeping, plus two steps that can be used for jumping and scratching. Your cat will get some exercise as they jump to their new favorite nap spot. The hammock can hold up to 40 pounds, making it suitable for cats of all ages and sizes. Plus, the neutral colors will blend with any decor style.
PetFusion Vertical Cat Scratching Post
The PetFusion Vertical Cat Scratching Post provides tons of entertainment for any cat. The three-sided design gives your cat plenty of space to climb, scratch, and play. With the interior cubby hole, your cat can explore tons of different scratching angles. Its durable cardboard design lasts longer than other scratchers, too!
Made4Pets Cat Tree
This modern, multilevel cat tree is your cat's one-stop-shop for all of their needs. Whether they want to scratch, take a nap, play, or jump up high, there's a place for them to do it in the Made4Pets Cat Tree. There are cushions inside the two-level loft for cozy sleeping and a clear hammock up top for even more lounging. It also has a natural and modern design, with a natural wood finish.
There's tons of beautifully-designed cat furniture available these days. Whether you're looking for a tower or a bed for your cat, you're sure to find something that they'll love and will look great in your home. Happy shopping!
Editors' Recommendations