While we may fight like cats and dogs with people we dislike, many actual cats and dogs coexist happily under the same roof. Though they may be able to share a home, dogs and cats can't share much else, even if they want to. They require different toys, care, and, most importantly, food. Cats and dogs have very different dietary needs. Read on to learn more about why cats and dogs can't eat the same food.
Can cats eat dog food?
This question often comes up in households with both cats and dogs. Looking at the nutrition labels on your dog's and cat's foods, you may see some of the same ingredients listed and begin to wonder how similar their foods actually are.
So, can your cat and dog eat the same food? While a small amount of dog food will not harm your cat, continually feeding it to them can be harmful to their health. It is not toxic to cats, but dog food ingredients do not provide the nutrition they need. Cat and dog foods are formulated differently to suit the nutritional needs of the different species. If your cat eats dog food long term, their health will suffer.
Different dietary needs
Since cats and dogs are different species, they evolved to have different nutritional needs. Cats are obligate carnivores. This means they require a diet of animal fats and meat-based proteins for their bodies to remain healthy and fully functional. Dogs, on the other hand, are omnivores. They have a more flexible diet and can eat meat and vegetables. A cat, however, could not survive on a dog's diet.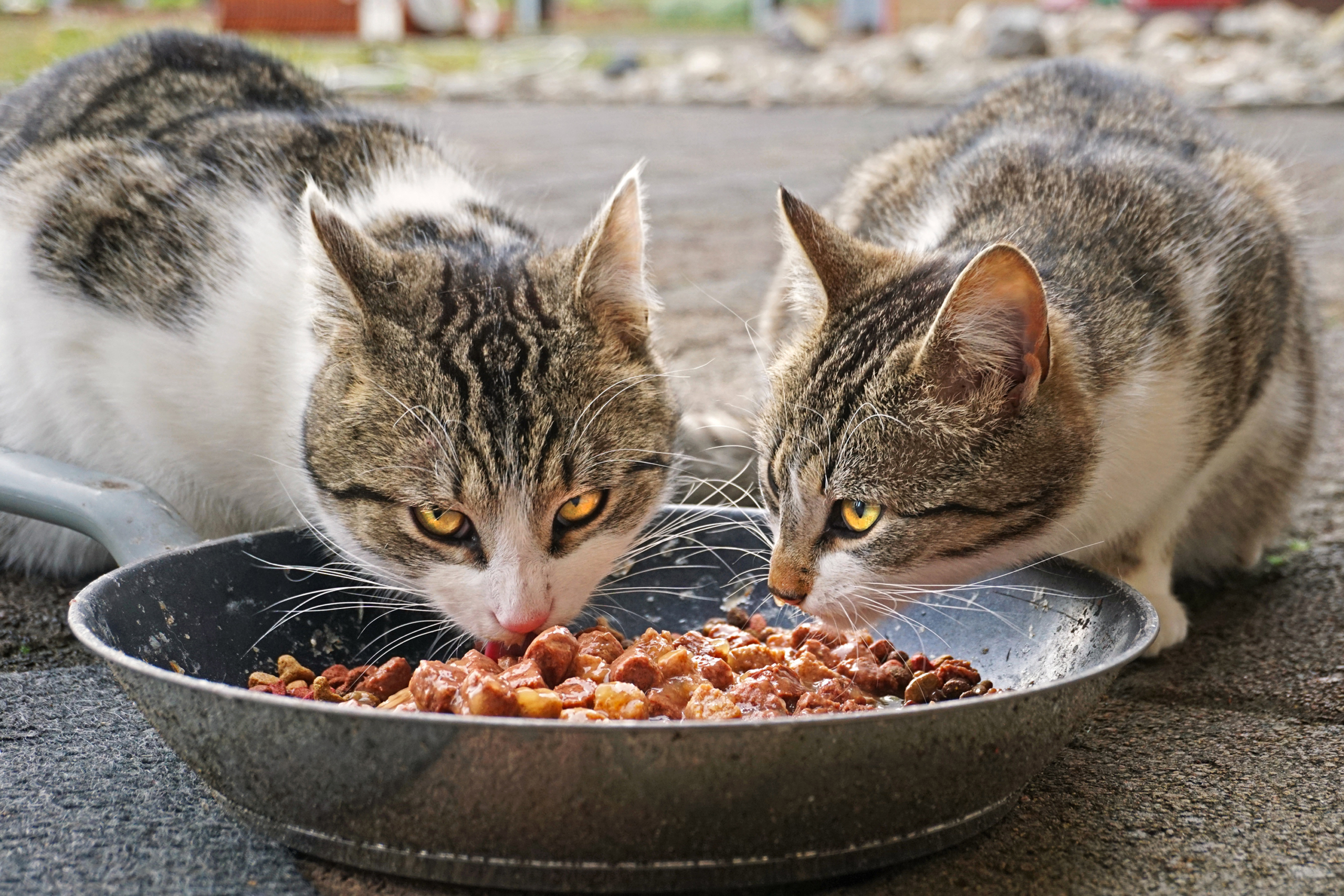 The difference between cat and dog food
The following are just a few of the ways that dog and cat food formulas differ.
Protein
Because they are strict carnivores, cats need to eat food with more protein than dogs do. Typically, dog food has an "As-Fed" protein percentage of 18 to 26 percent. Cat food should have an "As-Fed" protein percentage of at least 30 to 34 percent for dry food and 40 to 50 percent for wet food. While some dog food brands offer high-protein formulas, they still do not provide the level of protein needed by cats.
Taurine
Cats and humans are some of the only mammals whose bodies cannot make taurine naturally. As such, cats must eat food with added taurine, which dog food does not have. If they don't get enough taurine in their diets, cats can experience digestive issues, loss of vision, and heart problems.
Niacin
Cats are also unable to make niacin, which they need in their diets. Animal tissue is the most common source of niacin. Plants also contain low levels of this vitamin. But a food made with more plant tissue and less animal tissue would still not be enough to meet cats' needs.
Vitamin A
Both cat and dog foods generally contain vitamin A supplements. However, cats require more of it than dogs since their bodies cannot create it independently. Dog food does not hold enough vitamin A to suit the needs of cat nutrition. Without enough vitamin A, cats can suffer from weakened muscles, dull coats, and potential night blindness.
Arachidonic acid
This fatty acid is another essential for cats that their bodies can't synthesize naturally. Dogs create arachidonic acid on their own, so their foods usually do not have it added. If a cat does not get enough of this fatty acid in their diet, they may face liver and kidney problems, as well as skin issues.
Taste
Cats even experience taste differently than dogs do. They cannot sense sweetness and have much fewer taste buds than dogs; cats have 470 taste buds, whereas dogs have 1,700. This may be why your cat seems to be such a picky eater. Because of their lack of taste buds, manufacturers formulate cat food to be very tasty to entice them to eat. In fact, cats generally find most dog foods unpalatable.
Feeding dog food to your cat is a bad idea. While it may not be toxic to them in small amounts, it does not provide the nutrition they need to survive. To ensure your cat remains healthy and lives a long, happy life, feed them a high-quality food designed specifically for feline needs.
Want more? Before you share that tasty little snack with Crackle, be informed and see our list of safe people food for cats.
Editors' Recommendations