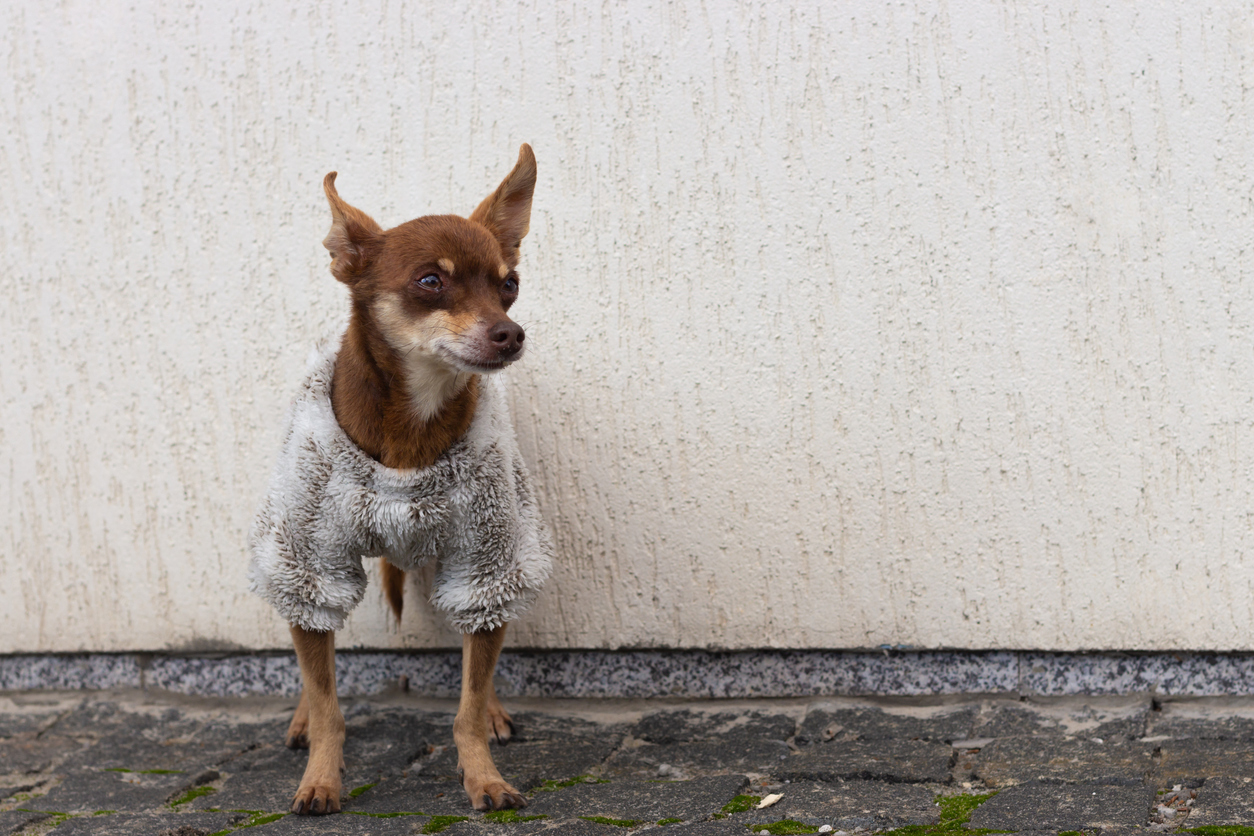 During the transition from late fall to early winter, focus on keeping your dog snug, warm, and adorably stylish with some of the best dog fleece sweaters and jackets in 2023. Known for unmatched comfort and superior quality, these dog fleeces have become an absolute must-have for every pet parent. Dog fleece adds an extra layer of warmth on chilly evenings and doubles as a trendy outfit for your pet's Instagram debut. So, whether you're looking to keep your furry friend comfy during winter walks or on the hunt for that perfect canine chic look, there's a dog fleece out there that's just right for your needs. No matter the breed, size, or age of your pet, we're here to guide you through the myriad of options, ensuring you find the perfect match for your precious pup.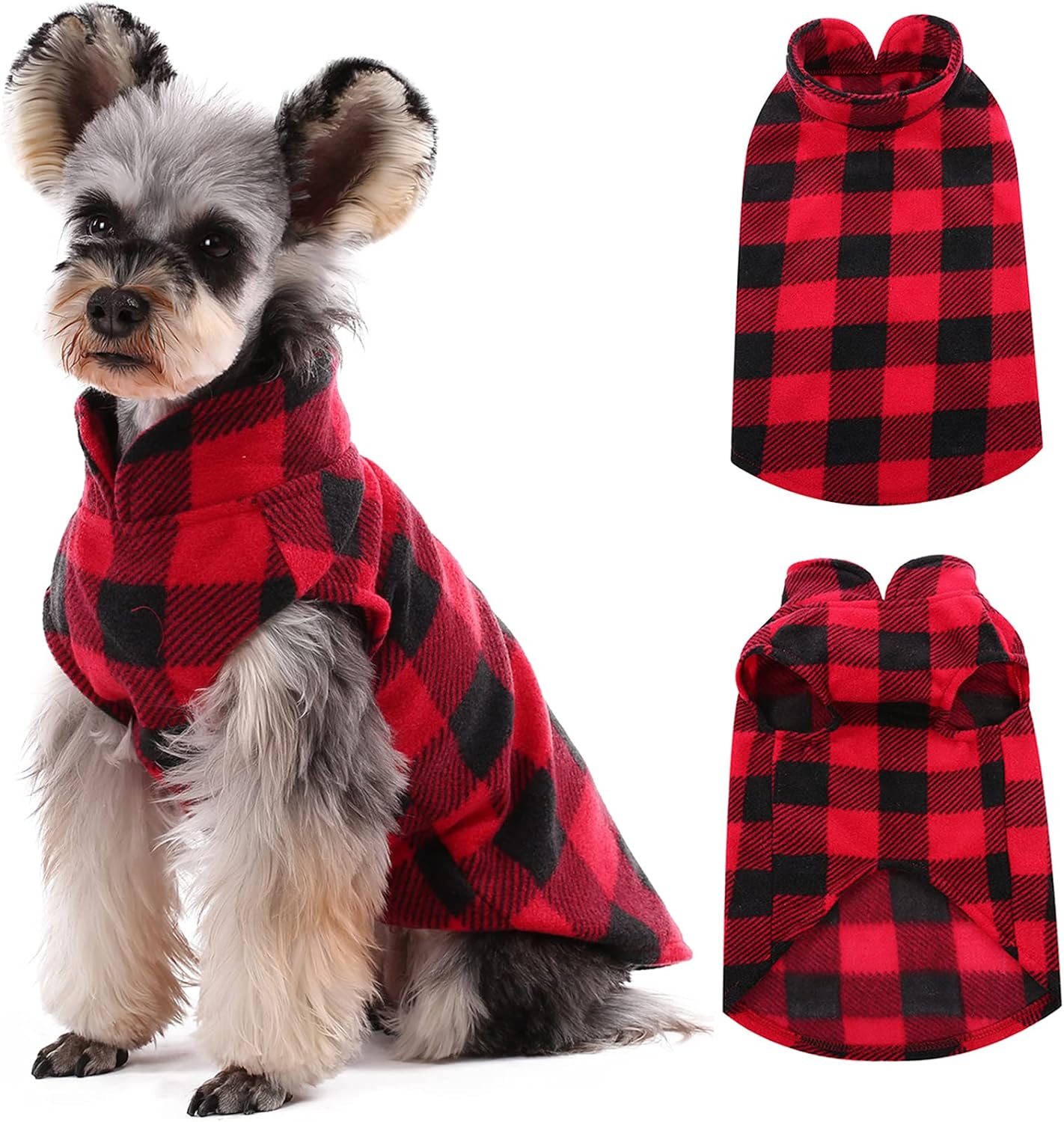 Kuoser Stretch Dog Fleece Vest
Get ready to pamper your furry friend with the Kuoser Stretch Dog Fleece Vest, a soft and cozy winter essential that your pet will absolutely adore. No more shivers and chills during those pesky winter strolls, this classic plaid basic dog sweater ensures your pet stays warm and comfortable all day long. Designed especially for small dogs and cats, this pullover will be the best fit for long-haired breeds.
What sets this dog fleece apart is its leash hole design, which allows your pet the freedom to run and play while staying toasty. Imagine those frosty mornings where your beloved pet can prance around in the snow, without feeling the biting cold. Not to mention, the iconic plaid pattern adds a stylish touch to your pet's wardrobe. It's our overall best due to its classic design, ease of wear, and great price.
Key Features:
Made from high-quality polyester fiber fleece
Comes with a practical leash hole
Designed in the classic plaid style
Offers different sizes from XXS to L
Pros:
Keeps dogs warm in cold weather
Comfortable and soft material
Easy to wash and wear
Cons:

ASENKU Dog Fleece Jacket
If you've ever had a frosty walk with your pooch where you're bundled up in your warm coat, but your furry friend seems to be shivering, ASENKU's Dog Fleece Jacket is the perfect solution for those chilly outings. This dog fleece jacket, complete with a stylish plaid design, is reversible and ensures your canine companion stays toasty in cold weather. Whether your furry friend is small, medium, or large, this vest has got them covered, quite literally! This coat also has great heat retention thanks to its waterproof and windproof features. Moreover, the vibrant colors add a fun touch, making your dog stand out in a crowd. If you love spoiling your pet as much as we do, this dog fleece is a must-have for your shopping list.
Key Features:
Made from high-quality polyester
TC and polyester fiber filling
Features waterproof and windproof design
Sizes range from XS to XXXL
Pros:
Easy to put on and remove
Provides sufficient warmth
Comfortable and allows for maximum mobility
Cons:

Gooby Fleece Vest Dog Sweater
If you like to treat your furry friends like family, then you want them to be as snug as a bug during those frigid winter months. The Gooby Fleece Vest Dog Sweater is just the thing for that. This warm pullover jacket is specifically tailored for small dogs. Remember, size matters to guarantee the perfect fit, so it's important to measure the largest part of your pup's chest and follow the chest size chart. If you're in doubt, always size up! If you're worried about fumbling the leash, this dog fleece has an O-Ring leash, making walks in the park a breeze. It's not just great for the cold weather, but it is also the perfect lightweight layer for indoor use. It's more than just a piece of clothing, it's a fashion statement for your pet.
Key Features:
Made from 100% polyester material
Includes O-ring leash attachment
Available in over 17 different colors
Built-in leash hook feature
Pros:
Easy to put on and take off
Suitable for cool and cold weather
O-ring makes it easy to leash
Cons:
Runs smaller than expected

Cyeollo Dog Fleece Pullover
As a dog owner, finding the perfect apparel for your furry friends is always a priority. The Cyeollo Dog Fleece Pullover is a lightweight sweater that is not just functional to keep your beloved pet warm during those chilly winter months, but also fashionable! Available in vibrant shades, they are sure to make your pooch the talk of the town. What makes this dog fleece a standout is its high-quality, stretchy material that ensures a comfortable fit. No more struggling to get the sweater on or seeing your dog uncomfortable! Plus, this is a twin pack which means you get double the value in one shot! You can switch between the two sweaters, ensuring your pet's outfit stays fresh while the other one is in the wash. Finally, it has a reflective feature which provides an extra level of safety during walks.
Key Features:
Super stretchy fabric material
Features an elastic band
Lightweight and soft texture
Includes reflective badge and stripe
Pros:
High-quality stretchy material
Serves as warm base layers
Affordable two-pack deal
Cons:

Malier Dog Winter Coat
Unleash your pup's inner fashionista with the Malier Dog Winter Coat. This delightful piece, draped in a classic plaid design and tailored to perfection, is the canine couture your fluffy friend needs in the colder months. The attractive red color will make your dog stand out during those walks in the park or playdates. Crafted meticulously with a warm, comfortable fleece material, it ensures your dog stays toasty, no matter the weather. Plus, it's windproof, too, protecting your pooch from those nippy breezes. It's also very versatile, designed to accommodate varied dog shapes, making it an ideal choice for small, medium, or large breeds. This dog fleece also features a simple design that allows you to slip it onto your furry friend without any hassle. Overall, this coat strikes a perfect balance of form and function.
Key Features:
Classic buffalo plaid style design
Features a fleece-lined interior
Equipped with a leash hole
Pros:
Provides warmth and comfort for dogs
Easy to put on
Adjustable fit for perfect sizing
Cons: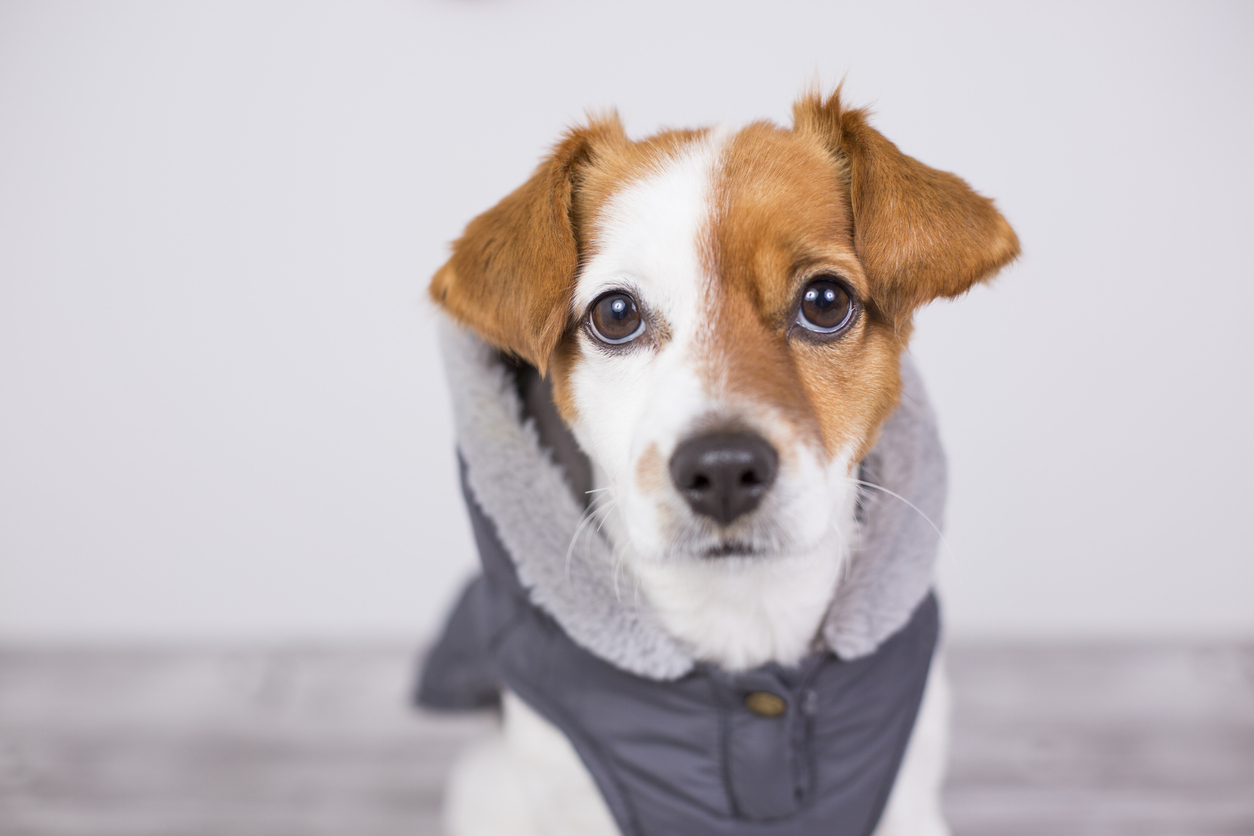 Choosing a Dog Fleece: A Buyer's Guide
As a pet parent, your furry friend's comfort and well-being are always a top priority. During winter or cooler times of the year, it's crucial to ensure your dog is warm and cozy. That's where a good dog fleece comes in handy. If you're currently hunting for that perfect fleece, this comprehensive buyer's guide will help you navigate through all the brands, materials, and designs to choose the ideal dog fleece that fulfills your dog's needs and suits their lifestyle. After all, a warm dog is a happy dog!
Material
When it comes to dog fleeces, the material is the first thing you should consider. The best dog fleece would be made from high-quality material that provides warmth, is comfortable, and doesn't irritate your dog's skin. Polyester fleece is a popular choice as it is warm, lightweight, and easy to clean. Furthermore, it's resistant to abrasion, meaning your dog can play around without the risk of tearing the fleece. Also, consider 'anti-pilling' fleeces as they don't form small balls of fluff over time which can be uncomfortable for your pet.
Size and Fit
Just like human clothes, the size and fit of the dog fleece is essential! It should be snug enough to keep your dog warm, but not too tight to restrict their movement. The ideal way to find the perfect fit is to measure your dog's length from the base of the tail to the neck, and the chest at its widest point. Most brands provide size charts to help you choose the perfect size. A well-fitted dog fleece allows your dog to remain warm yet mobile.
Design and Ease of Use
Dog fleeces come in a variety of designs, from hoodies and open-backs to pullovers or ones with zippers or buttons. When choosing the design, consider your dog's nature and comfort level. If your dog is shy or gets anxious easily, then a pullover style may not be the best choice. Also, try to select a design that is easy to put on and take off. If you plan to use the fleece during walks, consider the ones with a hole for the leash.
Durability
Durability is another crucial consideration. The dog fleece must be robust enough to withstand your dog's active lifestyle, including running, playing, and exploring. Look for fleeces with superior stitching and strong materials. Machine-washable fleeces are a bonus since they're easy to keep clean. Affordable yet durable dog fleeces are available in the market, and remember, don't just equate durability with a higher price tag.
Comfort
Comfort is key when choosing a dog fleece. The fleece must not irritate your dog's skin or cause discomfort. Soft linings, such as faux fur or sherpa, add an extra layer of coziness. If your dog doesn't feel comfortable in the fleece, they won't want to wear it, defeating its purpose of keeping them warm.
Common Questions About Dog Fleece
What is a dog fleece?
A dog fleece is a type of clothing for dogs, designed to provide warmth and comfort, just like it does for humans. It's made of soft material like fleece or wool that helps to keep the dog warm during cold weather.
How do I know what size dog fleece to buy?
Sizing can vary by brand, but typically you'll want to measure your dog's length from neck to tail, chest circumference, and neck circumference. These measurements can then be matched to a brand's size chart. Always consider your pet's individual comfort and mobility. It's also wise to check reviews to see how accurate the sizing chart is.
Can I wash a dog fleece?
Yes, most are machine washable. However, it's advised to check the specific washing instructions on the label of the product. Generally, it's best to use a gentle cycle and mild detergent and to avoid using heat when drying as it can shrink or warp the fleece.
What should I do if the dog fleece doesn't fit?
If the dog fleece does not fit, you should contact the retailer or manufacturer about a return or exchange. Make sure to check the company's return policy before purchasing! Especially if you have a history will ill-fitting pet wardrobes.
Is a dog fleece suitable for all types of weather?
While it is excellent for providing warmth in cold weather, it may not be suitable for hot weather as it can cause a dog to overheat. Always consider the current weather and your dog's comfort when deciding whether or not to use the fleece.
Can my dog wear the fleece all day?
It depends on the dog and the weather. If it's very cold, your dog might appreciate the extra warmth all day. Never have your dog wear a warm fleece on hot days.
What if my dog chews on the fleece?
If your dog starts to chew or eat the fleece, remove it immediately. Ingesting pieces of the fleece could be harmful. If your dog is prone to chewing, you might want to reconsider using clothing or provide a suitable alternative chew toy each time they wear it until they are used to it.
Editors' Recommendations