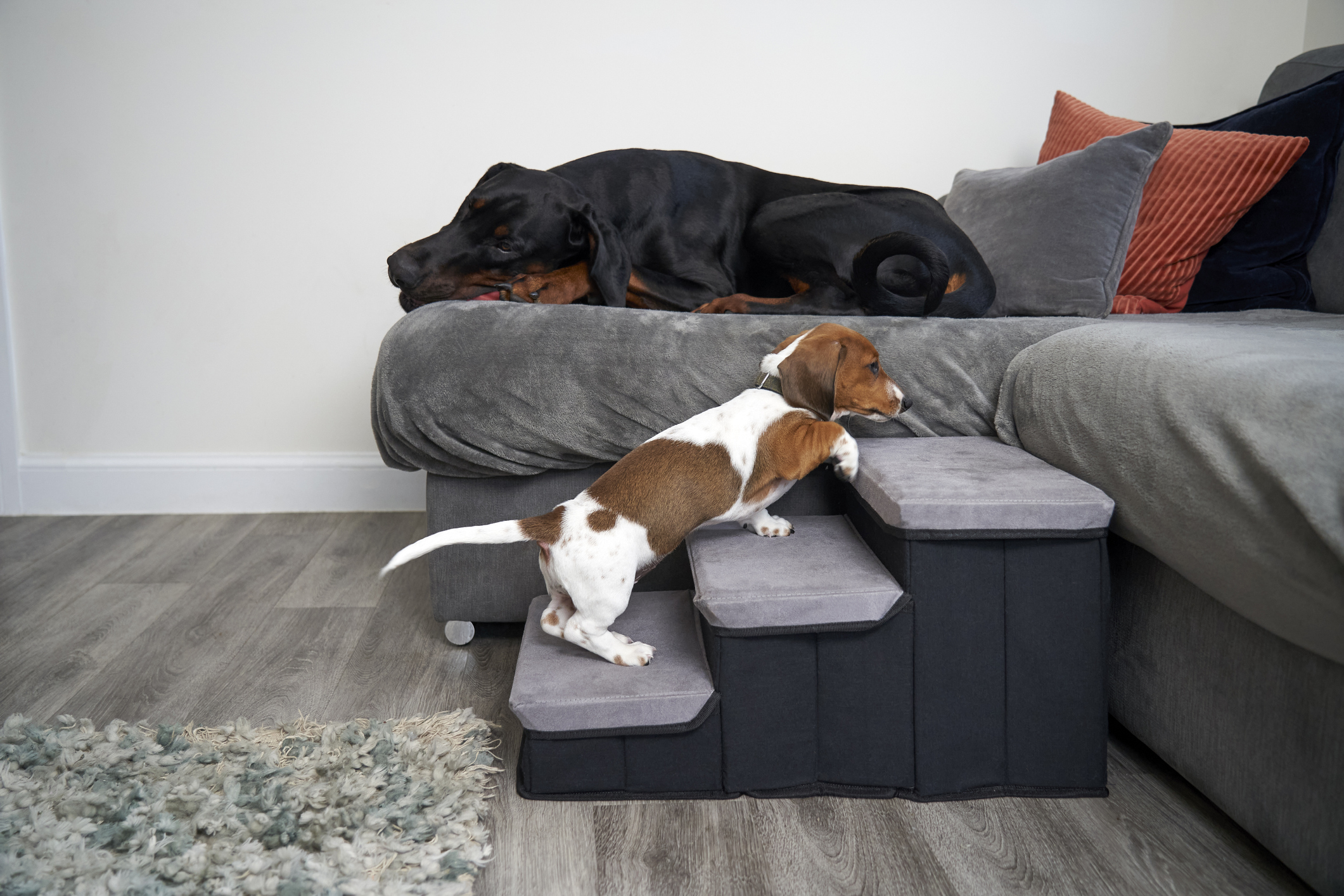 There's no denying the popularity of trendy pet products. One such product is the aptly named dog stair. These aren't silly items, but a tool for safety and convenience. Dog stairs cater to any dog that may experience accessibility issues around the house. Senior dogs, short dogs, or dogs with physical disabilities can all benefit from help reaching high places.
Dog stairs should be lightweight and easy to move around your house to lead into your bed, couch, or car. Here is a list of our favorite dog stairs.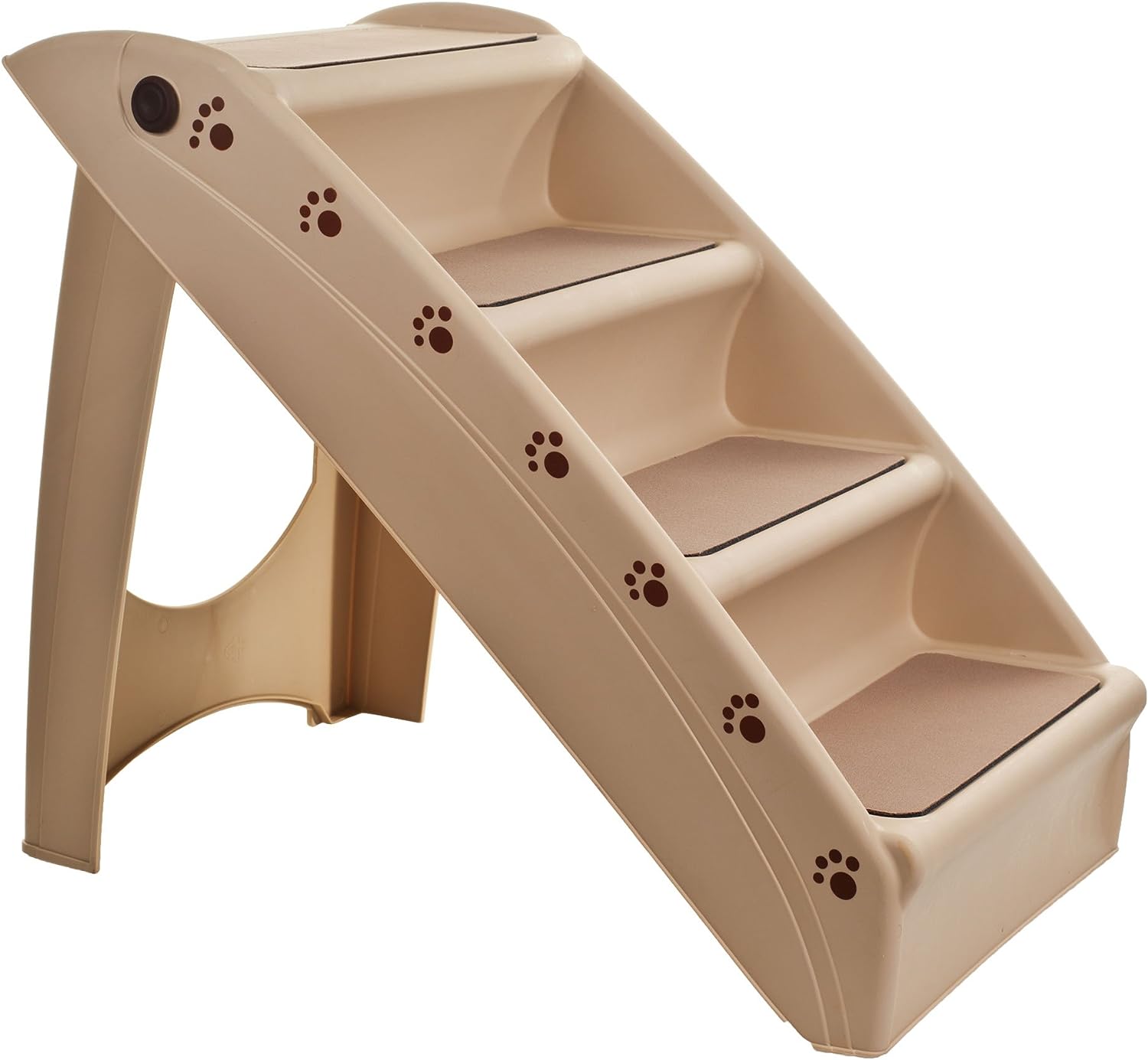 PETMAKER Foldable Pet Stairs
The PETMAKER Foldable Pet Stairs are designed with four steps, perfect for aiding small pets and even senior ones who may not have that youthful leap anymore. And it's not just dogs and cats, rabbits and ferrets can use it too.
It's a great addition to any bedroom or living room with high furniture. What's great is that it's not just for home use. The light build and folding design make it a portable solution, making travel with pets a breeze. It's like having a handy dog stair for car, truck, and even RV travel. It's our overall best due to its tall size, portability, and ease of storage.
Pros:
Easy to use and store
Durable and long-lasting
Suitable for small pets
Cons:
Steps may be too small for some

Lesure Dog Stairs for Small Dogs
The Lesure Dog Stairs for Small Dogs might end up being another bed for your furry friend. Designed specifically for small dogs, these stairs are perfect for tall beds and couches, making it easy for your pet to claim their favorite spot. The CertiPUR-US certified foam used in these pet stairs makes them sturdy enough to safely support your pet, but it also provides more comfort than the plastic PETMAKER option. This is especially beneficial for pets with joint problems, as the foam aids in reducing strain. Another feature that deserves a shout-out is the non-slip bottom, which adds to the safety of these steps. Plus, these Lesure Dog Stairs are foldable for easy storage. They are the perfect blend of comfort and practicality.
Pros:
Sturdy and comfortable foam
Non-slip bottom for safety
Cons:
Difficult to put on the slipcover

ZICOTO Sturdy Dog Stairs and Ramp
The ZICOTO Sturdy Dog Stairs and Ramp is a great solution for pet owners with small dogs or older fur babies. With a height of 15.7 inches, this staircase provides easy access to your sofa or bed.
This product has a Pawsoft™ design which makes it comfortable for your pet to safely get up right next to you on the couch. They are ideal for dogs with a weight of up to sixty pounds. It goes beyond being just a stair, acting as a ramp as well, making it perfect for training puppies or helping older dogs avoid the stress and risk of hopping onto the couch. It has an anti-slip surface that ensures it stays in place, providing extra safety for your pet. With its light gray color and darker gray accents, it will effortlessly blend in with any furniture setting.
Pros:
Reduces risk of pet injuries
Easy to assemble
Provides stability for pets
Easy on older pet joints
Cons:
Can be hard to zip the cover

EHEYCIGA Dog Stairs
This product is very similar to Lesure with dense foam padding and a soft fabric cover. It is a must-have for small dogs that often struggle to jump onto high surfaces. The stairs are available in variants of three to five steps, to suit the specific needs of your pet.
Maintenance-wise, this product is a dream come true for pet parents. We all know how messy pets can get, from shedding to the occasional 'accident.' These stairs are easy to clean and maintain. Spills, stains, or fur, nothing sticks to this dog stair for long. The material is great for quick wipe-downs and can be removed for a trip to the washing machine.
Pros:
Includes removable inserts for comfort
Lightweight and easy to wash
Great for senior pets
Cons:
The stairs are quite narrow

ZINUS Foam Pet Stairs
The ZINUS Foam Pet Stairs can give your beloved furry friend the independence and comfort they deserve. This pet stair is expertly crafted with high-density foam, making it sturdy and comfortable for your pet to use. It's an absolute must-have for older dogs and cats, particularly those recovering from an injury or suffering from hip or joint problems.
What's more, these pet stairs are as practical as they are comfortable. They are light enough to be effortlessly moved from room to room, ensuring that your pet can always reach their favorite spot, be it on the couch or bed. With these stairs, you not only provide your pet with easy access to their favorite spots but also give them the gift of comfort and safety.
Pros:
Highly durable and retains shape
Easy to clean with removable cover
Perfect height for couch access
Cons:
Not suitable for tall beds

Choosing the Perfect Dog Stair: A Buying Guide
When it comes to our beloved four-legged companions, their comfort and safety are of paramount importance. One accessory that often proves invaluable, especially for small, senior, or disabled dogs, is a set of dog stairs. These specially designed steps can provide your pet with the independence to navigate high furniture or vehicles without risking injury. Choosing the right dog stair for your pet is essential, and keeping the factors of size, stability, material, portability, ease of assembly, and your dog's preference in mind will lead you to the perfect product. Remember, the main goal is to enhance your pet's mobility while ensuring his or her safety and comfort.
Size and Height
The first factor to take into account when considering dog stairs is the size and height. It's important to measure the height of the furniture or vehicle your pet frequently jumps onto. The right dog stair will be just slightly lower than the height of the furniture, allowing your pet to step up easily. Also, consider the width and depth of the steps, wider and deeper steps tend to be more comfortable for larger dogs, while smaller breeds may prefer narrower, compact ones.
Stability and Safety
Stability is another crucial criterion. The last thing you'd want is for the dog stairs to wobble or tip over during use. Look for options made of sturdy materials such as high-density foam or wood. Additional features to ensure safety include non-slip pads or a rubberized bottom to prevent the dog stairs from moving about. Raised edges or rails on the sides of the stairs can also help prevent unfortunate accidents.
Material and Durability
The material of the stairs is directly linked to their durability. Materials such as wood or heavy-duty plastic can withstand heavier weights and resist wear and tear effectively. However, if comfort is a significant concern for you, consider dog stairs made of softer materials such as foam. These often come with removable, washable covers for easy cleaning.
Portability and Storage
Depending on your lifestyle and needs, you might need to move the dog stairs around or store them away. In this case, look for lightweight designs that are easy to carry. Foldable or collapsible models are fantastic for easy storage. Some stairs even come with handles for a comfortable grip during transportation. Keep in mind, however, that portability should never come at the cost of stability and safety.
Ease of Assembly
Many dog stairs require some degree of assembly. Look for products that come with clear and easy-to-understand instructions. Snap-together models often provide a more convenient setup than those requiring tools.
Dog's Preference
Just like humans, dogs have personal preferences. Some dogs might feel more comfortable with a ramp instead of dog stairs. If your pet shows hesitation towards stairs, consider a gradual ramp as an alternative. Try to get your dog to test different models, if possible, or apply your understanding of your dog's habits and preferences to make the right choice. If you aren't sure about your purchase, you can always explore other alternatives.
Common Questions About Dog Stairs
What is a dog stair?
A dog stair is a product designed to help dogs reach high or elevated areas such as a bed, a couch, or a car seat. It is especially beneficial for small dogs, elderly dogs, or dogs with arthritis and disabilities that have trouble jumping or climbing.
How do I use a dog stair?
To use a dog stair, simply place it against the furniture or surface that your dog wants to reach. Train your dog to climb up and down the stairs by placing treats on each step or guiding them with a leash.
How do I train my dog to use the dog stairs?
Start by placing your dog at the bottom of the stairs. Place treats on each step to encourage them to climb. Praise them when they reach the top. Gradually remove the treats as your dog becomes more comfortable with the dog stairs. Be patient! Some dogs can take some time to get used to it.
Editors' Recommendations