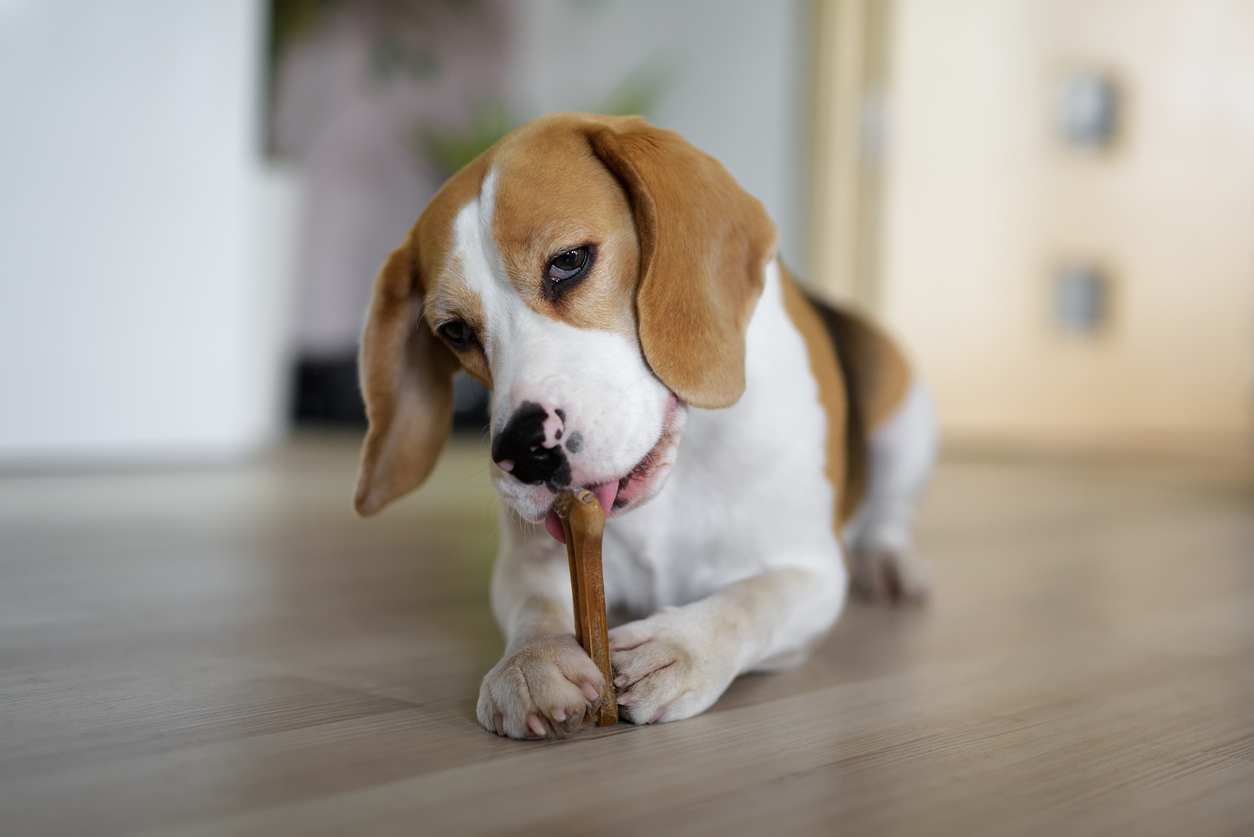 Give your canine companions the gift of oral health through top-rated dog teeth cleaning treats. Undeniably, these products are more than just simple snacks; they help ensure your pet's dental hygiene. Not only do they help maintain sparkling teeth, but they also contribute to freshening your dog's breath and promoting healthy gums, a vital aspect often overlooked by many pet parents. Moreover, the market is brimming with a diverse range of dog teeth cleaning treats catered to meet the unique needs of every dog breed and size. From small bite-sized treats for your Chihuahua to larger chews for your Great Dane, there's something for every furry friend out there. Allow us to guide you through the realm of these fantastic products, handpicked for their exceptional benefits, and see why they've become the talk of the town among discerning pet owners worldwide.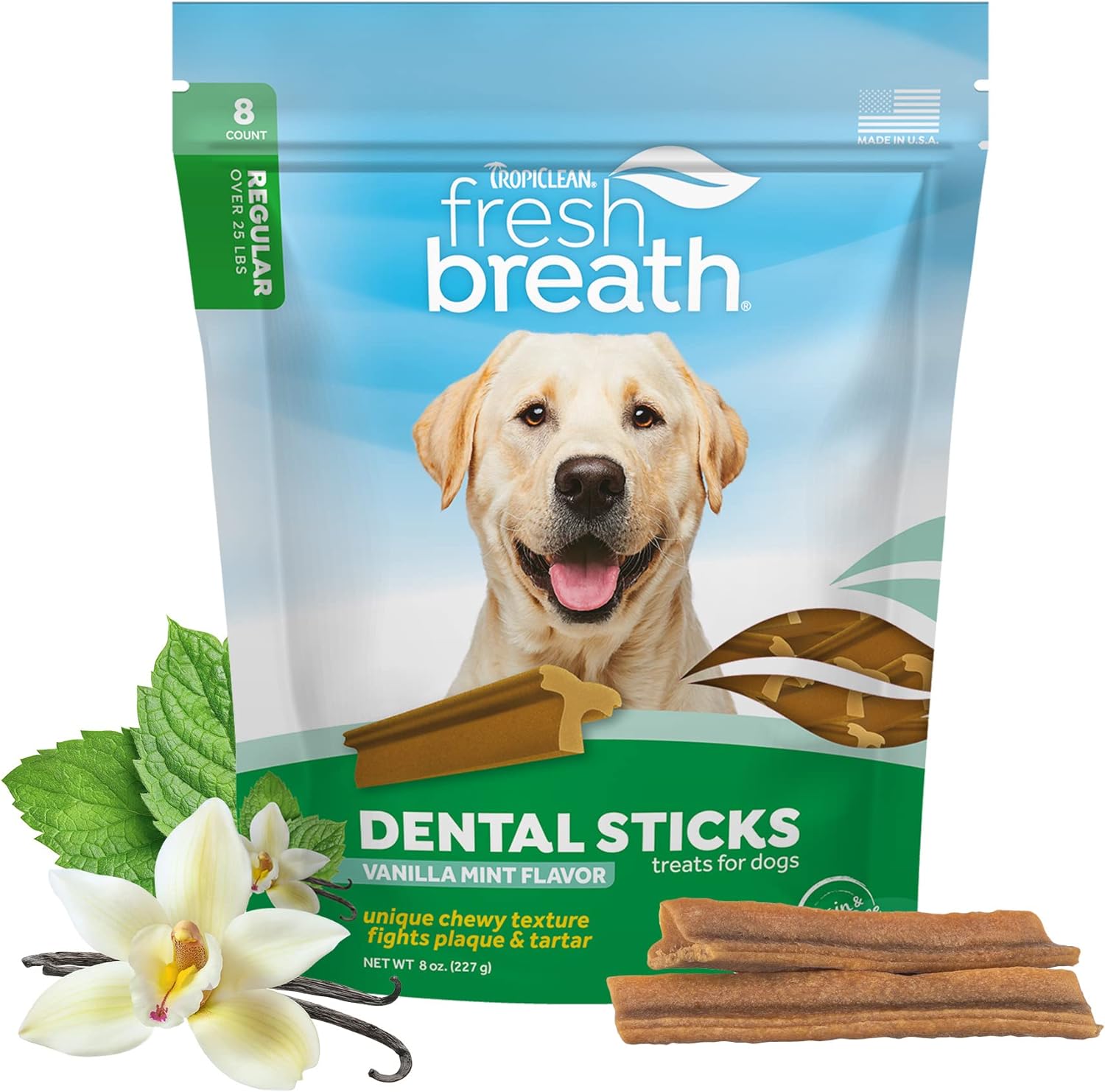 TropiClean Fresh Breath Dental Sticks
You've got to check out these dog teeth cleaning treats, the Fresh Breath by TropiClean Dental Sticks. They're perfect for large dogs, particularly those who weigh over 25 pounds. TropiClean also makes a variation for smaller dogs. Not only do they provide a fun distraction for a teething puppy, but they're also efficient in maintaining dental hygiene. Each package comes with eight of these dental sticks, a decent amount considering the quality and health benefits. They're made right here in the USA and aim to combat common dental issues in dogs. The sticks can help remove plaque and tartar, which are the main culprits behind bad breath and gum disease. The ridges help reach all the surfaces in your dog's mouth for a superior cleaning action, while the mineral-based ingredients can remove buildup safely. That's what makes these dog teeth cleaning treats our top pick overall. They're a hit among dogs and owners alike. Your dog gets a yummy treat, and you get the peace of mind of knowing you're taking good care of their oral health, which contributes to their overall well being. Give them a try, and watch your four-legged friend crunch away happily!
Key Features:
T-shaped dog dental sticks
Package contains eight sticks
Suitable for daily use
Made in the U.S.A.
Designed for dogs over 25 lbs
Pros:
Dogs love the taste
Helps control plaque and tartar
Keeps dogs focused on chewing
Cons:
Not a long-lasting chew treat

GREENIES Original Dog Dental Care Chews
Get ready to make your furry friend's dental hygiene routine fun and flavorful with GREENIES Original Large Natural Dog Dental Care Chews. These aren't your ordinary doggy treats; they can help your dog have cleaner teeth and fresher breath. Designed with a unique texture that fights plaque and tartar, these dog teeth cleaning treats are no less than a toothbrush for your pooch. Plus, the delightfully original flavor is a guaranteed tail-wagger! But that's not all; these dog teeth cleaning treats aren't just about maintaining those pearly whites. They also make for an excellent daily snack. Made from natural ingredients, they provide a guilt-free way to reward your best friend every day. Each 27 oz. pack comes with 17 large treats for bigger dogs, ensuring a healthy, happy dog for many days to come. They're most suitable for dogs who are 50-100 pounds, and aren't good for dogs under five pounds. Once you introduce these dog teeth cleaning treats to your pet's diet, you'll wish you found them sooner. So, skip the struggle with toothbrushes and make dental care a treat with these dog teeth cleaning chews. Your four-legged friend will thank you with every crunch!
Key Features:
27 oz. pack with 17 treats
For dogs 50-100 lbs.
Not suitable for dogs under 5 lbs.
Made in U.S.A.
Made with natural ingredients
Pros:
Promotes dental health in dogs
Highly desirable taste for pets
Great daily dog treat
Cons:
May attract unintended animals

Petlab Co. Dental Sticks
Nothing gets your furry friend's tail wagging more than the Petlab Co. Dental Sticks! These dog teeth cleaning treats are loved by dogs of all breeds and sizes. Suitable for all dogs 12 weeks and older, these are not just a delicious treat, but also a powerful dental hygiene tool. These dental chews serve a dual purpose – they maintain your dog's oral health and also ensure fresh breath. Made from high quality ingredients, you can trust you're giving your dog the best. These sticks are great at targeting plaque and tartar build-up. They work right at the source, effectively reducing tartar that can cause inflammation and gum disease. Plus, they also provide digestive help. Your dog will never be happier to take their medicine! This pack of six sticks can even help with digestive functions. The chicory root contains inulin, which can help out your dog's digestive system. Given the love dogs have for these dental sticks, their effectiveness in promoting healthy teeth and gums, and their added benefits like promoting digestive health, every pet parent can benefit from these dog teeth cleaning treats. Not only will your pet enjoy this treat, but you'll also feel great knowing you're prioritizing their health.
Key Features:
Pack of six chews
For dogs 12 weeks and older
Contains chicory root
Supports healthy digestion
Manufactured in U.S.A.
Pros:
Promotes healthy teeth and gums
Made with high-quality ingredients
Provides extended chewing time
Cons:

Merrick Fresh Kisses Dog Dental Treats for Medium Breeds
There's nothing more adorable than a dog with a bright, healthy smile, and Merrick Fresh Kisses Dental Treats are just the ticket to get there! These specially formulated chews are a life-saver for your furry friend – they're fantastic at cleaning teeth and freshening breath. Made for medium breeds between 25-50 pounds, they come conveniently packed in a 1.88 lb. box with 30 brushes, providing a month's supply for your pet's daily dental routine. One thing that really sets these treats apart from the rest is that they are made with coconut and botanical oils. Not only do these ingredients contribute to a cleaner, fresher mouth, but they're also a huge hit with picky eaters. If you've tried a bunch of other dog teeth cleaning treats without success, you may want to give these a try. For some picky dogs, these strike the perfect balance between health and taste. If your dog is smaller or larger, check out Merrick's other products for dogs of various sizes. With these dog teeth cleaning treats, you'll be ensuring your dog's dental health is no longer a chore, but an enjoyable experience for you and your pet. Your dog will be panting for more!
Key Features:
30-count of dental treats
Contains coconut and botanical oils
Suitable for medium breeds
Features a unique double-brush design
Potato- and grain-free
Pros:
Aids in keeping dog's teeth clean
Enhances breath freshness
Well-tolerated by sensitive stomachs
Cons:

Milk-Bone Original Brushing Chews
Kick back and enjoy the benefits of the Milk-Bone Original Brushing Chews. Your furry friend won't even realize how much good they're doing for their teeth as they chow down on these dog teeth cleaning treats. These dental dog treats come in a pack of 25 large chews, perfect for lasting through the month. Plus, they are a convenient no-mess treat. Unlike other dog dental treats, these do not leave a trail of crumbs behind. They promote clean dog teeth sans the usual mess. Your pup can enjoy gnawing on this dog teeth cleaning treat for a good while, and you won't have to worry about constantly cleaning up after them. What's not to love? Plus, they'll go crazy for the chicken flavor. Gift your furry friend the simple joy of a delicious treat that they don't even realize is keeping them happy and healthy for years to come. Milk-Bone has been at it since 1908, and you'll soon see why they've endured for more than 100 years. If you're on the hunt for a fuss-free, beneficial treat that your dog will love, look no further than these dog teeth cleaning treats. Trust me, your dog's pearly whites (and your clean floors) will thank you!
Key Features:
33.7 oz bag of 25 treats
Made in U.S.A.
Includes calcium for strong bones
Treat flavor: Chicken
Suitable for dogs 50 lbs. and above
Pros:
Effective at cleaning dog's teeth
Dogs love the flavor
Leaves no mess behind
Cons:
The product has a strong, unpleasant odor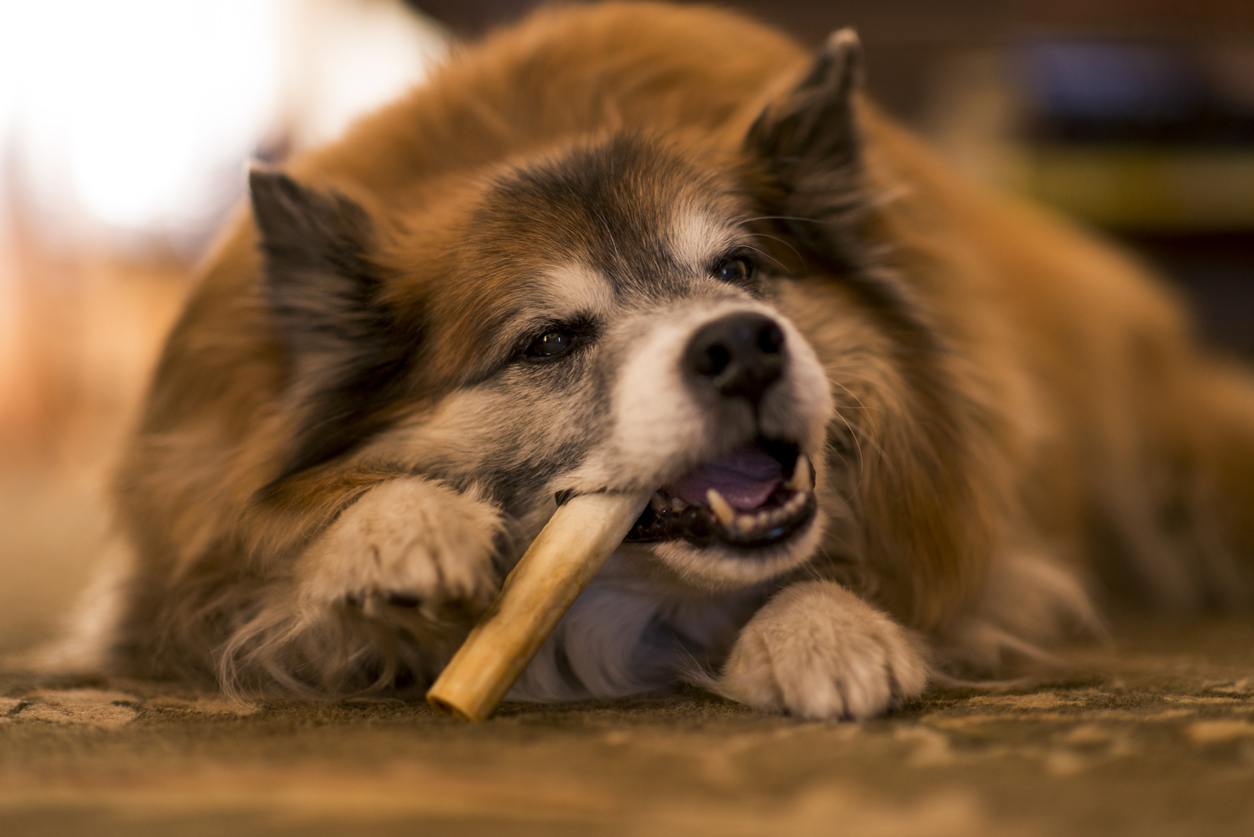 The Ultimate Buyer's Guide to Dog Teeth Cleaning Treats
When it comes to rewarding your dog while also helping them maintain their dental hygiene, nothing beats the magic of dog teeth cleaning treats. However, with a plethora of options available, choosing the best dog treats can be quite overwhelming. This guide will walk you through the key attributes to consider, ensuring your four-legged friend gets the tasty and nutritious treats they deserve to keep their smiles bright and breath fresh.
Ingredients
The foundation of any great dog teeth cleaning treat is its ingredients. Always go for treats with natural, wholesome ingredients that are beneficial for your dog's dental health. Avoid treats that are full of artificial preservatives, colors, or flavors. Ingredients should be easily recognizable, like chicken, beef, or sweet potatoes. High-quality proteins, fruits, and vegetables should be the mainstay of the treats. Some dog teeth cleaning treats will also include vitamins and minerals that help reduce gum inflammation and fortify teeth.
Nutritional Value
Although these dog teeth cleaning treats are for dental health, you should still keep in mind their overall nutritional value. Some can contain things like sugars and starches, which don't actually protect your dog's teeth and may just add empty calories. Keep an eye on the quality of the ingredients to make sure your dog is getting a treat that is actually healthy and isn't just doggy junk food.
Size and Texture
Believe it or not, the size and texture of the dog teeth cleaning treats matter greatly. The size should be appropriate for your dog's size and breed. Smaller dogs will need smaller treats, while larger breeds can handle bigger ones. The texture of the treat can also play a role in dental health. Hard, chewy treats can help clean your dog's teeth and gums, while softer treats might be more appropriate for puppies or older dogs with sensitive teeth.
Taste
While all of the above factors are crucial, the best dog teeth cleaning treats won't serve their purpose if your pooch doesn't find them appetizing. Taste is subjective, of course, and what one dog loves, another might not. Some dogs prefer meaty flavors, while others prefer sweet or savory. It might take some trial and error to find out what your dog likes best.
Price
Price should also be a consideration when choosing the best dog teeth cleaning treats for your pooch. More expensive doesn't necessarily mean better. It's important to balance cost with the other factors mentioned here. If a cheaper treat ticks all the boxes in terms of ingredients, nutritional value, size, texture, and taste, then there's no need to spend more.
Quality Assurance
Lastly, check for quality assurance. Reputable dog treat brands should adhere to strict quality standards and safety measures. Look for brands that are transparent about their sourcing and manufacturing processes. Also, check for any recalls or negative reviews related to safety issues.
Common Questions About Dog Teeth Cleaning Treats
Can dog teeth cleaning treats replace regular teeth brushing?
No, dog teeth cleaning treats should not replace regular teeth brushing. They are intended to supplement daily oral hygiene practices, not replace them. You should continue to brush your dog's teeth regularly.
Are dog teeth cleaning treats safe for all dogs?
While most dog teeth cleaning treats are safe for all dogs, some may not be suitable for puppies, senior dogs, or dogs with dietary restrictions or health conditions. Always check the packaging for any warnings or restrictions.
What should I do if my dog doesn't like the taste of the teeth cleaning treats?
If your dog doesn't like the taste of the treats, try a different brand or flavor. There are many options on the market, so you should be able to find one your dog likes.
How should I store dog teeth cleaning treats?
Store your dog's teeth cleaning treats in a cool, dry place. Seal the treats in an airtight container to maintain freshness.
Can dog teeth cleaning treats cause digestive issues?
While most dogs tolerate teeth cleaning treats well, some dogs may experience digestive upset. If your dog has a sensitive stomach, introduce the treats gradually and monitor for any signs of discomfort.
Can I give my dog teeth cleaning treats if they have dental problems?
If your dog has existing dental problems, consult your veterinarian before introducing any new dental care products, including dog teeth cleaning treats. They may have specific recommendations or precautions.
Editors' Recommendations