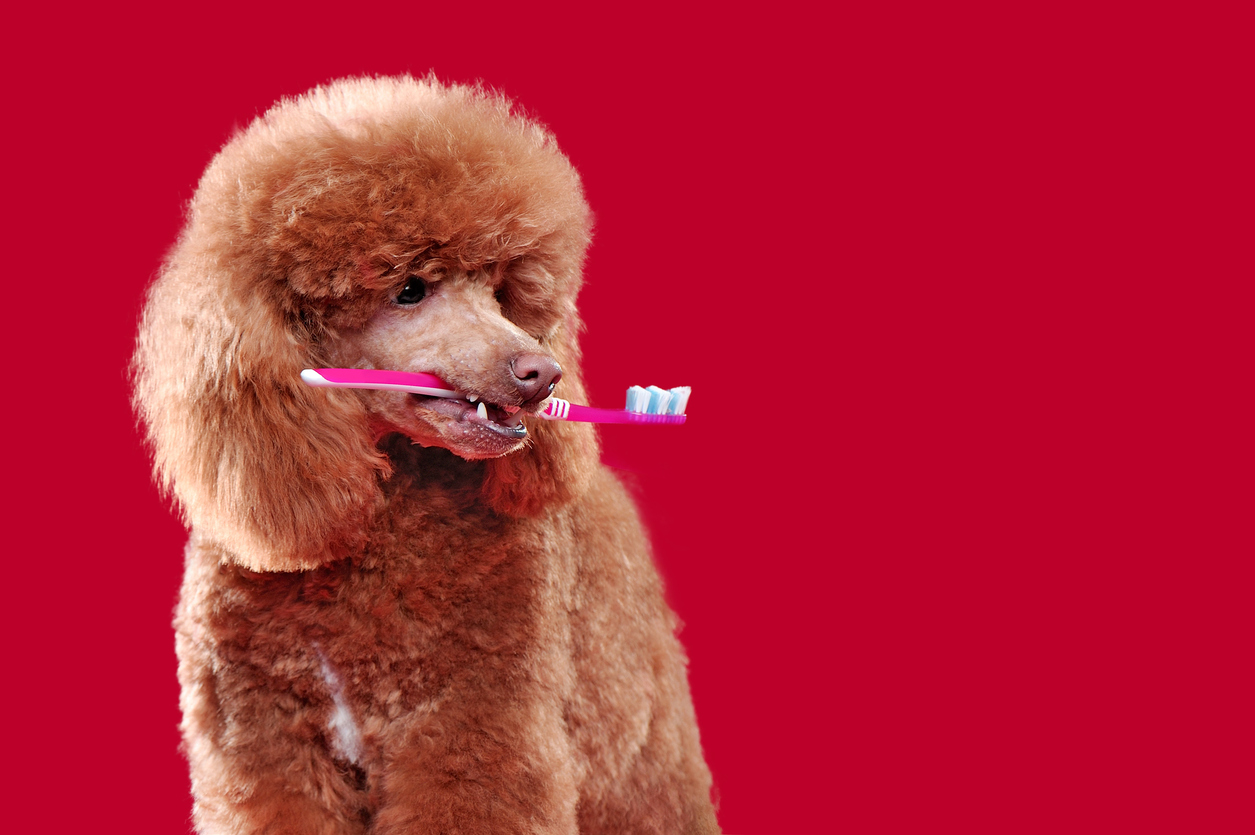 Isn't it fascinating how our beloved canine companions have similar dental needs to us? More and more pet owners are realizing the importance of their dog's dental hygiene and are turning to dog toothbrushes to help. These products can help address a genuine need in a dog's life: good oral health. Designed with your pup's comfort in mind, dog toothbrushes cater to our diverse canine companions, from the tiniest Chihuahua to the most enormous Great Dane. These toothbrushes aren't just practical; they're also fun to use, making teeth-cleaning time a bonding experience between you and your fur-baby. So, let's dive in and discover how these game-changing products can redefine your dog's dental care routine.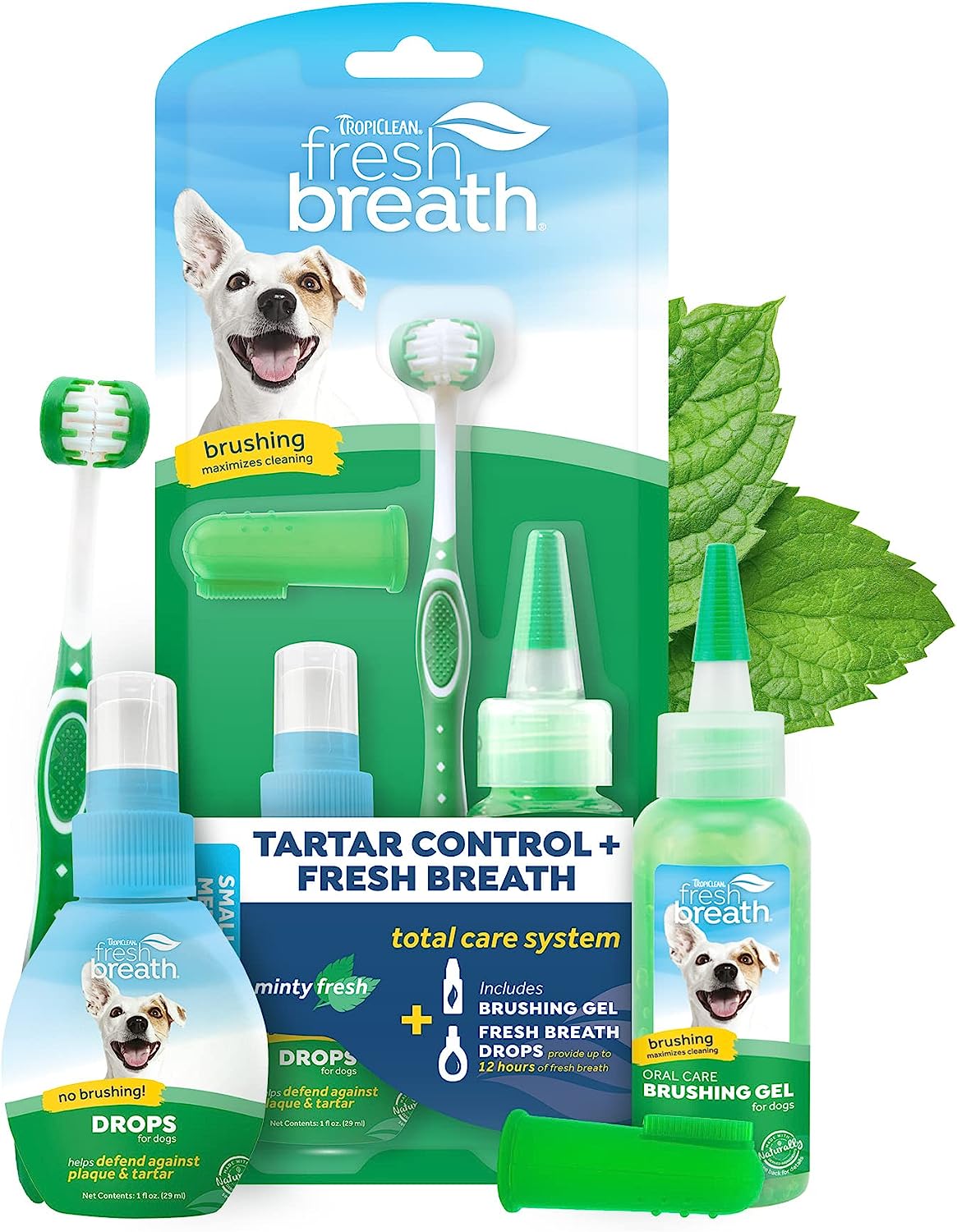 TropiClean Fresh Breath Dog Oral Care Kit
If there's one thing our furry friends dislike, it's getting their teeth brushed. But tooth decay is a common issue in dogs, so we shouldn't ignore teeth cleaning. That's where the TropiClean Fresh Breath Dog Oral Care Kit comes into play. This kit is a total game-changer when it comes to maintaining your dog's oral hygiene. It's specifically designed for small to medium-sized dogs, making it a perfect fit for most of our four-legged companions. The kit includes a dog toothbrush and a fresh, minty-scented, easy-to-use gel that your pet won't be able to resist. The smell alone is phenomenal, providing a wonderful aroma that will leave your dog's breath refreshingly minty. The toothbrush can reach every nook and cranny and prevent plaque buildup, which is critical in maintaining good oral health. The easy-to-use gel is not only appealing to dogs but also super effective in controlling plaque and tartar. Suddenly, your dog will actually enjoy getting their teeth cleaned, which is why this is our top pick for a dog toothbrush. So, if you're on the lookout for a dog toothbrush that provides excellent dental care while keeping the process fun for your furry friend, this dog toothbrush is a solid choice. Your dog will thank you!
Key Features:
Available flavors: Mint
Age range: All life stages
Item firmness: Soft
Includes toothbrush, gel, drops
Manual operation only
Pros:
Prevents teeth plaque build-up
Comes with a fresh minty scent
Easy to use and not messy
Cons:
Some dogs dislike the toothpaste flavor

Jasper Dog Toothbrush
As a pet owner, it's critical to maintain your furry friend's dental hygiene. That's why you should consider the Jasper Dog Toothbrush, an innovative 360° tooth brushing kit designed for dog teeth cleaning. This isn't your average dog toothbrush. You might find yourself shocked by just how effective it is. The ergonomic design fits comfortably on a finger while offering a comprehensive cleaning experience for your dog. It's not just for dogs either – it works well for puppies, cats, and other small pets. Simply slip it on your finger and scrub your beloved pet's teeth. It's as easy as that. People especially love the surround bristles, which provide thorough cleaning from every angle. The color, a vibrant blue or pink, is just a bonus. Each pack comes with two toothbrushes, ensuring you always have a backup on hand. It's particularly ideal for small-mouthed pets who often struggle with traditional, larger brushes. This dog toothbrush could revolutionize your pet care routine, bringing efficient and effective dental care that's actually manageable to you and your pet's lives. This dog toothbrush is worth considering if you want to keep your pet's teeth in good shape and protect their overall health.
Key Features:
360º patented design
Suitable for small and large pets
Adjustable fit for various finger sizes
100% BPA and phthalate-free silicone
Package includes two finger brushes
Pros:
Efficient pet oral hygiene tool
Enables easy brushing process
Enhances pet trust and comfort
Cons:
May cause finger injuries

Vet's Best Dog Toothbrush & Enzymatic Toothpaste Kit
The Vet's Best Dog Toothbrush & Enzymatic Toothpaste Kit is something your dog needs for a healthy, plaque-free smile. This kit isn't just another dental care product; it's a complete oral health solution designed by vets themselves. Enriched with enzymes and natural ingredients like neem oil, grapefruit seed extract, baking soda, and aloe, the toothpaste not only removes plaque and tartar but also keeps your dog's breath fresh. Forget those tedious brushing sessions; with this triple-headed dog toothbrush, you can cover every angle of your dog's mouth simultaneously, making the process quick and convenient. Plus, this dog toothbrush kit is super effective at reducing plaque. The natural ingredients are gentle but efficient, ensuring your dog's teeth are whitened and their breath is fresh without any harsh side effects. Plus, the kit comes with a bonus care guide and an additional finger brush, making it the ultimate package for your dog's oral health. This could easily become a normal part of a healthy regimen for your dog, which will contribute to their overall good health. Give it a try, and you'll see why customers love this dog toothbrush for maintaining their canine companion's dental hygiene.
Key Features:
Vet-formulated enzymatic toothpaste
Includes baking soda and aloe ingredients
Triple-headed toothbrush design
Suitable for regular dental care
Helps in plaque and tartar removal
Pros:
Improves dog's breath
Reduces gum bleeding
Decreases plaque buildup
Cons:
Requires frequent cleaning of bristles

Pets & Pupps Pet Toothbrush
Ever tried to brush a wriggly dog's teeth? It's quite a task. The Pets & Pupps Pet Toothbrush for Dogs and Cats might be the solution you've been waiting for. This dog toothbrush is a revelation for all pet parents struggling with their fur-baby's dental care routine. The dual-head feature is a unique selling point. It gives you two different toothbrush head sizes to suit your pet perfectly. This dog toothbrush truly works for pets of all sizes. Plus, it offers the best grip for even the most squirmy of dogs. Furthermore, the soft bristles work wonderfully in getting their teeth sparkling clean without causing any discomfort. But here's the best part, it's extremely durable against dog chewing. A much-needed feature considering how much dogs love to chew, especially when it's toothbrush time. And with the option to choose a one-count pack or two-count pack of these dog toothbrushes, you can make sure you always have a spare handy. So, if you're in the market for a dog toothbrush that actually works and lasts, don't look beyond this one. It's like a two-in-one deal – a toy for your dog and a dog toothbrush for you.
Key Features:
Unique dual-head design
Suitable for pets of all sizes
Made from premium pet-safe material
Compatible with any dog toothpaste
Set of one, two, or four toothbrushes
Pros:
Durable even with heavy chewing
Has soft bristles for gentle care
Non-slip grip for easy handling
Cons:

Pet Republique Dog Toothbrush Set of Six
Are you tired of that bad doggie breath? Want to give your furry friend a longer, healthier life? Then the Pet Republique Dog Toothbrush is exactly what you need! Brushing your dog's teeth is not just about fresh breath; it also helps prevent serious health issues. Grime and tartar can lead to painful infections that could affect your pet's kidneys, heart, and liver. With regular brushing using dog toothbrushes, you're not just improving your pet's dental hygiene but also boosting their overall health. These high-quality brushes are designed with your pet's welfare in mind. The bristles have been tested and controlled for hardness, ensuring they effectively brush off grime and tartar without harming your pet. The dual head design provides a small and a large brush on each end, making it easier to clean different areas of your pet's mouth. The long handle, measuring at 8.5 inches, allows easy reach into the deepest parts of the mouth. This set of six dog toothbrushes is perfect for families with multiple pets. Plus, a portion of the profits goes to the American Animal Rescue Society, supporting care for abandoned dogs and cats. This is not just a dog toothbrush; it's an investment in your pet's health.
Key Features:
Dual-headed design with small and large brushes
The package includes six toothbrushes
Designed for both small and large pets
Handle length: 8.5″
Available in two different colors
Pros:
High-quality yet affordable
Long-lasting and durable
Light and user-friendly
Cons:
Not heavy-duty, too light for some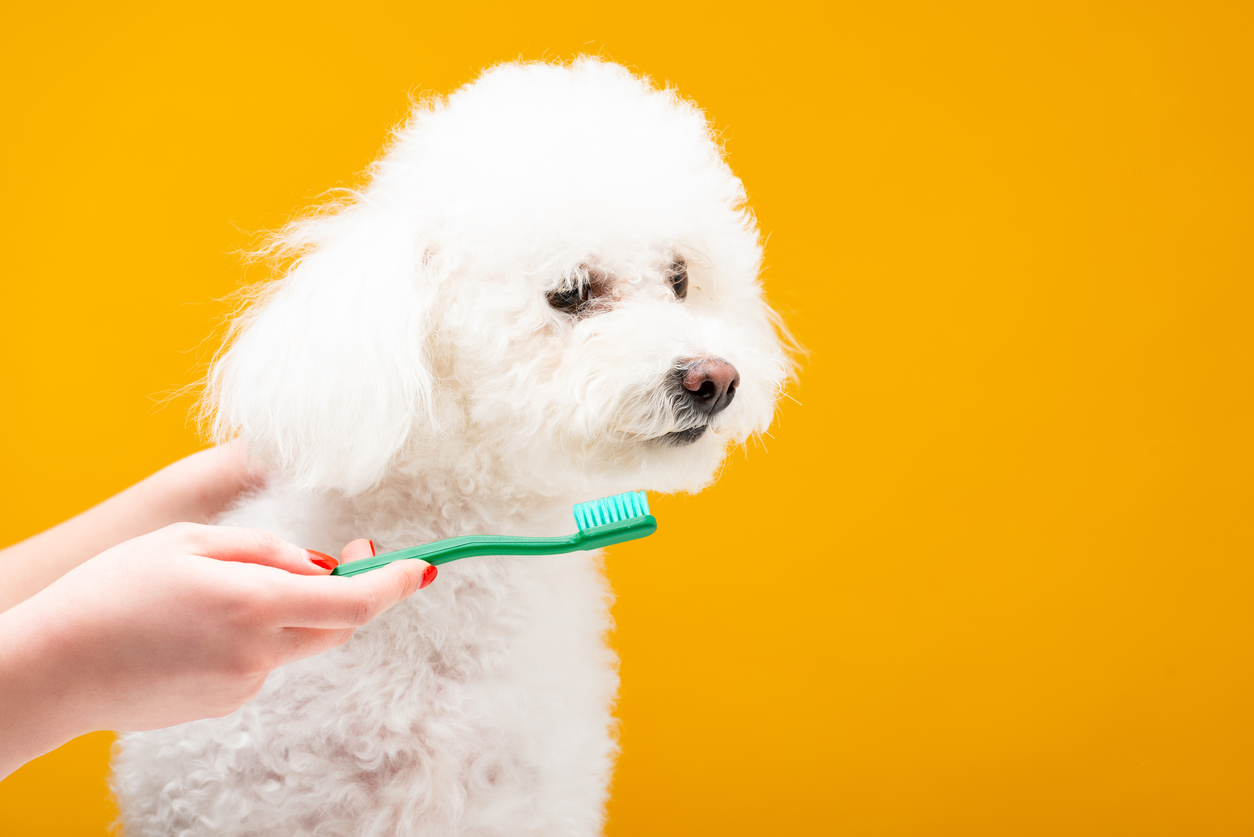 Your Ultimate Buying Guide to Getting a Dog Toothbrush
Your dog's dental hygiene contributes to their overall wellness. Bad teeth can lead to more severe health issues. That's why you may want a dog toothbrush so you can clean their teeth. But not all dog toothbrushes are alike. Some are better for large dogs versus small dogs, for example. To get the right dog toothbrush for you and your furry friend, check out the following factors that you should keep in mind before buying.
Brush Size
The size of the dog toothbrush is a crucial consideration. A large brush might be great for a big dog, but uncomfortable for a small dog. Some dog toothbrushes come with dual heads, so you get one larger brush and one smaller brush on the same toothbrush. This can be a good option for those who are unsure or who have multiple pets. Try to find a dog toothbrush that will be a comfortable size for your pet.
Bristle Hardness
Bristle hardness is a delicate balance. A dog toothbrush that is too hard could hurt your pet, but one that is too soft may not get the job dog. Look for bristles that fall in between, or try out a couple of different dog toothbrushes to find the one with the right bristle hardness for your pet.
Handle Length
Consider the length of the handle of the dog toothbrush. Some handles are very long and let you reach deeper into the dog's mouth, while others are shorter and may be tougher to use. Some dog toothbrushes have no handles at all! These finger brushes go right on your finger so you can scrub your dog's teeth directly. This is an important consideration when you're buying. Think about the size of your dog's mouth and what will be most comfortable for them. Will they let you scrub with your finger or do you need a handle to tackle this job?
Handle Sturdiness
When you're dealing with a dog, especially a fussy dog, you might need a sturdy handle on your toothbrush. Many dogs will try to chew on the handle, which is why some dog toothbrushes will actually advertise as being sturdy enough to withstand chewing. If you aren't sure if your dog will chew, you may want to opt for a sturdier handle just in case.
Pet-Safe Materials
These dog toothbrushes go into your dog's mouth, so you definitely want to make sure they're made of pet-safe materials. As noted above, many dogs will even chew on a dog toothbrush. You wouldn't want them to be chewing on something that is potentially toxic to them. Check what the manufacturer says about the materials of the dog toothbrush. Some will say they are BPA- and phthalate-free, or that they're made from pet-safe materials.
Price
Price is always a concern when investing in a new product. Fortunately, a dog toothbrush shouldn't typically break the bank. Still, you can get some great value if you know how to shop around. You might look for packs of multiple toothbrushes and save some money that way, for example. Ultimately, a dog toothbrush should not come as a major investment, but it never hurts to stay price-conscious.
Common Questions About Dog Toothbrush
Why do dogs need a toothbrush?
Just like humans, dogs can develop dental problems like tartar and plaque buildup and gingivitis. Regular brushing with a dog toothbrush can help prevent these issues and keep your pet's mouth healthy.
How often should I brush my dog's teeth?
Ideally, you should try to brush your dog's teeth daily. However, if that's not possible, aim for at least three to four times per week.
How do I use a dog toothbrush?
Begin by allowing your dog to get used to the toothbrush by letting them sniff and lick it. Apply a small amount of dog-friendly toothpaste, then gently lift your dog's lips and brush the teeth in a circular motion. Be sure to reach the back molars and canines, which can be prone to tartar build-up.
What kind of toothpaste should I use with a dog toothbrush?
It's important to use toothpaste that's specifically designed for dogs. Human toothpaste can contain ingredients like fluoride that are harmful to dogs if swallowed.
How do I clean the dog's toothbrush?
After each use, rinse the toothbrush with warm water to remove any remaining toothpaste and debris. Let it air dry before storing it to prevent the growth of bacteria and mold.
My dog doesn't like getting their teeth brushed. What can I do?
Gradually get your dog used to the process. Start by using your finger to massage their gums before introducing the brush. Offering a reward after brushing can also make the process more enjoyable for your pet.
Editors' Recommendations