Camping with dogs can be endless fun, but it can also be endless chaos if you're not fully prepared. Luckily, with just a little time and prep, you can make sure you have everything you need to have a great time and keep your dog safe while camping. There's a little more to it than food, water, and a tent when you take your dog camping!
Once you've completed every item on your checklist, you're in for a fantastic adventure with your best friend. Your mind will be more at ease knowing you're safe and prepared, so you'll be able to stay present for your time with your pup. That's what these moments are about, after all — so, go enjoy!
Here are the four things you should definitely do before taking your dog camping: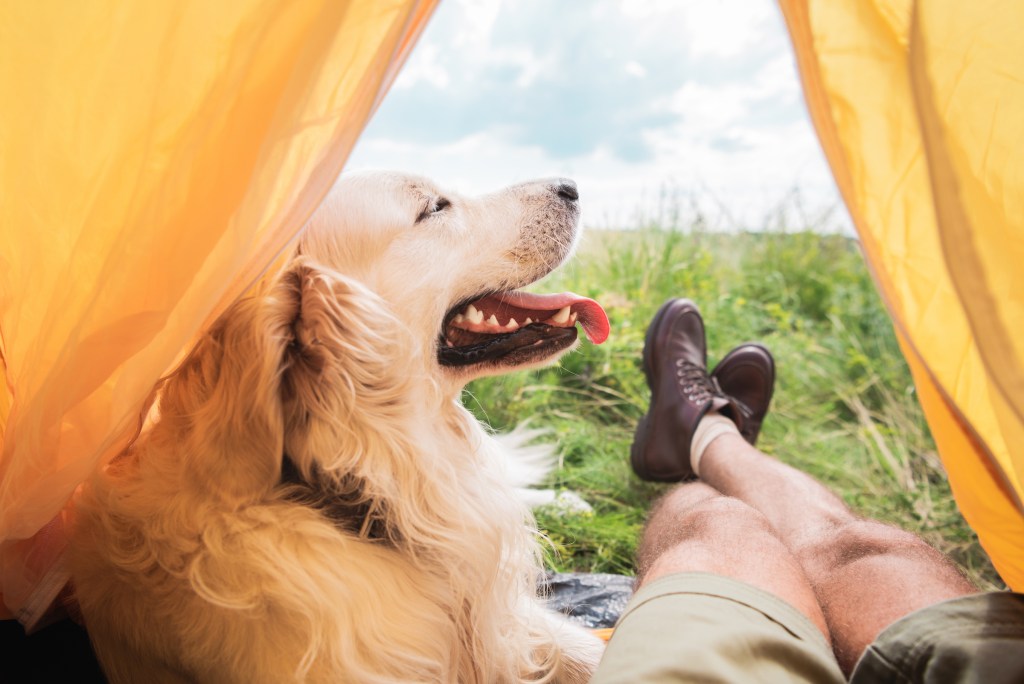 Prepare multiple forms of identification for your dog
Although camping with your pup can be nonstop fun, it's important to plan for the unexpected. Accidents happen, and you can't control nature, so setting up your dog with multiple forms of identification can be a surefire way to keep him as close to you as possible.
Your dog's collar should include an identification tag with his name as well as your contact information. Make sure to include the number of whatever phone you'll have with you on the trip. (Bonus collar tip: A reflective collar or LED collar light can help you keep an eye on your pet in dark locations, too.)
Make sure to book a trip to the vet before taking your dog camping. While you're there, your vet can set up a microchip for your dog, if he doesn't have one already. A microchip will help you locate your furry friend should you ever get separated. Don't forget to see that your dog is up to date on shots, too!
Brush up on obedience commands
In any distracting setting like public places or busy campgrounds, it's even more essential that your dog can listen to you without fail. Not only does this keep him safe, but it makes your life a lot easier as well. Here are a few commands you might want to consider reviewing with your pup:
Of course, there are many more you can learn with your dog, though these basics will be enough to keep you and your fur baby safe in the great outdoors. It's also a smart idea to practice on-leash walking with your dog — you'll thank yourself later when you're better able to control your excited, distracted furry friend.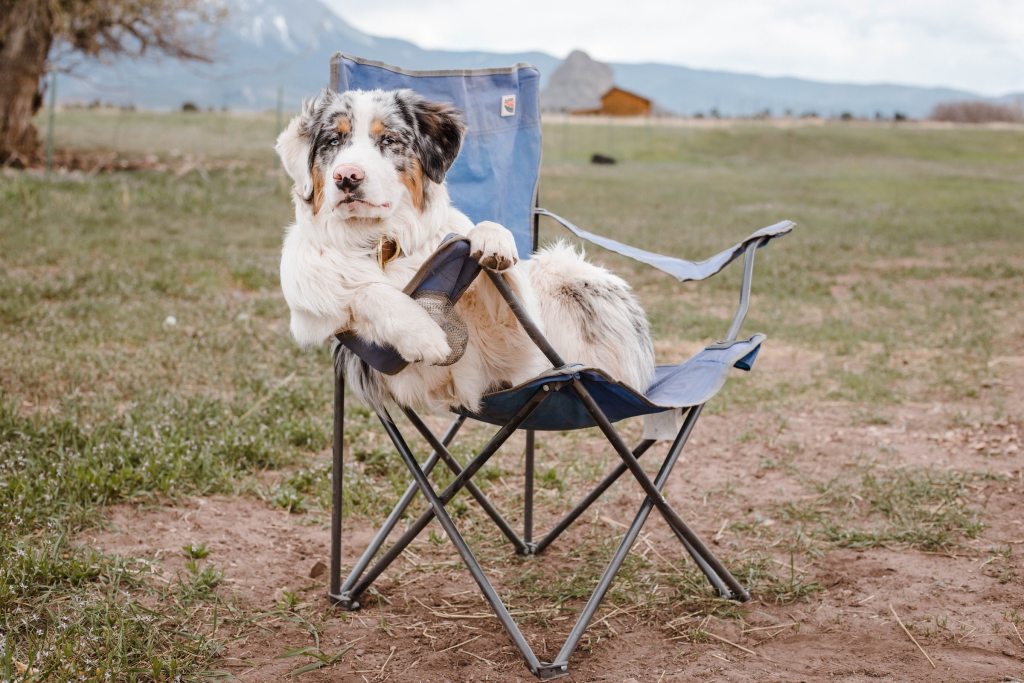 Make sure to pack everything you need
Packing for a camping trip with your dog is pretty straightforward, though it's easier than you think to forget something important. Food and water for both of you are necessities, as are shelter and sleeping comforts (think tents, pillows, even a dog bed), though safety essentials like a canine first-aid kit don't always come to mind.
For trips longer than one night, it's smart to bring a few comforts from home for your dog. Sleeping somewhere new can be stressful, after all. A toy or favorite blanket can go a long way in keeping your precious pooch calm and happy all trip long.
Don't forget to pack for the weather or location: Jackets, paw-protective shoes, and dog-safe sunscreen are just a few things to consider. In the midst of all the preparation, you'll need to pack for yourself, too, so make sure to leave plenty of time for this step.
Take a practice run
If camping will be an entirely new experience for your dog, you might benefit from a little practice. Let your pup get to know your tent while you're still at home — you can even spend a night "camping" in your backyard!
Use this time to break in any new equipment you'd like to use on your trip. Make sure you can navigate any new backpacks or storage containers, too. This would be the perfect time to confirm that your dog's collar and harness fit correctly since these basic accessories are some of the most important when it comes to outdoor safety.
Now that you have an idea of what to expect as you prepare for your dog-friendly camping trip, it's time to get started. Grab your backpack and get packing! You're in for such a treat, especially with your best buddy by your side.
Editors' Recommendations