Smart technologies are all around us — in our homes, cars, mobile devices, watches, and offices. Using the internet, they're designed to somehow make life easier, save us time, automate various tasks, or give us control over something from virtually anywhere in the world. Cutting-edge technologies have also has been incorporated into many dog-related products.
Let's look at eight of the more innovative dog-related products that have a high-tech twist. They can enrich our dogs' lives or provide new types of information exchange and interaction between pets and their parents.
Fable – The Game
Category: Interactive Dog Toy
Price: $55
Website: https://fablepets.com/products/the-game
With a tough silicone exterior, this interactive dog toy offers a way to interact with, feed, and exercise your dog. The oval-shaped device can hold up to 1.5 cups of dry food or treats, and the top can have peanut butter spread over it. When turned on, for up to 30 minutes at a time, the toy is designed to mimic the experience of hunting prey. It wobbles and spins randomly. As the dog pushes or interacts with the toy, it dispenses a pre-defined amount of food or treats.

On the plus side, this toy can dispense an entire meal's worth of food and make eating a fun and challenging game for your dog. It comes in multiple colors and is dishwasher safe. On the negative side, it can't be remotely controlled using a smartphone, for example, so you need to turn it on for your dog manually. The device weighs 2.2 pounds and is 6.25-inches tall by 4.75-inches in diameter (so it's better suited for medium or large-size canines). After about 30 minutes of playtime, the toy's battery needs to be recharged.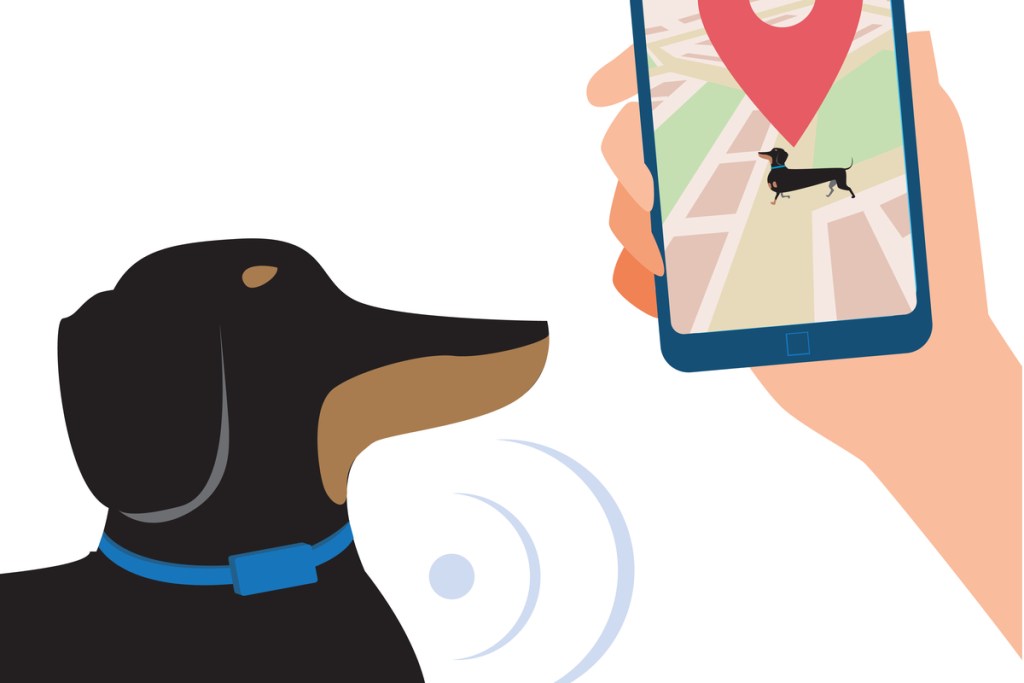 Fi Smart Collar Series 2
Category: GPS Location Tracking
Price: $149 (Plus Subscription)
Website: https://tryfi.com
There are a fast-growing number of "smart" dog tags and collars on the market that can track your dog's exact location and display it on your smartphone's screen in real-time. These devices use either Bluetooth tracking or GPS (cellular)/WiFi tracking, and some use all three methods to enhance accuracy.
A Bluetooth tracker taps the wireless Bluetooth capabilities in your smartphone (or tablet) and has a range of approximately 30 feet. However, when many people in an area are using the same product via their internet-connected mobile devices, they can communicate anonymously with each other, so the virtual range of these products expands rather dramatically.

When a smart collar or dog tag uses GPS, it connects to a wireless LTE-M cellular network, which links it to global positioning satellites. The result is that with extreme accuracy, the dog's location can be tracked virtually anywhere. The mobile app it's used with can then track distance traveled, steps taken, and movement speed, along with calories burned and other activity-related data. While prices of GPS trackers are dropping, in addition to purchasing the device itself, the user must pay a monthly or annual subscription fee for the cellular/GPS service that's required.

The Fi Smart Collar Series 2 uses GPS technology that allows you to track your dog's location from anywhere using your internet-connected smartphone. Using the proprietary mobile app, you can define a virtual geofence around your yard, for example, and receive an instant alert on your phone if your dog leaves the area. It can also be used to monitor a dog walker or track your dog if they run off on their own. Depending on how often you program the collar to transmit its location (via the mobile app), its rechargeable battery will last anywhere from two days up to two months.

Another feature of this collar is its built-in LED light, which can also be turned on or off (or set to flash) remotely via the mobile app. This provides added safety in low-light situations and makes it easier to spot. The Fi Smart Collar is available in a variety of colors, sizes, and styles. It's also waterproof. For the collar to function properly, the dog must be within the AT&T LTE-M wireless network (which covers most of the United States). An interactive online-based map shows the exact coverage area. Beyond the one-time fee to purchase the collar, which comes with the Fi module, collar band, charging base, USB charging cable, and USB power adapter, the ongoing GPS pre-paid cellular service is priced at $99 per year, $186 for two years, or $249 for three years. Limited functionality is offered by the Fi Smart Collar when only WiFi is used.

If you have a dog that runs off often, this device provides a useful tool to quickly locate and retrieve them, virtually anytime and anywhere.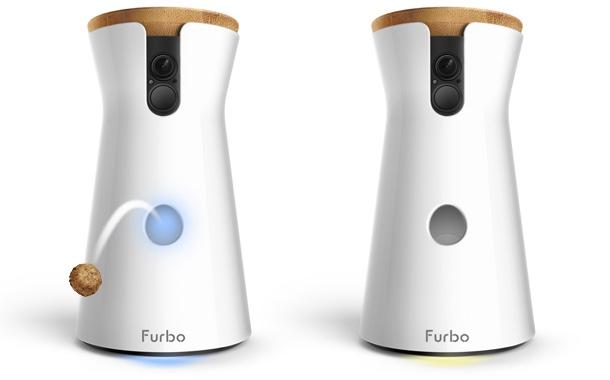 Furbo Treat Dispenser and Dog Camera
Category: Interactive Toy and Surveillance
Price: $9.99 per month (or $99 per year)
Website: https://shopus.furbo.com
For the many people that don't work from home or who leave their home periodically for any reason, the Furbo Treat Dispenser and Dog Camera serves two very useful purposes. First, it acts as an internet-connected video monitor, so using your internet-connected computer, smartphone, or tablet, you can watch a live, full-color, 1080p HD, 160-degree (wide-angle) video feed (with sound) in the room of your home where the device is set up. The camera's night mode can even display a clear video feed in low-light situations.

The Furbo plugs into any electrical outlet and connects to your home's WiFi for internet connectivity. Using the device's built-in microphone and speaker, not only can you hear what your dog is doing when viewing them remotely, you can speak with your dog via your smartphone and the device's proprietary mobile app.

What sets the Furbo device apart from a run-of-the-mill security camera or video baby monitor, for example, is that it also has a built-in treat dispenser. Upon your command (given remotely from anywhere via the mobile app), the device will toss out a treat to your dog. It works with any small treats (with a diameter smaller than 0.4 inches).

Another useful feature is the built-in bark alert, which will send your phone an automatic message if your dog starts barking while you're away. While you can purchase the Furbo device and then pay a discounted monthly subscription fee, for an ongoing subscription fee of $9.99 per month, the device itself is provided free of charge.
Halo Collar
Category: Collar and Electronic Fence
Price: $799 – $999
Website: www.halocollar.com
The Halo Collar serves as a GPS location tracker in conjunction with cutting-edge smart (virtual) fence technology, so you can define an area around your lawn and use the collar (along with video-based training from Cesar Millan) to train your dog to stay within that area. If your dog does roam off on their own, their location can be tracked in real-time using the device's proprietary mobile app. This app also communicates with the collar to collect and track movement and fitness activity data throughout each day.

On the plus side, this smart collar is powerful and can be used in a variety of ways to monitor, protect, and train your dog. The technology works best when you follow the included 21-day training program developed and hosted by Cesar Millan. The drawback of this product is its price. In addition to purchasing the equipment, a monthly subscription fee is required to utilize the collar's GPS/cellular functionality. There are three subscription plans to choose from, including a $0.09, $0.39, or $0.99 per day plan (which is billed monthly).

While the pricing may seem a bit steep, this collar eliminates the need to use a different location and activity tracker, plus no physical fencing system needs to be installed around your property (which could cost upwards of $2,000). The video-based dog training course is also included.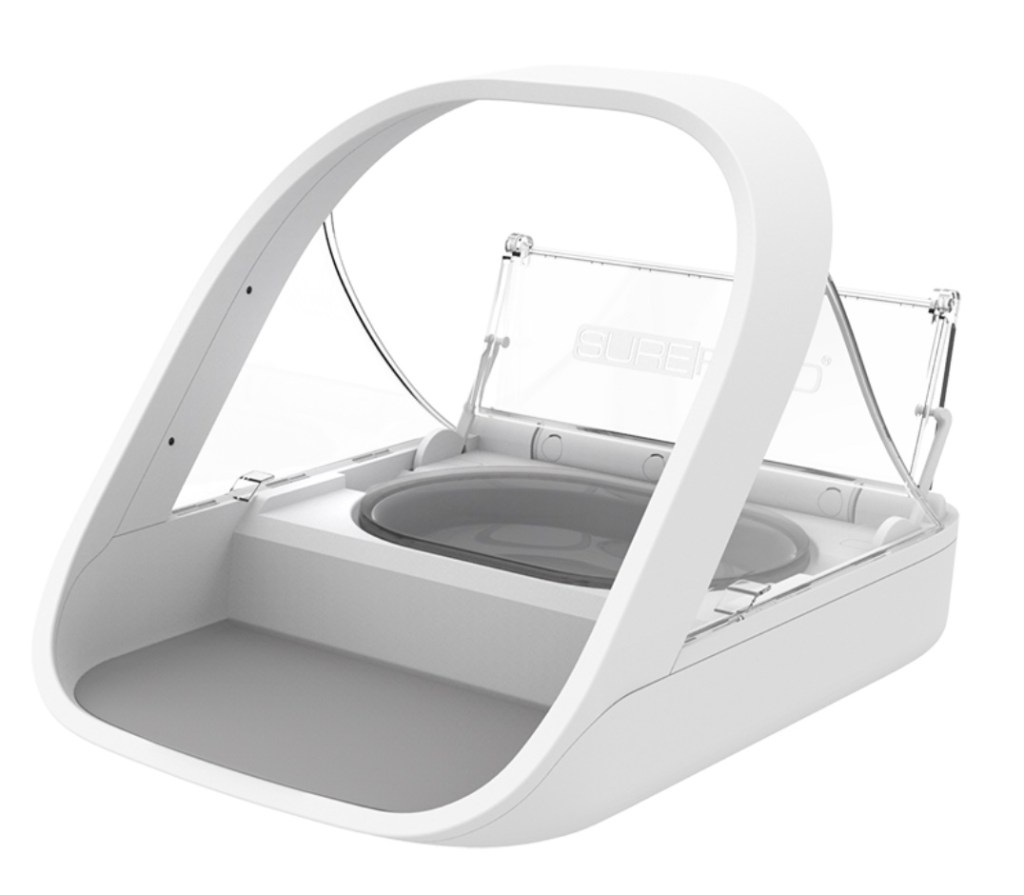 HomeAgain Microchip Pet Feeder
Category: "Smart" Dog Feeder
Price: $149.99
Website: https://shop.homeagain.com/product/microchip-pet-feeder
Many dog breeders and veterinarians recommend that all puppies get microchipped using a grain of rice-size chip provided by a company such as HomeAgain. The chip gets injected under a dog's skin by a veterinarian.
Once microchipped, if your dog ever gets lost, almost any law enforcement personnel, veterinarian, or animal shelter can quickly scan the dog's chip to access the HomeAgain database by phone or computer to obtain the contact information for whom the dog is registered to. More than 10,000 lost pets are recovered each month with the help of HomeAgain's pet recovery service.

A handful of smart devices are now available that work in conjunction with a dog's microchip. For example, the HomeAgain Microchip Pet Feeder is ideal for a home with multiple pets who sometimes fight over food.
This feeder remains closed until a specific pet, with the proper microchip implanted, approaches. Only then will the feeder automatically unlock, allowing the food inside to become easily accessible to only the appropriate dog. This helps to ensure each of your pets eats the correct portion of food without other pets stealing it.
Huan Smart Dog Tags
Category: Location Tracking (Bluetooth)
Price: $30
Website: https://shop.gethuan.com
The Huan Smart Dog Tags utilize only Bluetooth and WiFi to track a dog's location. This product, and those like it, only work when your smartphone is within proximity to the tag or another user of the same tag type is within 300 feet or so of your dog. Thus, if your dog roams off, you're depending on the existing network of fellow Huan Smart Dog Tag users in that area to have their smartphone anonymously pick up the signal from your dog's tag and relay it to the Huan database via the tag's mobile app.

You can view an interactive live map of Huan Smart Dog Tag users around the world. If you discover few or no other users in your geographic area, this tag won't work anywhere near as well as a more costly GPS tracker tag if you need to quickly pinpoint your dog's exact location. The Huan tags come in several different sizes and colors and attach to any appropriately sized collar.

While not specially designed to track pets, the Tile Bluetooth trackers start around the same price and have a network comprising millions of users worldwide. This makes finding the lost item (which could be your dog) that the Tile device is attached to more viable. In 2021, Apple is also expected to release AirTags, which works much like Tile trackers.
Whistle Go Explore
Category: GPS Location, Health, and Fitness Tracker
Price: $149 (Plus Subscription)
Website: www.whistle.com
The Whistle Go Explore smart tag is another example of a smart collar that uses GPS, cellular, and WiFi internet connectivity to locate a pet anywhere in real-time using a proprietary mobile app that displays a detailed map. The app also tracks fitness and health-related data. In addition to the cost of the tracker (which attaches to an appropriately sized collar), a monthly subscription plan for the service is required. This costs $12.99 per month (or $8.25 per month when billed annually). Due to the size and weight of this tracker, it's best suited for use by dogs who weigh more than 20 pounds.
Wicked Ball
Category: Interactive Dog Toy
Price: $49
Website: https://stacksocial.com/sales/wicked-ball-for-dog-blue
Most dogs love to play fetch and interact with a ball that rolls around on the ground. Typically, this requires a human to toss the ball for the pet, who then chases and retrieves it. When you're too busy to play directly with your pup, the Wicked Ball can provide some interactive entertainment to eliminate boredom and promote exercise.

The bright-colored ball has a built-in rechargeable battery that lasts up to eight hours of gentle use. Once turned on, the ball will automatically and randomly start moving, spinning, and lighting up for play periods between 10- and 30-minutes each (the human sets this in advance). Wicked Ball has three levels of interaction (gentle, active, and normal), which you can set based on your dog's temperament and energy level.

The waterproof and scratch-resistant ball also has a built-in sensor, so it'll avoid collisions with obstacles when it's rolling around. Wicked Ball works on its own. No mobile app is required.
From playtime to feeding to just finding your dog when they go missing, technology can help enrich the lives of you and your pet. While one-on-one interaction with their favorite human is still best for your pooch, smart devices can help you create the best possible environment for your dog and be there when you can't.
Editors' Recommendations