Achy joints, trouble hearing, vision problems, incontinence issues — ugh. Whether you're a human or a dog, getting old is no fun. And for pet owners who have formed a tight bond with their canine family members, watching an energetic puppy grow into a senior dog just seems to happen way too soon.
Of course, we don't love them any less as they grow older. In fact, sometimes knowing that their days are numbered makes us treasure the time remaining even more. In that spirit, we've assembled some amazing home decor finds that will make your senior dog's life a little easier.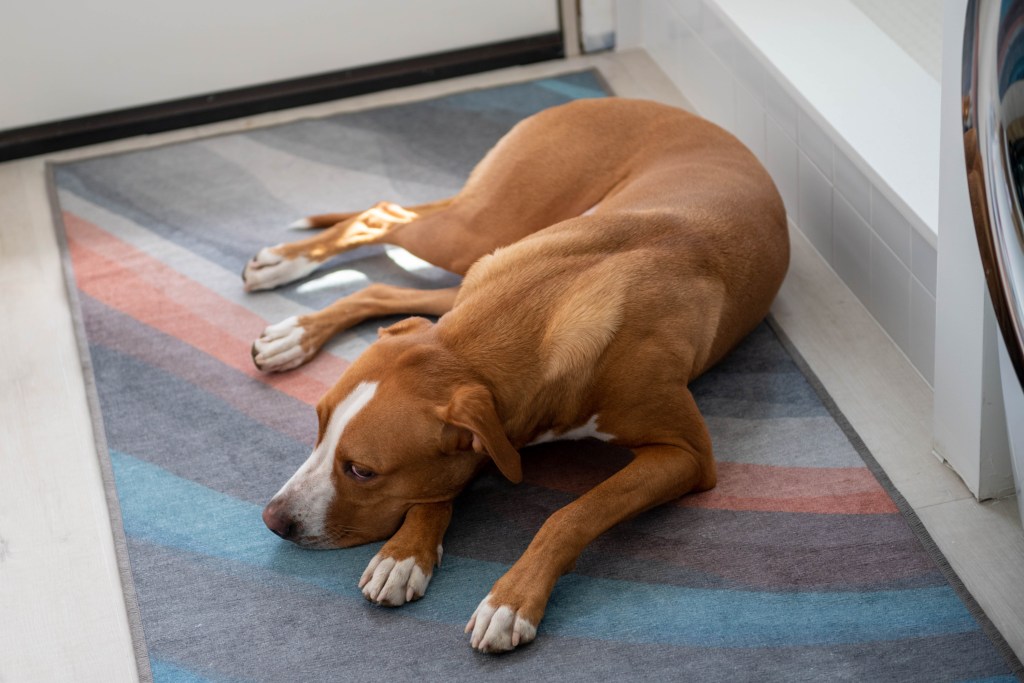 Anti-skid rugs
When you think about health problems for aging canines, arthritis is one of the most common ailments. In particular, osteoarthritis (otherwise known as degenerative joint disease) directly affects the joints in knees, elbows, hips, and shoulders, resulting in pain and stiffness. As a result, you may find your senior pup has trouble getting up or keeping his balance.
What to do? Invest in some anti-skid rugs, especially in rooms with slick tile or wood plank flooring. We like these Traction Carpet Treads Mats from Pick For Life. The self-adhesive squares come in a pack of 16 that can be cut and customized to suit your needs. The squares are washable and reusable and don't leave any residue on your floor.
Elevated food bowls
Although the jury is still out on elevated food bowls for dogs of all ages (because the association between dogs who use elevated feeders and bloat is high), senior dogs with limited mobility may benefit from using one.
Elevated feeders are systems that are raised off the ground, making it easier for a dog to reach its contents. They can help reduce hip and back pain for dogs with arthritis and other joint-related conditions.
We like this adjustable model by Emfogo. The solid-wood-and-metal frame can be adjusted to one of three heights (5 inches, 9 inches, or 13.5 inches), with removable bowls for easy cleaning. The nonslip base is convenient, too.
Dog stairs
If your dog is accustomed to cuddling with you on the sofa or bed or traveling with you in the car, you might benefit from investing in a set of portable stairs for home and travel. This assistive equipment gives your dog the freedom to maintain a normal routine without the danger of incurring injury from jumping on and off the furniture — or in and out of the car.
You can choose from a variety of online options, depending on the size and weight of your dog as well as your style preferences. If you get lost in the multitude of choices, consider this option from Petmaker. We think these folding stairs are stylish enough for home or travel. Plus, the durable construction is easy to clean and collapses to fit easily in the closet or the trunk of your car.
Orthopedic bed
Old bones like a soft, comfortable bed to lie on, whether they are human or canine! So is it worth the price to buy an orthopedic bed for your senior dog? Experts say yes. Benefits include additional support for joints and muscles along with improved blood circulation throughout the entire body.
You'll want to make sure the bed you buy is large enough for your dog to stretch out on, with a durable, washable cover that's easy to get on and off. We particularly like this one by Casper because of its two-layer foam construction. One layer is memory foam and the other is support foam to give your senior pup the best support. The microfiber cover is removable and washable, and the indented design gives your pup a place to comfortably lay his head.
Treasure your senior
It's no secret that dogs age faster than humans. A dog is considered senior once he is seven years of age, a milestone that still marks childhood for humans! Although bigger dogs age faster than their smaller counterparts, caring for a senior dog is a privilege we afford our pets for the years of great companionship they've provided us.
Discuss the noticeable signs of aging with your veterinarian. Make your home as safe and comfortable as possible. Minimize your pooch's pain and stress as much as possible and bestow as much love and patience as needed to give him the quality of life he deserves in his golden years.
Editors' Recommendations