You're certainly not alone if your pup's ears are one of your favorite parts about them. They can be super soft to the touch, they perk up when you walk into the room, and they somehow always hear you open your refrigerator no matter how quietly you do it. These are just a few reasons why knowing how to clean a dog's ears should be required learning for pet parents.
Yet, often, it's not. When we take home our pets, we sometimes have pamphlets on feeding, playing with toys, and keeping up with vaccinations. Don't get us wrong--those are all important things to know. However, cleaning a dog's ears is an important part of maintaining your pup's health that's not often talked about.
Since you may not have gone home with an instruction manual on how to clean a dog's ears, we dug up some information for you. Here's what to know about ear cleaning in dogs.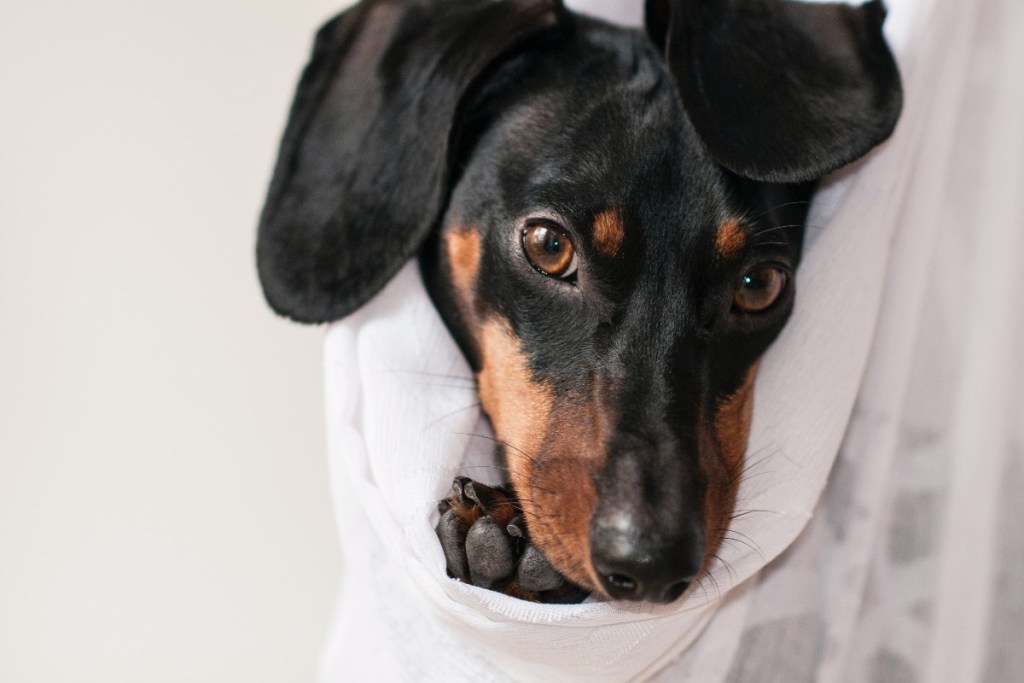 Why it's important to clean your dog's ears
Cleaning your dog's ears is a way to reduce the buildup of dirt, yeast, and other bacteria. These materials can easily get caught in a canine ear canal because it's horizontal, and only a good cleaning, preferably with an ear cleaner, can get it out. If you don't nix the buildup, it can cause a pup's ear to itch and even create an infection. This is when you'll notice your dog scratching at their ears, or even rubbing them on the ground.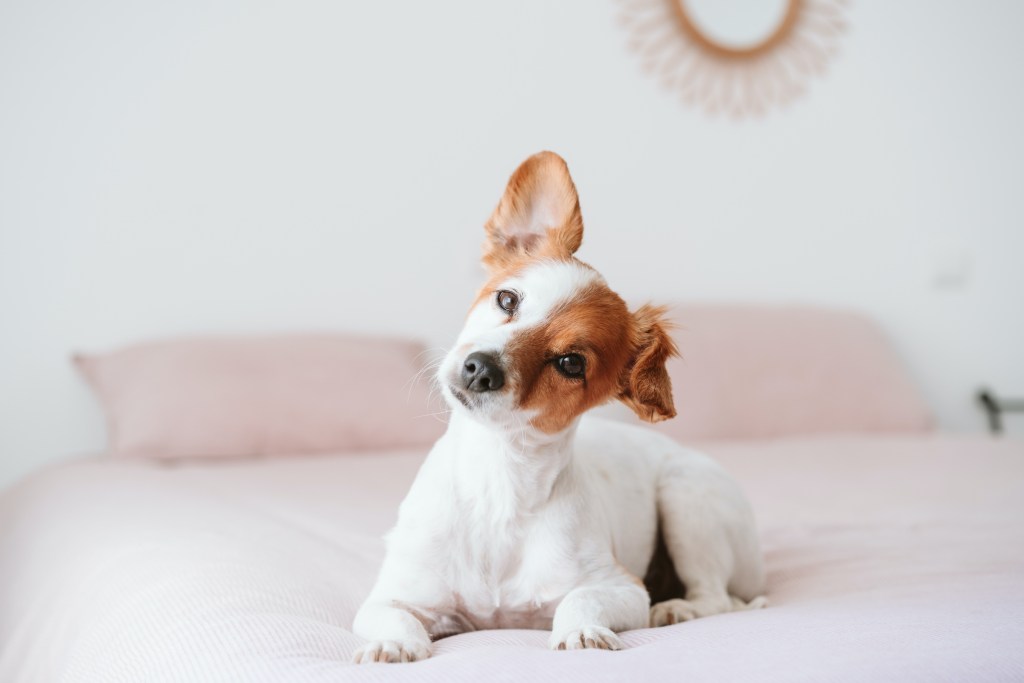 How often should you clean your dog's ears?
This answer depends on your dog, their lifestyle, and their overall ear health. Some dogs with healthy, clean ears won't need cleaning at all (besides after swimming or getting dirty)! Generally, though, cleaning the ears once per month is fine for dogs who have problematic wax buildup or a funky smell coming from the ears. However, pups with low-hanging, floppy ears, like Bassett hounds, beagles, and cocker spaniels, are more prone to ear infections and typically require more frequent cleanings.
Ear cleaning in dogs is also essential after the pet comes in contact with water, whether it's for a bath or a fun swim in the ocean. Yeast thrives in damp ears, so your poor pup can develop an infection if it builds up and isn't removed.
Keeping tabs on your pet's unique ears can help you come up with a cadence for cleanings. If your dog displays any of these behaviors, it may be time for an ear cleaning:
It's also possible to over-clean a dog's ears and irritate them in the process, so talk to your vet if you're unsure how often to tackle this task.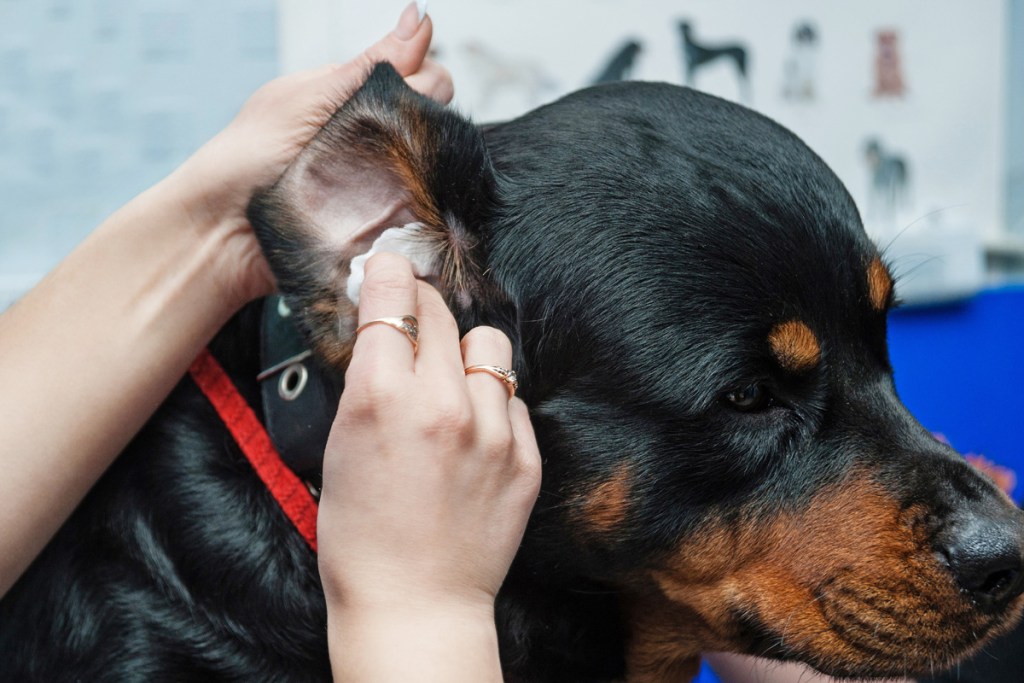 What can I use to clean my dogs ears at home?
You can buy a number of different canine ear cleaning products at your local pet store, though there's likely to be a larger selection online. Your vet can recommend the best dog ear cleaner that will gently remove wax while not irritating your pup's ears.
Don't want to use a commercial product? No worries, you can make an ear-cleaning solution right at home. Assuming your pet doesn't have an infection or other more serious issues, try pulling together a cleanser with the stuff in your cabinet. Vets recommend a 50% distilled water and 50% vinegar mix if you're just wiping down the ear flap.
For a pup that has a history of ear problems, you'll need to get something recommended by your dog doctor, possibly with antibacterial or antifungal properties. That's what will help keep the ear infections at bay, far more than the simple mixture you might whip up from kitchen ingredients.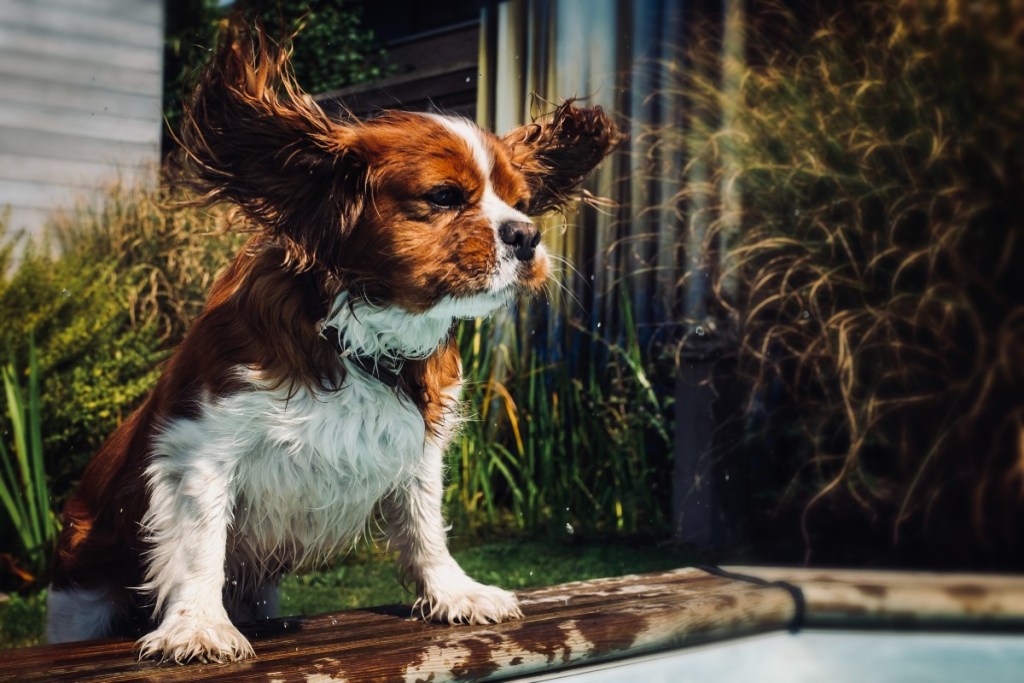 How to clean a dog's ears
Here are the simple steps for cleaning your dog's ears.
Step 1: Have all your supplies ready so you can work efficiently.
Step 2: Call your dog over and give them a treat.
Step 3: Sit down with your pup in front of you and between your legs.
Step 4: Flip over the ear so the flap is pointing straight up.
Step 5: Squeeze the appropriate amount of dog ear cleaner in your pup's ear. (Your vet can advise on the right amount.)
Step 6: Massage the base of the ear gently for about 30 seconds. The solution will squish around. You can turn this into a fun game by talking to your pet or giving them dog treats.
Step 7: As you hold the ear flap up, gently wipe away any buildup from the inner part of the flap and visible ear canal with the cotton ball or gauze.
Step 8: Give your dog a treat and tons of praise.
Step 9: Repeat on the opposite side.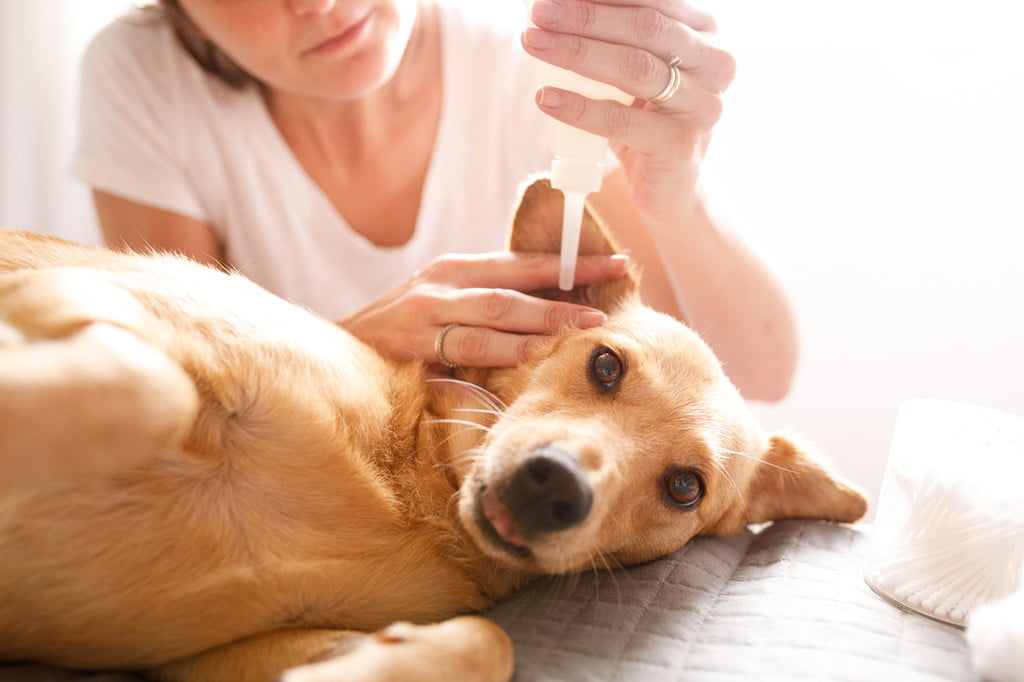 Don't make these mistakes when cleaning your dog's ears
Although the ear cleaning process is fairly straightforward, it's not foolproof. This is why it's essential to learn about dog ear cleaning before trying it yourself.
The first mistake a pet parent can make is thinking that all dogs need to have their ears cleaned. That's not true! Many dogs will not struggle with ear infections or waxy buildup, and they won't need any extra help. In fact, too much ear cleaning, or unnecessary ear cleaning, can lead to irritation and other problems in the ear canal.
Pro tip: you don't need to clean your dog's ears today unless:
You notice a funky smell from the ears
Your dog has visible discharge (including wax) toward the outside of the ear canal
Your dog has a history of ear infections and you've spoken to your vet
Your dog has just been swimming, rolling in the mud, etc.
You've spoken to your vet
Aside from these reasons, it's always best to speak to a vet to learn when to clean your dog's ears.
When cleaning their ears, avoid using Q-tips, as these will be both ineffective and potentially dangerous. In fact, nothing should go inside your dog's ears besides the ear cleaning solution!
If you have any other questions about the dog ear cleaning process, don't be afraid to contact your vet's office. More likely than not, someone will be able to give you advice!
Not all dogs like their ears cleaned, but it's an important part of many pups' care routines. Doting on them with treats and praise can always help ease the process, too. There are many ways to help keep the process calm and predictable for your dog. Doing it in the same spot every time can prepare your dog for what's to come by providing a sense of familiarity. Your vet can help you figure out the best frequency and ear solution for your pet and troubleshoot with you if the pup consistently resists ear cleanings.
Editors' Recommendations