Between their love for sleeping in sunbeams and their penchant for naps in front of the fire, cats gravitate toward warmth. Given their ability to withstand temperatures that leave us sweaty and miserable, it stands to reason that staying cool isn't a problem for cats. As it turns out, that's not the case at all. Just like humans, cats need to regulate their body temperature, especially during the hot months. However, unlike humans, cats take a slightly different approach to staying cool.
Here's how cats stay cool — and the signs you need to look out for that could mean they're in trouble and require treatment for heat-related conditions.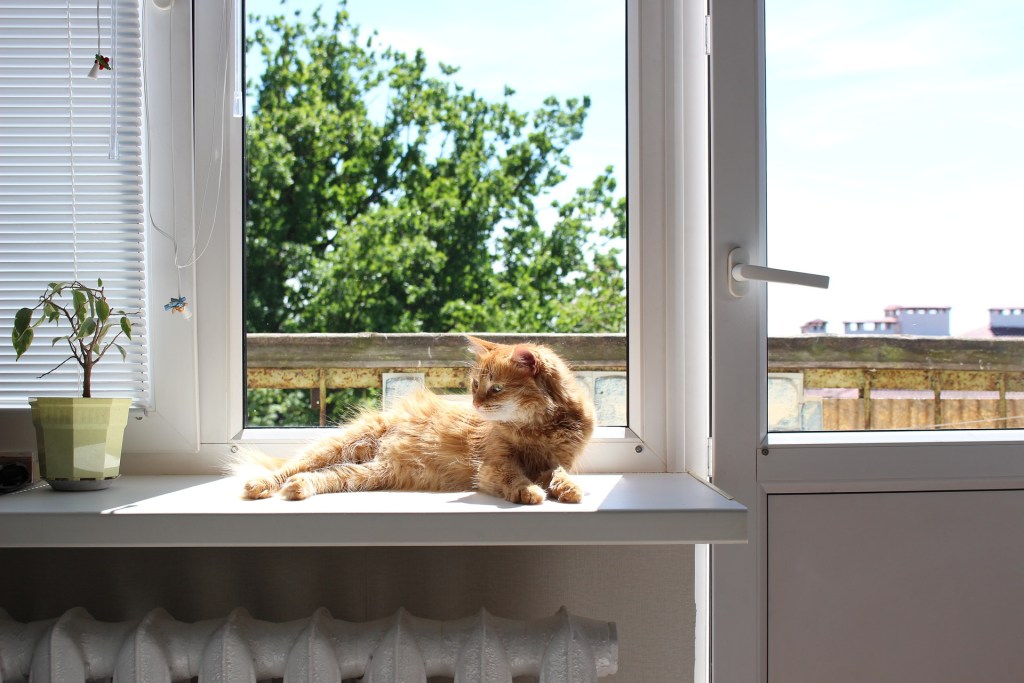 Do cats sweat?
Technically, cats do sweat, but not the same way that humans do. As humans, we sweat all over our bodies, but cats have much more limited sweating capabilities. Humans have sweat glands located just about everywhere, but cats have sweat glands only in a few areas that lack hair. These areas include your cat's paws and chin, so your cat can sweat only in those particular areas. (This is true also for dogs.)
As your cat sweats, air that moves over the sweat helps cool his body. Because sweating capabilities are so limited for cats, sweating is a secondary cooling system. Your cat has other ways to help regulate his temperature and cool off.

How do cats cool down?
Rather than relying on sweating to help cool down, cats get rid of body heat by grooming. Evaporating saliva works just like evaporating sweat to cool the skin. So, you might see your cat groom himself more often when it's warm out, particularly when he's lying in a hot, sunny spot.
Speaking of lying around in the heat, cats take naps during the hot days to avoid some of the heat. By limiting their activity during the daylight hours when it's hot out, they can stay cooler. As the temperatures drop in the late afternoon and evening, cats become more active with hunting, eating, and playing.
Cats instinctively know to seek out cooler spots when things heat up during the day. You might notice that your cat heads to the basement or lies on the cool tile floor during hotter days. It's just one of the ways that he's regulating his temperature and staying cool.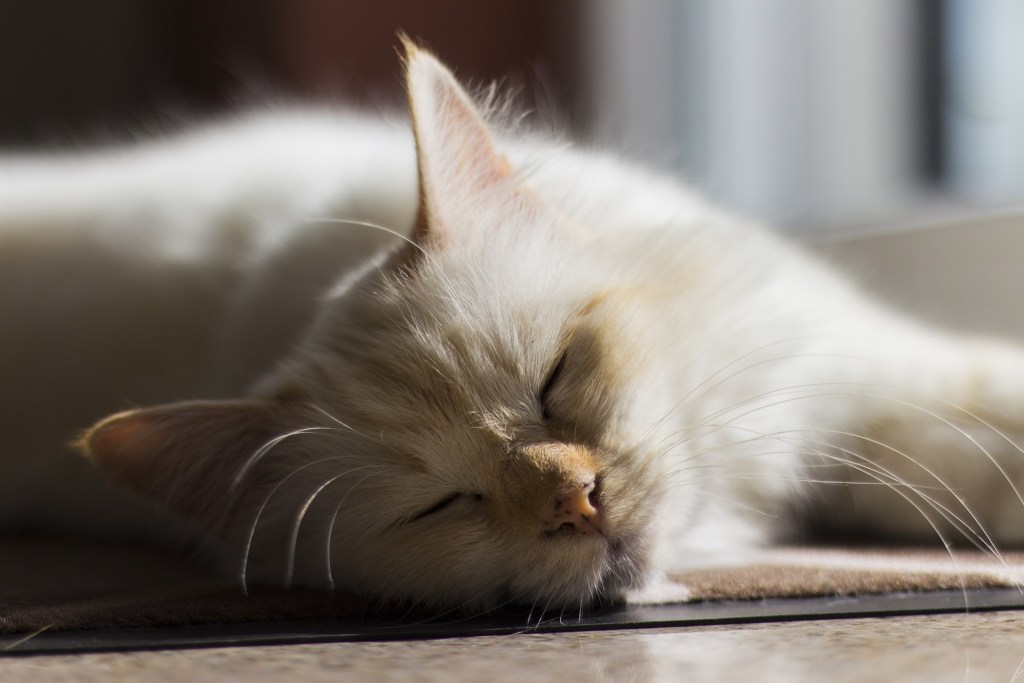 Signs your cat is overheating
These are the signs your cat might be overheated:
Panting: If your cat's other methods of temperature regulation aren't enough, he may start to pant. Cats don't typically pant, and this is a sign that your cat may be stressed or overheating.
Heat stress: If the problem progresses, your cat may experience heat stress. Common signs of heat stress include drooling, excessive grooming, and sweaty paws. Your cat may act aggravated or restless as he looks for a cooler area.
Heat exhaustion: Heat exhaustion can occur if your cat can't lower his body temperature. Signs of heat exhaustion include rapid breathing, a red tongue and mouth, stumbling or uncoordinated movements, lethargy, and vomiting. Heat exhaustion is a life-threatening emergency that needs to receive appropriate treatment immediately.
If you notice signs of heat stress, move your cat to a cool area and call your vet. And if you think your cat is experiencing heat exhaustion, then put cool water over his body and call your vet immediately. If you can't reach your vet, take your cat right to the nearest emergency clinic. A vet will probably administer cool fluids and monitor your cat's body temperature. Heat exhaustion can lead to organ failure, so professional treatment is essential.
In most situations, your cat can regulate his own body temperature just fine. Cats instinctively know how to keep themselves cool, and most won't expose themselves to extreme temperatures that could lead to heat stress or exhaustion. However, it's still possible for these medical emergencies to occur, especially in cats who are exposed to extreme temperatures or suffering from other medical issues. Being aware of the signs of heat stress and heat exhaustion can help you quickly identify these conditions if they occur. Knowing the right steps to take to promptly get your cat medical help can help save his life in these situations.
Editors' Recommendations