Thirteen year-old Ellie, a chow-pit mix, stands back a few feet from the front door, barking, tail wagging slowly and with purpose. The osteoarthritis in her spine doesn't allow her to raise her tail like she used to, but that doesn't prevent her from schooling the other two canine members of the household, four year-old Diesel and 11 month-old Valley, both Rottweilers. Together, the three are the official greeters for the Webster house, a job they take seriously.
"We adopted Ellie before we had kids," says Margie Webster, "mostly because I didn't think I could have children. Then, right after we adopted Ellie, I found out I was pregnant with Zane. The two have literally grown up together."
It's obvious the three dogs are a big part of the Webster family, which includes Margie; her husband, Larry; 13-year-old Zane; and 11-year-old Leighton. So, when Ellie began having issues related to her osteoarthritis and Diesel was suffering from recurring ear infections, Margie decided to take a page from her own childhood and exchange their kibble for home-cooked meals. After all, she reasoned, she grew up with parents who cooked three European-style meals a day and dogs who ate the same food right alongside them. One of the family's dogs lived to be 23, while another lived to be 25.
"They lived a long, beautiful life," she says fondly. "They didn't have commercial dog food where my dad was from (Poland) so he never understood why we bought kibble for our dogs in the first place."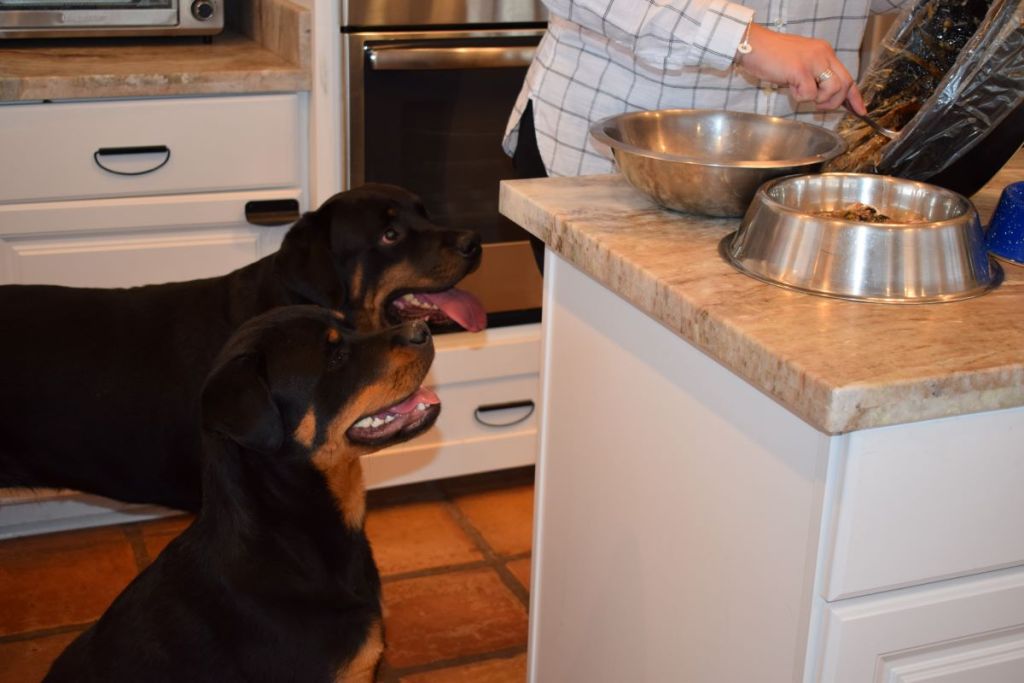 The homemade dog food trend
The Websters aren't the only dog owners who have made the switch from kibble to homemade meals. A recent study determined that as many as 87% of dog owners feed their pet at least some real food in their diet. The reasons are varied. Some say the practice helps them bond with their pet; others believe it's healthier. There are also those with a distrust of the pet food industry and the perceived lack of regulation involved in the manufacturing process.
One reason for this distrust stems from a major pet food recall that occurred in March 2007, after pet food manufacturer Menu Foods alerted the Food and Drug Administration (FDA) to animal deaths related to routine taste trials conducted by the company. The 14 animals died of kidney failure after eating certain "cuts and gravy" style dog food produced at the company's Emporia, Kansas, plant.
The resulting investigation discovered the dog and cat food were contaminated with melamine, a chemical used in making plastics, adhesives and industrial coatings. The FDA traced the source of contamination to imports of wheat gluten from distributor ChemNutra of Las Vegas, which had imported the substance from a Chinese supplier.
As a result, nearly 180 pet foods companies voluntarily recalled their products that were produced by Menu Foods and other manufacturers. The owners of ChemNutra were criminally prosecuted for their role in importing the contaminated ingredients. More than $12 million was paid on 20,229 claims from pet owners in the United States and Canada as part of a class-action lawsuit.
Is kibble safe for pets to eat?
Dr. Kimberly Wallitsch, a veterinarian with El Dorado Animal Hospital in Fountain Hills, Arizona, says, for the most part, commercially prepared dog food is healthy and safe for pets to eat. She typically advises her pet parents to find a well-balanced diet with grains, and often recommends some of the bigger box brands such as Hill's Science Diet, Royal Canin, and Purina Pro Plan, as well as more boutique-style brands like Natural Balance, Merrick with Ancient Grains, Orijen and Acana.
"Commercial diets (both kibble and fresh diets) undergo feeding tests that are regulated by the Association of American Feed Control Officials (AAFCO)," she says. "This helps to ensure a well-balanced diet, appropriated digestibility and bioavailability."
In the United States, the FDA is responsible for regulating pet food products and their ingredients and most states regulate pet food products under their respective animal feed laws. State requirements, for those that follow AAFCO guidelines, include an examination for allowable ingredients and a guaranteed analysis (GA) of specific measurable levels, such as minimum and maximum levels of protein, fat and fiber.
Dr. Wallitsch acknowledges that the oversight isn't foolproof. "We have obviously had recalls on food with AAFCO approval due to subtle changes in ingredients, but it is our best effort to ensure that all dog and cat food is safe and well-balanced," she says.
A 2010 study regarding dog food recalls between the years 1996-2008 determined that less than 1.7% of reported food poisonings in pets are related to pet food. Comparatively, close to 76 million food poisoning cases cause 5,000 human fatalities each year.
"Like the human food industry, the pet food industry has had its share of poisonings and, unfortunately, deaths," Dr. Wallitsch says. "This should not correlate to mean that all pet food is bad, just like human food is not bad. In theory, if we are using the same ingredients in our pet food that we use in ours, they can still be at risk for food poisoning and now also may be at risk due to unbalanced diets."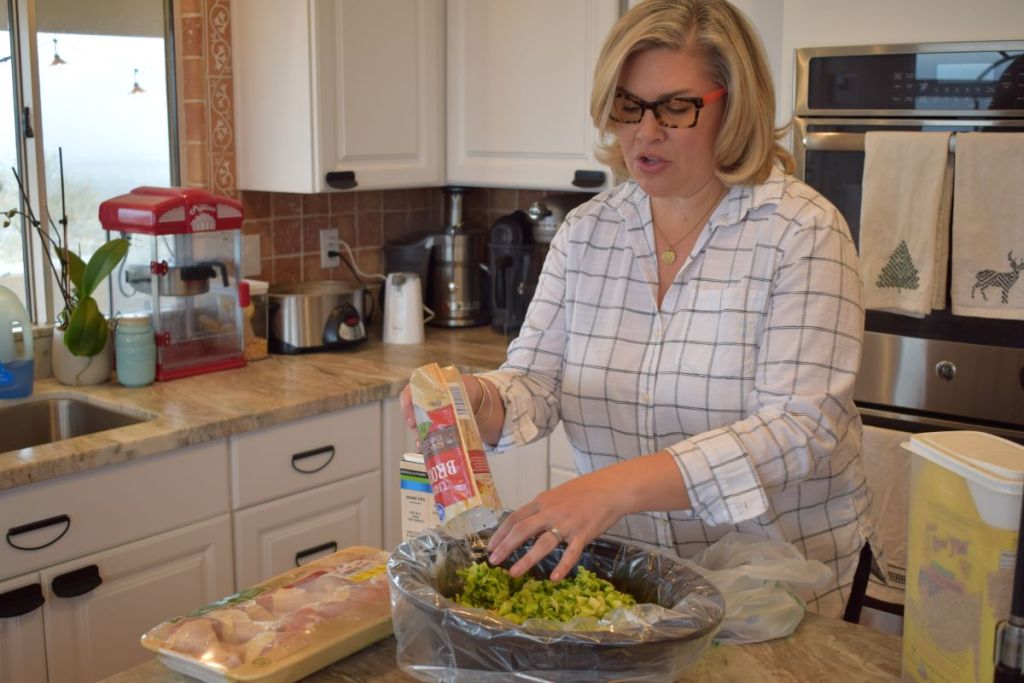 Should you cook for your dog?
According to Dr. Wallitsch, cooking for your dog is a tricky issue.
"Creating your own dog food is not an easy task," she explains. "A dog's dietary requirements differ from ours and it can be challenging to create a well-balanced diet. We need to ensure that the diet is completely balanced and that our pets are getting the appropriate nutrients, vitamins and minerals on a daily basis."
Dr. Wallitsch pointed to a study of homemade diets for pets found deficiencies in vitamin A, B12, D, and E, and calcium among others. Diet insufficiencies can lead to health complications such as heart disease. Taurine deficiency can cause dilated cardiomyopathy and feline central retinal degeneration. A lack of vitamin B12 can cause inflammatory bowel disease.
"These vitamins are essential," she says. "For example, vitamin D and calcium are important regulators in many of our pets' metabolic functions. They are important regulators for proper bone and kidney health."
Raw food and grain-free diets
Two rising trends among pet owners who feed their dogs homemade meals are raw food and grain-free diets. Proponents of raw food diets say these meals mimic what canines ate before they became domesticated. Ingredients include raw meat, bones, fruit and vegetables. Grain-free diets have become popular with pet owners who have dogs with allergies or digestive issues. Both diets are controversial.
"I do not typically recommend raw diets for any patient due to the risk of bacterial contamination and the risk of zoonotic transfer," Dr. Wallitsch says. "I recommend all diets at least be cooked for our pets."
Another component of raw food diets is that dogs are often fed whole bones, which can lead to gastrointestinal and dental problems. As for grain-free pet foods, Dr. Wallitsch notes these diets have been linked to a heart disease known as dilated cardiomyopathy, especially in foods where peas, lentils and legumes are first ingredients.
"Like humans, the dog food world has begun producing more grain-free diets; however, there are not many dogs that truly have a grain allergy," she says. "Most often, our pets are going to be allergic to the protein content, with the most common ones being chicken and beef."
Other considerations
Portion control is another challenge. Margie did a lot of research on Rottweilers to determine the right protein to vegetable ratio. She also paid attention to Diesel's eating habits, especially since the affectionate Rottweiler was tipping the scales at 130 pounds.
"It seems like they are always hungry," she says with a laugh. "I noticed that if he (Diesel) gets too hungry, he eats too quickly and then regurgitates. If I measured it out, it would probably be four to five cups each meal."
And, of course, there's the time commitment. Some home cooks set aside time each week to prepare meals in bulk for storage in a dedicated section of their refrigerator, while Margie, who also homeschools her two children, cooks every day for her three dogs. She enlists the help of her trusty slow cooker to do most of the work for her, often filling it before she goes to bed at night so that the food can be ready in the morning. That means rising early enough to allow the food to cool appropriately.
Dogs who benefit most from a homemade diet
"Valley is always up for food," Margie says as the young Rottweiler's nose inched closer to the slow cooker. That day's menu included rice, beans, carrots, chicken and no sodium broth. One full slow cooker will feed the three dogs two meals a day.
Margie decided to cook meals for her dogs like her mother used to do because of Diesel and Ellie's health problems. Ellie takes Galliprant for her osteoarthritis, which has made her susceptible to weight gain. Diesel's specialty dog food, which helps control his allergies, isn't always available at the store when Margie goes shopping, which is frustrating because the Websters live on a large piece of property several miles from the nearest town. He is also overweight.
"I have noticed that Diesel has lost some weight and has had fewer ear infections," Margie says. "And I know Ellie is healthier. She can get up and walk out the door without so much effort. Her back hind legs used to give out."
Dr. Wallitsch doesn't typically recommend premade home-cooked diets for medical reasons, but she does recommend them for patients who do not like kibble.
"It becomes problematic because they are not eating," she explains. "Homemade dog food diets can be more palatable and digestible for our pets. We are also able to better control what ingredients go into their diets, whereas we cannot do this with kibble."
Fresh Pet, Just Food for Dogs, Nom Nom and The Farmers Dog are four premade pet food labels she recommends. Fresh Pet is sold in most grocery stores. Just Food for Dogs is available at Petco and inside various veterinary clinics and hospitals. Nom Nom and The Farmers Dog are subscription pet food services.
For those interested in doing the work themselves, Dr. Wallitsch recommends following the recipes on BalanceIT, a website created by veterinarians who are board-certified in nutrition and who hold graduate degrees in nutrition.
Is homemade dog food cheaper than kibble?
Because of Diesel's allergies, Margie was spending between $70-$75 at least every two weeks for specialty food, a cost that has dropped to between $50-$55 now that her dogs are eating homemade meals. She looks for manager's specials for ground turkey and ground chicken at the local grocery stores and buys a lot of canned vegetables, pasta and rice at the dollar store.
"I'm probably saving $20-$25 each month," she notes. "If I really worked at it, I'm sure I could save even more."
Diesel doesn't like peas or pinto beans so Margie stays away from those ingredients. Other than that, the dogs eat almost everything else. "I give them okra, beets, beans, pumpkin and cranberries," she says. "I don't give them corn of any kind because it's hard for them to digest."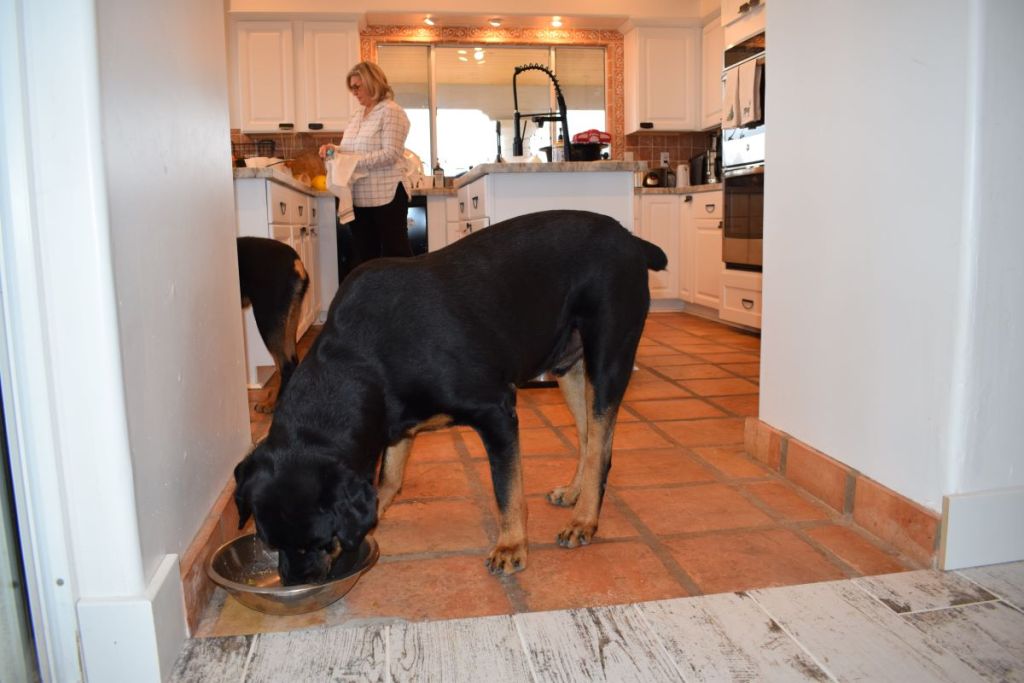 Making the switch to homemade
If you're considering making the switch from kibble to homemade food for your pet, consult your veterinarian. They can help you formulate a diet that is well-balanced for your particular pet. If your vet is not comfortable formulating a diet, Dr. Wallitsch recommends seeking the help of a board-certified pet nutritionist or using one of the premade diets currently on the market.
"Overall, home-cooked diets can be well balanced and a healthy food alternative to traditional dog kibble if formulated correctly," she says. "We all want what is best for our pets, but there are a lot of factors to consider before jumping in and making diets at home."
At the Webster house where it's time for dinner, Diesel eats by the kitchen island while Valley munches happily a few feet away near the entrance to the dining room. Ellie, positioned in front of the pantry, is daintily relishing every bite. Diesel and Valley wait patiently for Ellie to finish her meal and walk away before checking to see if she left them any scraps.
"I know they're happier," Margie says, watching the two Rottweilers play tug of war with Ellie lounging close by. "They would much rather have my cooked food. I know it works… I know it helps them. It's just something you have to commit to."
Editors' Recommendations