You want only the best for your little furball — we get it! That's why we combed through hundreds of the best dog toys for small dogs to pick out some of the most versatile, highly rated goodies for your beloved Maltese. All that's left for you to do is read and buy — your pup will surely thank you!
Dog toys for Maltese need to be just the right size to keep your little prince or princess entertained, so you won't find anything oversized here. There's something for every dog on this list, so let's get started!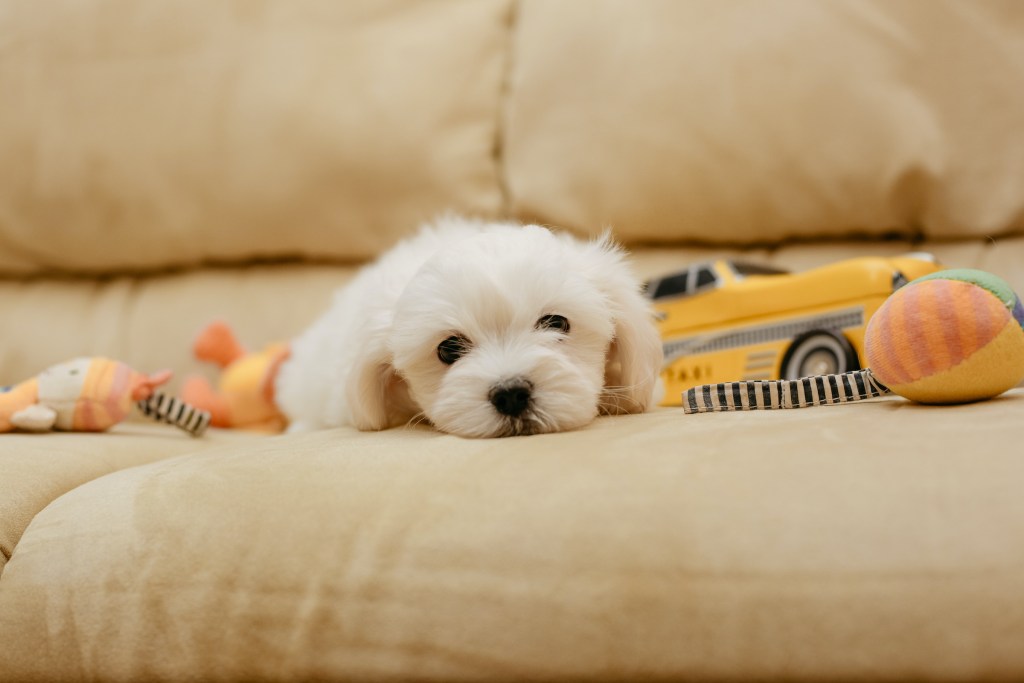 Made with durable plastic
Good for bathtime
Good for indoor or outdoor use
For pups who really love a rousing game of tug-of-war, a regular rope toy just won't cut it. Fabric is more likely to tear and fray over time, so investing in a safe and durable plastic pull toy will be a smart move.
This particular toy is super flexible, so throwing the Safestix is just one more way to play. It also floats on water, which means your pup can romp in the pool till they're ready to settle down for a nap. Or it can help make bath time a little more fun — it's up to you!
Mentally stimulating for your dog
You control how hard the game is
BPA-, PVC-, and phthalate-free
Although interactive puzzle toys are often marketed for puppies, dogs of any age will benefit from the mental stimulation they provide. They're a great distraction for when you leave home or need a moment to yourself, and your Maltese will love discovering a couple of treats hidden within the puzzle pieces.
Simply place treats underneath the bone-shaped pieces and let your dog explore! You can make the game easier by loading and covering just a couple of pieces on the board, or you can give your dog a challenge by filling up them all. It's a toy that adapts with your pup!
Good for dental health
Made from 100% cotton
Works well for teething puppies
Whether your Maltese loves to chew or tug, this cloth, rope, and rubber toy will let them gnaw away for hours. They'll go crazy for the soft tassels on each end of the bone-shaped plastic chew toy, and you'll love how the fibers of the rope floss their teeth as they play.
This toy measures 12 inches long, but the thin tassel pieces give even the tiniest of dogs something to chomp on. The high-quality materials won't tear if you find yourself in a tug-of-war, either, so feel free to play the day away with your sweet pup. This toy is really the best of all worlds.
Features a multilayer design for extra durability
Canvas design is easy on teeth
Brightly colored, making it easy to spot
This Frisbee-like toy has pet parents just as thrilled as their pups. Reviews rave over this toy's long and predictable flight path, allowing even the least athletic pups the chance to catch a real flying disk. One dog owner even mentioned using this toy indoors (spoiler alert: nothing was broken in the process of fun).
With its aerodynamic shape and lighter-than-water material, you can bring it virtually anywhere to turn any time of day into playtime. Its canvas body is easy enough on your dog's teeth, so you won't have to worry if fetch turns into a game of tug.
Features foam technology for extra durability
Bacon-scented
Good for teething puppies
Even your most monstrous chewers won't stand a chance against this strong and squeaky toy. Hartz's Dura Play Ball is made of soft and flexible natural latex, which bounces, floats, and withstands all kinds of crazy play. Finally, a ball that can keep up with your furry bundle of energy!
As if this toy weren't impressive enough, it even has a bacon scent to keep your pup coming back for more. They won't hurt their teeth on the soft, flexible material, either, so it's perfect for teething puppies, too.
Whether your sweet little Maltese is more apt to run or to tug, there's a perfect toy out there for them. Don't be afraid to try out a few new toys for your fur baby, too; you can't beat these prices, after all! Favorites come and go, but these classic mini toys are sure to be a hit.
Editors' Recommendations