A popular flea and tick collar that's been linked to the injuries and deaths of thousands of pets is still on the shelves.
As of May 12, 2021, Seresto flea collars were available to purchase at major retailers of pet products, including Chewy, Petco, and PetSmart, despite being "linked to hundreds of pet deaths, tens of thousands of injured animals, and hundreds of harmed humans," according to a report by USA Today published in March.
Between 2012 and 2020, over 75,000 incidents have been linked to Seresto collars, including nearly 1,700 deaths, according to U.S. Environmental Protection Agency (EPA) documents. The Center for Biological Diversity, a nonprofit that aims to protect endangered and domestic species alike, obtained these documents via a public records request.
Although far more incidents involving dogs than cats have been reported, both canine and feline deaths have occurred. Even people — nearly 1,000 — have reported reactions to Seresto products (via EPA).
Since the document lists cases from January 1, 2012, to June 16, 2020, the number of incidents of pet harm could be higher. Many pet parents might not have been aware that their dog or cat's flea collar could be related to their health concerns, or they might not have known how or where to report it.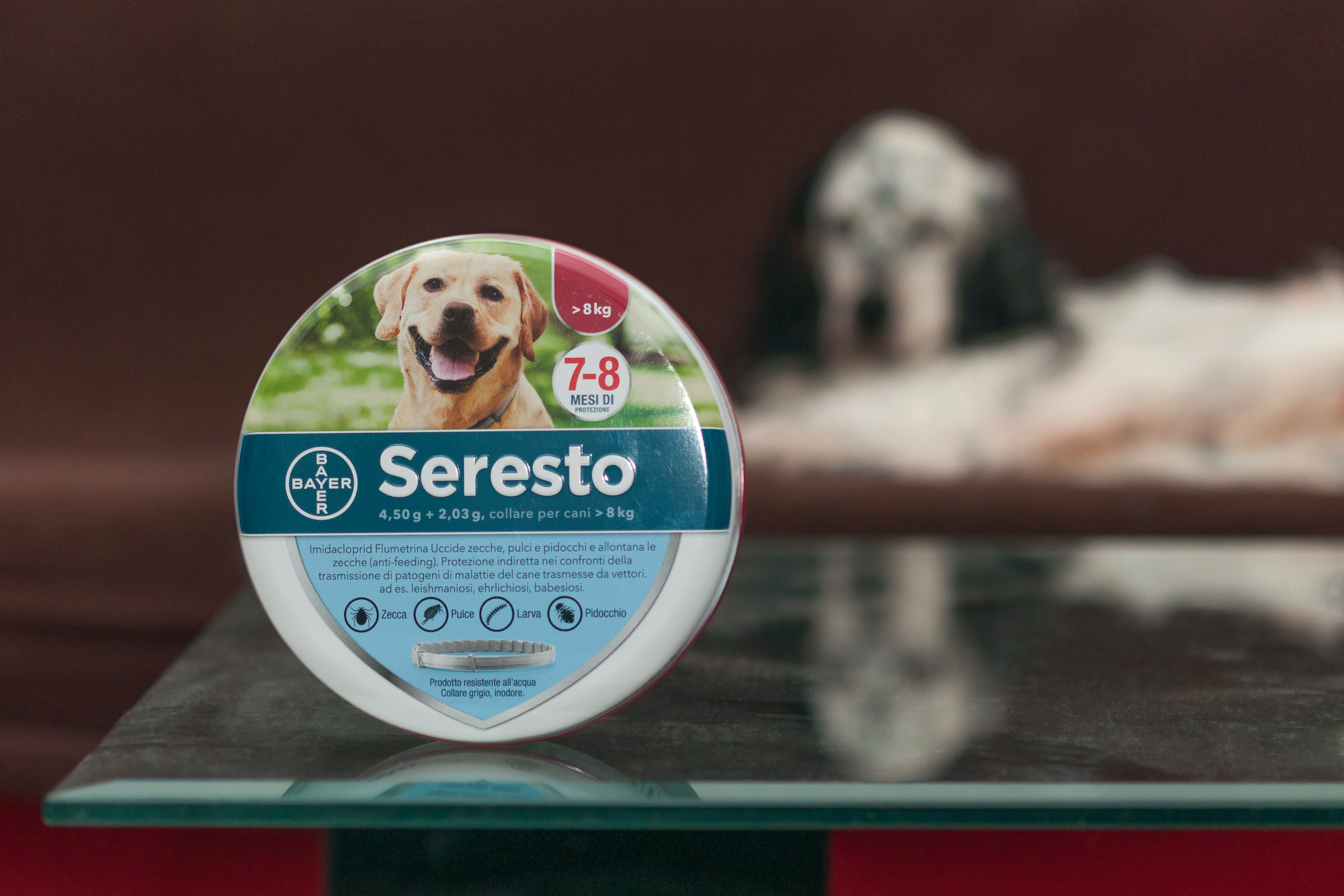 How does the Seresto collar work?
Seresto uses a combination of two pesticides to ward off fleas and ticks: imidacloprid and flumethrin. When Bayer — which developed the Seresto line — originally studied these two insecticides, they found a "synergistic" effect that was more effective in repelling and killing fleas. Nathan Donley, a senior scientist at the Center for Biological Diversity, told USA Today that this synergistic effect could apply to pets.
What are the health effects that have been reported?
In a majority of cases, health effects include skin irritations, ranging from mild to severe. Amazon reviews for the Seresto Flea and Tick Collar For Dogs include graphic images of pets' reactions from wearing this collar, though pet owners have shared their stories in interviews and reports as well.
Rhonda Bomwell lost her 9-year-old service dog, a papillon named Pierre, only one day after starting him on a Seresto collar. While she was making dinner, she told USA Today, he collapsed, had a seizure, and died. A kitten named Oscar was lost within two days of putting on the collar. His first symptom was twitching of the legs (via CBS). Owners are reporting their pet's first symptoms anywhere from hours to months since first putting on a Seresto collar.
CBS NEWS INVESTIGATES: Some members of Congress are requesting one of the largest temporary single-product recalls in U.S. history after a top-selling flea and tick collar was linked to nearly 1,700 pet deaths — and hundreds of injuries to humans.@annawerner reports pic.twitter.com/q4uWU6gChT

— CBS Evening News (@CBSEveningNews) March 18, 2021
What is being done?
After the Center for Biological Diversity requested the documents from the EPA in 2020, and once the USA Today report was published in March 2021, Illinois Congressman Raja Krishnamoorthi and the House subcommittee on Economic and Consumer Policy requested a temporary recall of the collars. This would have been one of the largest single-product recalls in U.S. history (via CBS).
Elanco, the company that sells Seresto collars, told Insider, "The recent media reports were based on raw data and cannot be used to draw conclusions on what may have actually caused the issues."
The company says that, based on consumer reports, only 0.3% of collars sold have been connected to incidents, which meets the standards of safety profiles set forth by the EPA.
The EPA told NBC that it hasn't identified "unreasonable adverse effects" caused by either imidacloprid and flumethrin to either humans or the environment, but it is reviewing pet incidents. The agency has yet to come to any conclusions and is in the process of requesting more detailed information about the incidents and the pesticides, according to the report.
According to Karen McCormick, a retired scientist and communications officer for the EPA, these collars have "the most incidents of any pesticide pet product she's ever seen" (via USA Today).
What to do if you use a Seresto collar for your pet
If your dog or cat wears a Seresto collar, remove it from your pet, place it somewhere secure where your pet can't reach it, and call your veterinarian immediately. There is no known harm in immediately stopping the use of a flea and tick collar, though your pet should still be protected via the use of medicated shampoos or oral medications. This is something else your vet can advise you on.
Editors' Recommendations