Pets are so special, from the traits that make them true to their breed to the quirks that set them apart. In our past Pet Profile articles, we've met Famous Shamus, who captures hearts wherever he goes; little miss Chloe, who overcomes epilepsy to enjoy both snuggles and working; and even fashionable neighborhood busybody Bethany, the Great Dane.
This month, we're meeting Phineus, a German Shepherd gentleman who's as fun as he is brave. He and his human, Tina Mulqueen, have been together since he was a puppy, so she knows him and his quirks inside and out. Ready?
The parent and the pup
Thanks for sharing a bit about your life with your fur baby, Tina. Before we get to what we're all here for, what is your role here at Digital Trends Media Group (DTMG)?
I am in Communications. I help tell the story of the amazing work that's being done at DTMG.
What a very important role! Now let's hear about your four-legged coworker. How many pets do you have? What are their names?
One, his name is Phineus.
A wonderful name for a dapper gentleman, indeed. What breed is he?
He's a German Shepherd.
What led you to choose a German Shepherd as you searched for a furry addition to your home?
GSDs (that's short for "German Shepherd Dogs") are so smart and have tons of personality.
Isn't that the truth! We'd love to know, does this breed fit your lifestyle? Why or why not?
Yes, Phin keeps me active and on my toes.
I'm sure many pet parents can relate. Have you noticed any unique behaviors or traits of German Shepherds in Phineus' behavior?
He can be territorial and is unsure about new people, so he is loving this "social distancing" thing.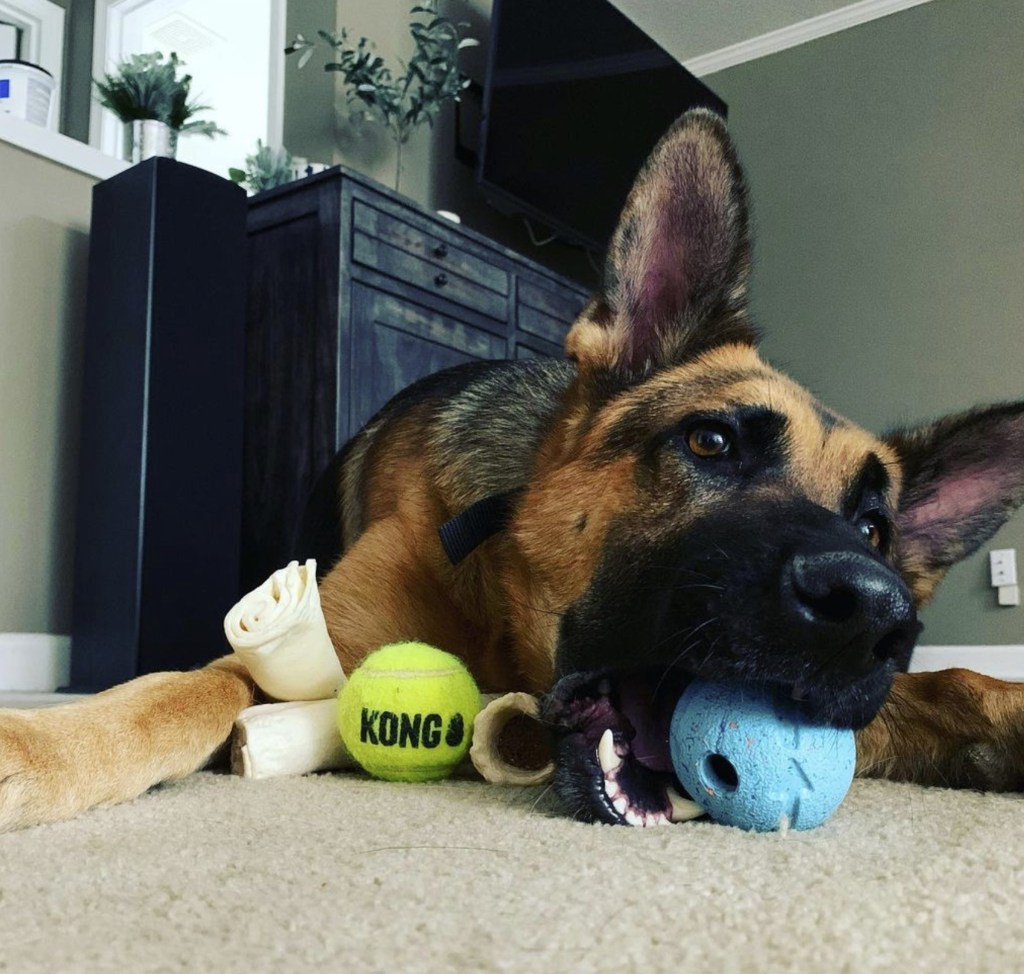 All about Phineus
How did Phineus become a member of your family?
We got him as a puppy.
What are some of your favorite quirks, behaviors, or special moments that you've shared with your boy?
It doesn't matter whether or not he has food in his bowl, Phin refuses to eat until my family is sitting at the dinner table. He likes to experience mealtime together.
That's so adorable! Phineus sounds like such a special dog. Does he have any special needs? If so, how do you address them in his everyday life?
Yes. He has a megaesophagus. As a puppy, we had to blend his food and hold him upright to make sure food went into his tummy. We installed a shelf for his food bowl when he got a little older, and that seems to stave off any symptoms these days.
(Editor's note: Megaesophagus is a condition in which the esophagus has trouble moving any food or liquids to the stomach. Many dogs with this condition do well with simple lifestyle changes, including staying in an elevated position while eating, just like Phineus!)
Thank you for being such a supportive pet parent for Phineus. It makes a world of difference! What are some of his favorite toys?
He loves all of his toys. He especially enjoys running after his ball.
And where do you purchase his food, toys, and other pet products?
Chewy.
Finally—do you carry pet insurance for your pets?
No.
Thank you again, Tina, for giving us a glimpse into your life with Phineus. He sounds like such a good boy! German Shepherds are known for their fantastic energy and loyalty to their family, and Phin sure seems to check off all the boxes. Of course, not every dog will act exactly like every other member of their breed, but that is what's so beautiful about getting to know (and love) a dog.
If you'd like to meet some more of the pups — and felines — behind Digital Trends Media Group, check out a few of our other Pet Profiles:
We hope to see you there!
Editors' Recommendations