Let's face it: The COVID-19 pandemic has prevented many human interactions and given many of us a lot of extra free time at home. To counteract some of these negatives, many people have expanded their family with the addition of a dog.
For new pet parents, dog training quickly becomes a priority. The least expensive, but definitely not the easiest option, has always been to take a DIY approach by reading a few dog training books or watching free training videos on YouTube, and then handling the training on your own. Another option has typically been to sign up for in-person, one-on-one or group classes with a certified dog trainer. Due to COVID-19, however, this option isn't currently viable for everyone.
Taking the need for social distancing and safety into account, a convenient option for professional dog training is to go virtual — using the same video calling tools available on your smartphone, tablet, or computer that you're probably already using to stay in touch with family, friends, and people related to your work.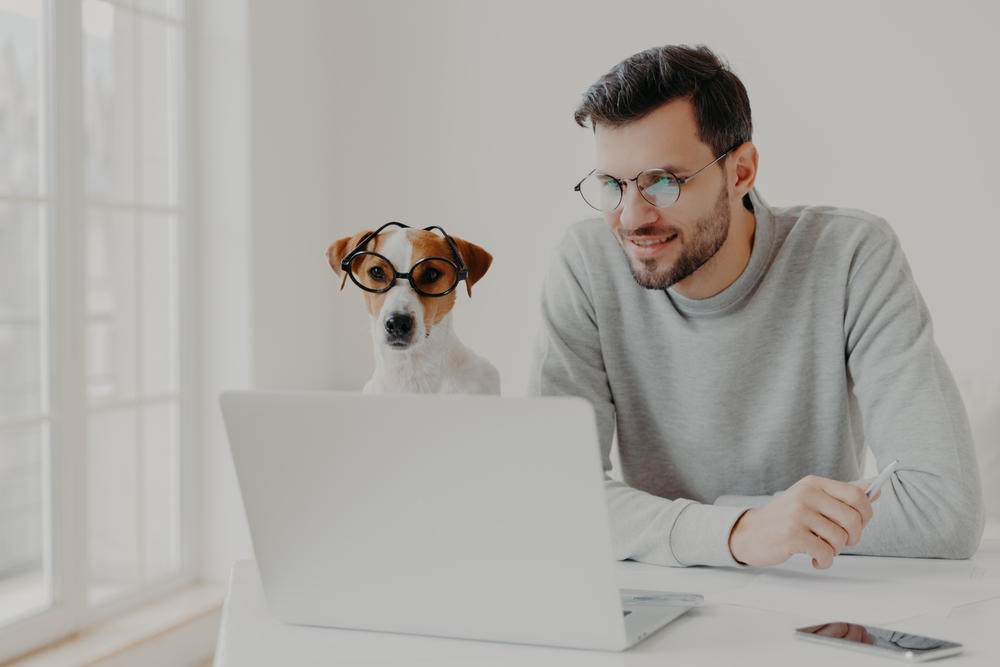 The differences between in-person and virtual training
The main difference between in-person, one-on-one dog training and virtual training is that when working with a dog trainer via an internet-based video call, the trainer will focus on teaching you — the human — how to train your own dog. They'll then be able to watch you interact with your dog in real-time and explain how to fine-tune your approach to achieve the desired results.
Conversely, by attending in-person classes with a trainer, the instructor would typically work directly with your dog, as well as with you. However, trainers who specialize in virtual training have developed curriculums designed to show pet owners the best approaches to teach their own canine companions.
Joan Hunter Mayer, a Santa Barbara, California-based certified dog trainer, owns and operates Inquisitive Canine. She has been focusing on virtual dog training with clients around the country for over a decade.
Mayer explains, "As the virtual instructor, you're guiding the pet parent or the dog guardian, who becomes the hands-on person with the dog during training sessions. The instructor can still guide the dog owner by saying things like, 'I need you to do this with your dog' or 'I need you to do that with your dog.' I'm not there to put my hands on the dog, but I can watch, provide instruction, and guide pet parents and their canine companions as they go."
During a typical video call session, Mayer will have a dog with her to use for demonstration, and then have her clients follow along with their dog at home. She adds, "One benefit to virtual training is that the client and their dog can be anywhere, such as in their own home or yard, so the dog can learn in a familiar environment with fewer distractions. As a result, the dog is usually less stressed. Plus, if we're working on certain exercises, like teaching the dog manners in their own home, then the dog parent and dog can practice exactly where the training will ultimately matter the most."
Sparky Serka, the head trainer at The Puppy Academy, has been training dogs for 12 years. When it comes to teaching virtual classes, he explains, "For our virtual lessons, we key into exactly what the owner needs, which means having some question and answer time, and helping clients out with issues that can be answered just from talking."
Serka adds, "We then demonstrate training techniques on our end using a dog that's a similar age. After we do a demonstration on our end, we have the client perform the same exercise while we coach them through it. So for all the issues that a person would be having at home, we're great at helping them through those — almost like we're sitting in the living room with him. Because we've been doing this for a while, we know the things that make a puppy tick and how to work through certain things that they're having trouble with."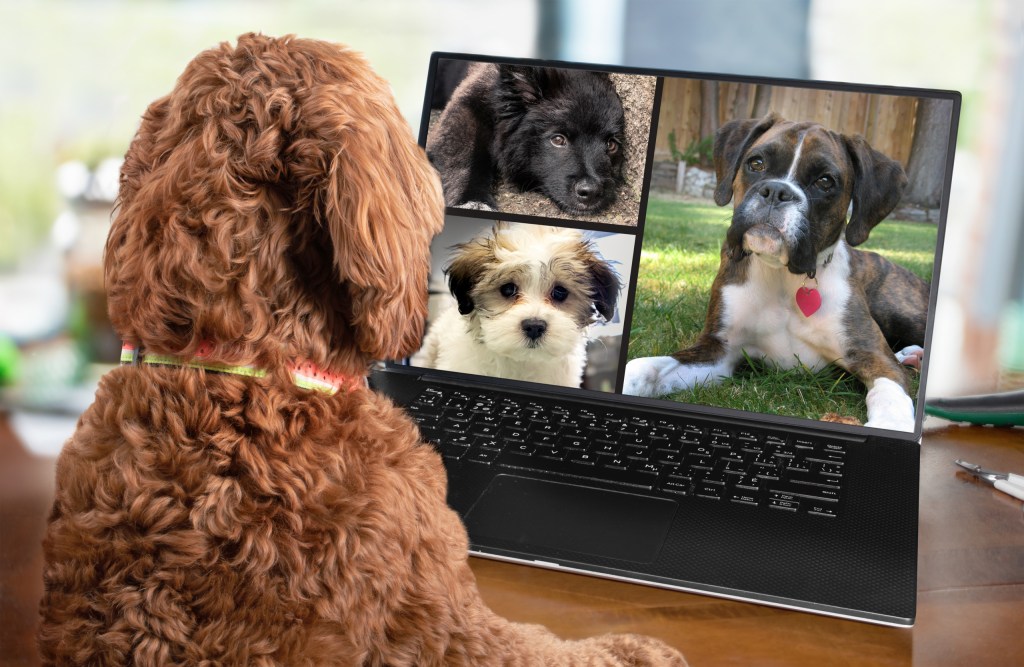 Your virtual training options
There are many options if you'd like to train your dog virtually:
Some retail pet store chains that offer in-person dog training classes also now offer one-on-one or group virtual options. Petco, for example, offers a four-session, online-based group course for $99. It could include up to six participants on each video call. Virtual course curriculums, taught via Zoom, include Puppy Basics, Adult Basics, and Beyond the Basics.
Private (one-on-one) virtual instruction with a certified trainer is also available from chains like Petco. A single 45-minute session at Petco costs $89, while a four-session, weekly package is priced at $229, and a six-session package is priced at $299.00.
Many independent dog training schools also now have a virtual option. Most charge similar prices whether the classes are taught in-person or virtually.
To help you find a qualified and independent virtual dog trainer, Mayer suggests, "I would look for a certified trainer through the Certification Council for Professional Dog Trainers or The Academy for Dog Trainers. Both organizations have listings for trainers who offer virtual coaching."
Mayer adds, "In terms of choosing the right instructor, it's really about the techniques that the trainer uses. You definitely want a trainer who uses a humane, force-free approach. Choosing an instructor who has good communication skills and who can read the dog and the owner is also important, especially when training is being done virtually."
Specifically for smartphone and tablet users, the GoodPup mobile app matches users up with a certified trainer and serves as the conduit for all video calls and text messaging with the instructor.
Users pay a flat fee of $29 per week for what starts as a six-week curriculum. The first week is free. This includes a weekly, half-hour, live (virtual) training session with the instructor, unlimited text messaging with the instructor throughout the week, and unlimited access to text-based articles, homework, and tutorials to help pet owners succeed with their training goals.
Available from the App Store (iPhone/iPad) or Google Play Store (Android), the GoodPup app also has an easy-to-use daily tracking feature that allows pet owners to keep a digital diary of their dog's progress. After the initial six-week course, pet owners can continue working with their instructor virtually, on a week-to-week basis, with no long-term contract or commitment.
Kait Hembree, the head trainer with GoodPup, explains, "What we offer is affordable, one-on-one virtual training with a certified dog trainer. Our app has two unique features. One is our chat function that allows clients to reach out to their trainer anytime throughout the week to get training or health-related questions answered. Second, the leveled homework element of the app guides the pet parent through working with their dog throughout the week in between lessons."
Hembree adds, "The GoodPup app itself is one of the most user-friendly smartphone apps out there, even if you're not a tech-savvy person. The app sets up and initiates the video calls and hosts the messaging, for example. It also handles the appointment scheduling and makes it easy to access the interactive homework."
Preparing for a virtual training class
To get the most out of a virtual training session, preparation is essential. The pet owner should set up their smartphone, tablet, or computer in advance, within a well-lit and open area where the training can take place. Choose a location within your home where the dog can't wander off or get easily distracted. The space should also offer enough room for you and your dog to move around freely.
You'll definitely want to use an optional stand or tripod for your smartphone, tablet, or notebook computer, so you can move it around and reposition the camera freely during the virtual sessions. For almost any smartphone, a portable tripod/selfie stick combo, like the Fugetek Portable 48" Selfie Stick and Tripod, will work fine.
While a mobile device will work, Serka recommends using a laptop computer for the virtual training sessions. He states, "A lot of times, it's hard for a tablet to stand upright and still be able to see the floor. A young puppy is maybe a foot or two off the ground. So if a tablet leans back, like it's built to, the camera looks up at an angle. However, with a laptop computer, you can set it on the ground and angle the screen and camera, so it's facing the area where you're working. This allows a dog trainer to see exactly what you are doing, and it helps us troubleshoot any issues your puppy is having."
Before your training starts, it's important to do a few things:
Make sure you have an ample supply of training treats on hand, as well as a leash, harness (if applicable), and any other equipment that the trainer recommends in advance.
Since training can be exhausting for dogs, especially puppies, it's a good idea to make sure your dog is well-rested before each training session. Avoid long and exhilarating walks right before a scheduled virtual lesson.
Prior to the start of each session, write down a list of questions you have for the trainer. Be ready to discuss concerns or obstacles you're currently encountering with your dog so you can make the most of your allocated time speaking with the trainer.
Serka adds, "We like puppies to already be in their crate before a virtual training session because this gives them a chance to get into a calm state. For every minute that a puppy is out of the crate, they're using up their energy. Not just their physical energy, but their mental energy. So the more puppies run around before a training session, the less energy they'll have to train."
Serka notes, "The hardest thing to overcome during any virtual class that I've ever done is if the owner has a lot of things happening in the background, like kids running around or the TV playing. These are huge distractions for the puppy. Really try to find a calm, quiet area where your puppy is going to have the most success."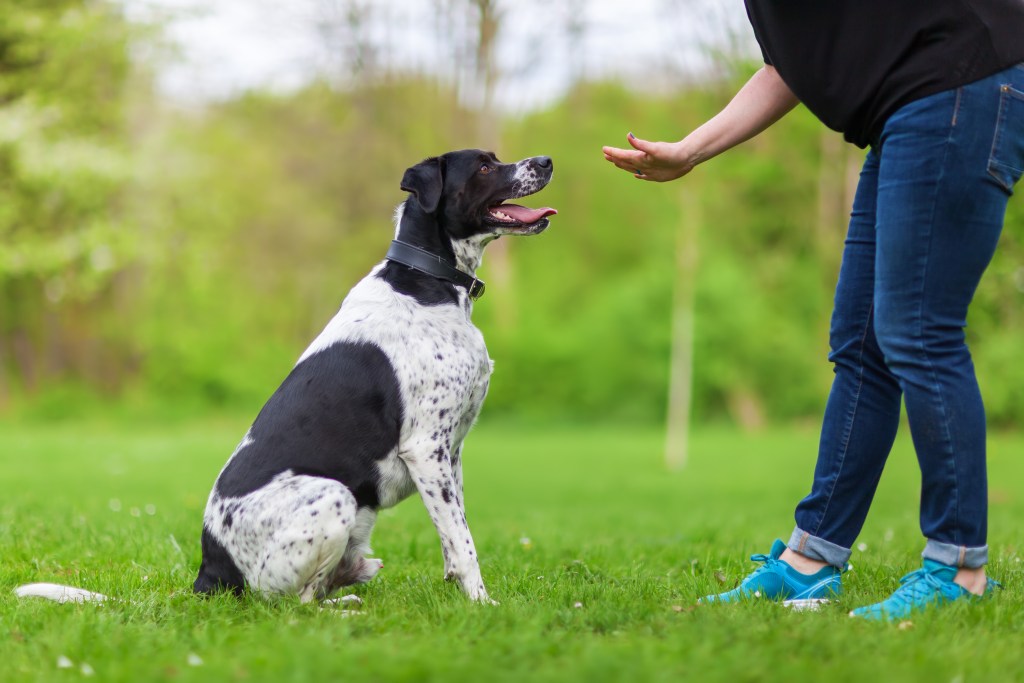 Do your homework in between virtual sessions
Engaging in a 30- to 60-minute virtual training session with your dog and a certified instructor each week is just the beginning of your responsibilities if you want your dog to fully benefit from the experience.
As guided by your instructor, you'll want to work with your dog throughout the week. Not only will these sessions help you build a stronger bond with your dog, but at the same time, you'll reinforce the lesson(s) taught that week. Using the information and techniques taught by your instructor, the more time you invest with your dog in between virtual classes, the faster your dog will master the skills being taught.
"The more practice the owners do at home, the better it is for the puppy, and the more prepared they're going to be for the following session," says Serka. "For the average person working with their puppy, as long as you do at least one 10- to 15-minute session per day, you're going to set their dog up for success."
Final thoughts
The level of success you experience with virtual training will come down to three elements — the skill level and capabilities of the trainer you opt to work with; your preparation prior to each virtual session; and your follow-through and persistence as the pet parent in between training sessions.
"Traditional training courses last anywhere from four to eight weeks, just for the basic curriculum, but that's just the beginning. After mastering the basics, you have the option of pursuing intermediate and then advanced training. Remember, for any dog, learning is a lifelong endeavor," Mayer concludes.
Editors' Recommendations