Literature lovers, prepare to get reading! Grab your Kindle, put on some tea, and help your dog get cozy — these are some of the best books for dog lovers.
Before you read any of these books with dogs in them, though, there's one tool you need to know about. Does The Dog Die is a bluntly named website of "crowdsourced emotional spoilers for movies, tv, books, and more." If you want, you can look up any book to find out, well, if the dog dies. Other categories you can search for include "animal abuse," "eating disorders," and "hospital scenes." Don't worry, though; you won't be exposed to any spoilers other than what you search for on this site, so the plot always stays safe!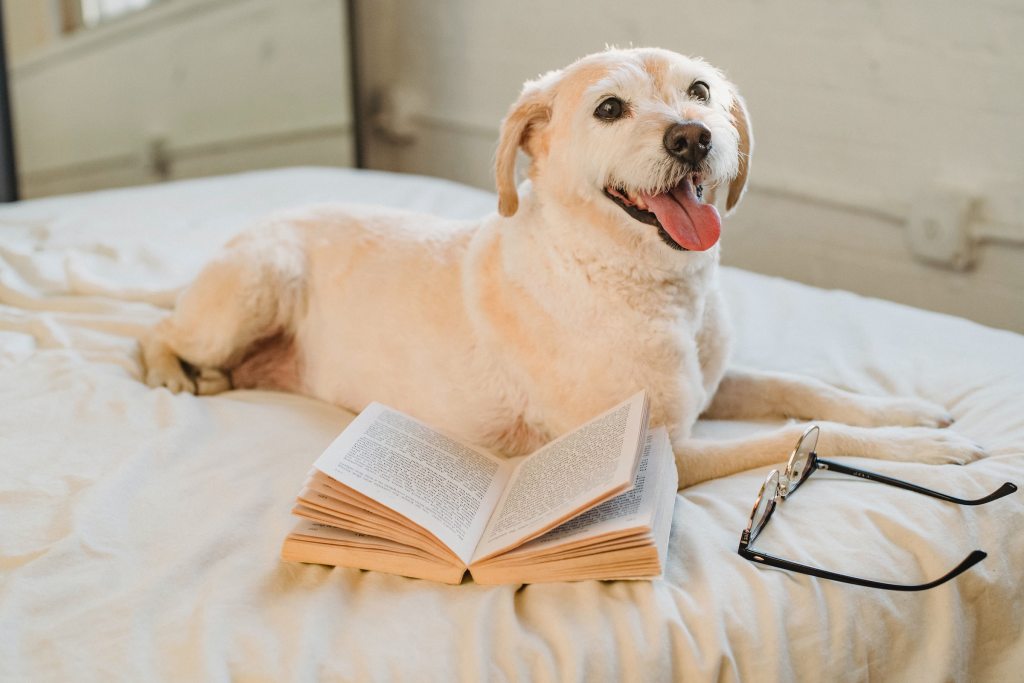 Because of Winn-Dixie by Kate DiCamillo
You may have seen the beloved movie adaptation of this classic children's book, but you haven't read it like this before. The newly updated edition includes an afterword by the author, who reflects on the success of her story.
Although it's a children's book, everyone will love this story of newfound friendship and self-confidence. Readers will find themselves inspired by Opal and Winn-Dixie's unbreakable bond — maybe you'll be reminded of your own cherished pup.
Chaser: Unlocking the Genius of the Dog Who Knows a Thousand Words by John W. Pilley Jr., Ph.D., Hilary Hinzmann
As part science and part story, this book will leave you in awe of the species you thought you knew. When retired Dr. Pilley adopted Chaser, a border collie puppy, he became fascinated with her intelligence and began an experiment that would forever change the way we communicate with our furry friends.
Travels with Charley in Search of America by John Steinbeck
In this American nonfiction classic, author John Steinbeck packs up his van and departs for a tour across the U.S. — with his beloved poodle, Charley, of course. As Steinbeck discovers the heart of 1960s America, his dog isn't only his company; he's also the icebreaker, conversation starter, and even friend to those the author meets throughout his trip (via SJSU). Good boy, Charley!
I Could Chew on This: And Other Poems by Dogs by Francesco Marciuliano
This whimsical poetry collection will have you smiling from cover to cover with its sweet imagery and totally relatable anecdotes. With poems like "Wingman" and "I Lose My Mind When You Leave The House," you can already tell what kind of clever canine humor awaits you. It's the perfect lighthearted read for anyone, anytime, whether you read one poem at a time or the whole book in one sitting.
Our Dogs, Ourselves: The Story of a Singular Bond by Alexandra Horowitz
Let animal behavior expert Alexandra Horowitz show you a side of the canine-human relationship you've never seen before. In 13 chapters, she explores the complexities of life with man's best friend: the contradictory ways we communicate, how we interpret each other's behavior, and, of course, how so many pet parents consider their fur babies, well, their babies!
It's a tale as old as time: The love you've always been looking for comes into your life with four paws and a wagging tail. British author J.R. Ackerley recounts, in somewhat humorous detail, the daily ins and outs of his relationship with Tulip, a rescued German shepherd who turns into the writer's "ideal friend." Once you finish the book, you can watch its movie version, too!
Huck: The Remarkable True Story of How One Lost Puppy Taught a Family—and a Whole Town—About Hope and Happy Endings by Janet Elder
If you're looking for a heartwarming story that will leave you with hope in humanity and an even larger appreciation for our four-legged friends, this is the one. The title says all you need to know, but how exactly did Huck change his family's life? You'll enjoy finding out!
Whether you prefer fiction, nonfiction, or even poetry, there's a book on this list for you. Better yet, read it to your pup! He'll love spending time with you, and you'll love any of these canine-centered literary masterpieces.
Editors' Recommendations