We spend a lot of money on our pets. Between their favorite toys, dog training classes, the ever-growing expense of dog and cat food, vet bills, and pet insurance, there are so many costs involved with having a pet. (Of course, they're totally worth it.) While there are ways to mitigate veterinary and other costs associated with pet ownership, did you know that vet bills are higher for certain breeds? We dig into the details of a recent report from Forbes Advisor — where does your pup's breed fall on the list?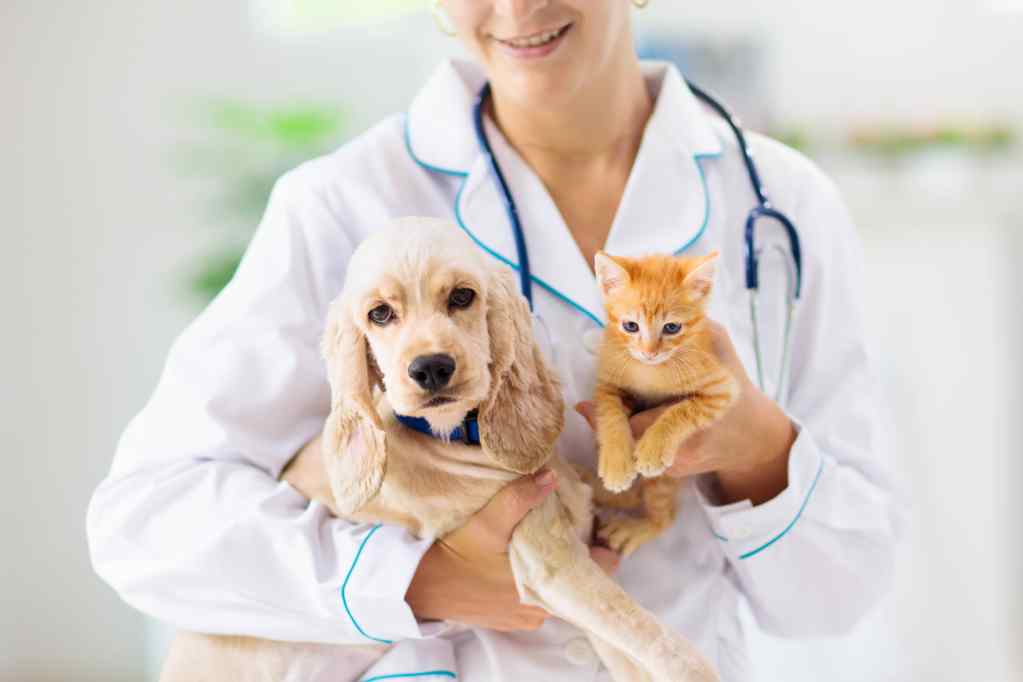 According to a Forbes Advisor survey, dog parents spend approximately $730 per year on their pups. Nearly half of respondents said the majority of the expense goes to dog food, while some 28% attributed the most expensive costs to vet bills and vaccinations.
This is pretty troubling when you consider that 63% of survey respondents reported they would have trouble paying a surprise vet bill in today's economic climate; Some 42% said a vet bill of $999 or less would cause them to go into debt, while 28% reported that a smaller bill of $499 or less would do the same. Finding an affordable vet is clearly an important task.
With that in mind, it's a good idea to know how much your dog or cat could cost in vet bills. Forbes Advisor analyzed pet insurance claims data from July 2017 to June 2020 to get the results. This data reflects what pet insurance companies paid, which is typically 70-100% of the total vet bill, not including the deductible.
The results?
Regardless of breeds, the average pet insurance claims are higher for cats than dogs ($355 versus $306, respectively).
The dog breed with the highest vet bills — with an average pet insurance claim of $425 — was the Greater Swiss Mountain Dog, followed by the Rottweiler ($401) and the Dogue de Bordeax ($395).
Meanwhile, the dog with the least expensive vet bills — $226 on average — was the Australian Labradoodle. Runners up included the Miniature Goldendoodle ($230) and the Shichon ($241).
The cat breed with the highest medical cost was the Siberian Forest cat, which has an average insurance claim of $457, more expensive than the most expensive dog breed. Coming in second and third place were the Bengal ($404) and mixed breed medium haired cats ($403).
The cat breed with the least expensive vet bills was Burmese at $216, followed by Himalayan ($287) and Persian cats ($317).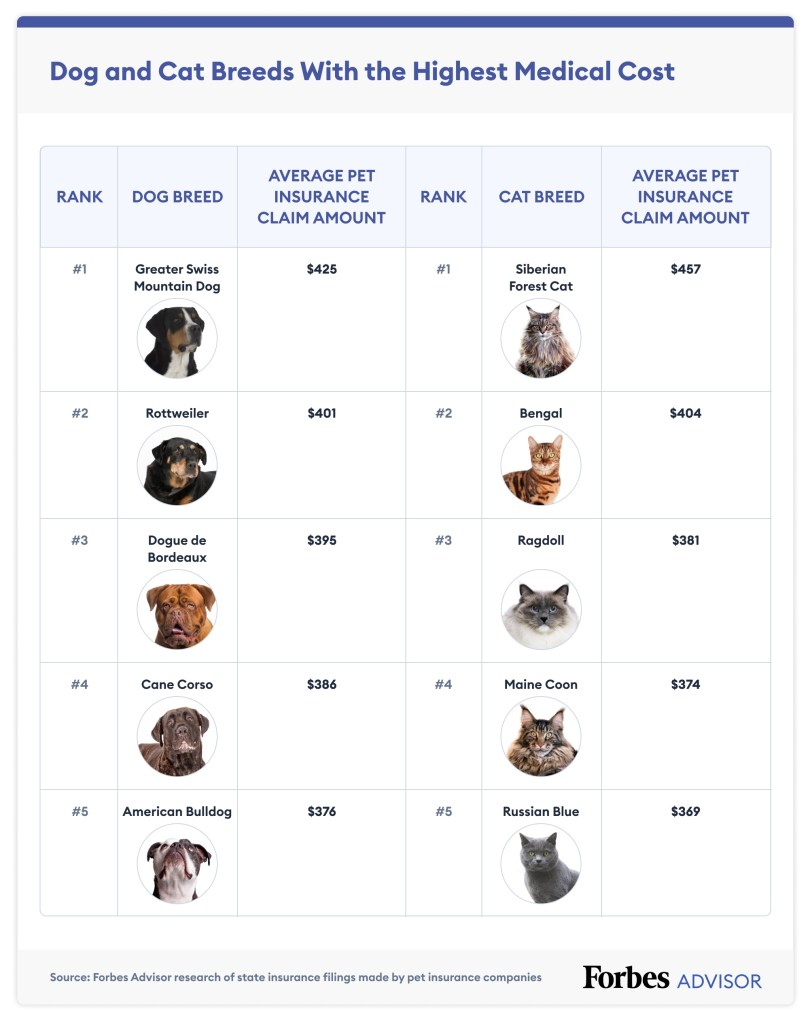 You can find the full list of dog and cat breeds in Forbes Advisor's analysis to see where your pet stands.
Dogs and cats can be expensive, and while some can be more expensive than others, we love them all the same. After all, whether they're snuggling up to us on the couch, stealing our favorite spot in bed, ready for a game of catch, or entertaining us with their silly antics, they bring so much more to our lives than a vet bill or two.
Editors' Recommendations