Disney+ offers a large selection of wholesome family movies and has quickly become a popular streaming service. Many of the films cast animals in the lead roles, much to the delight of pet owners. Here are some of the best Disney+ movies about dogs.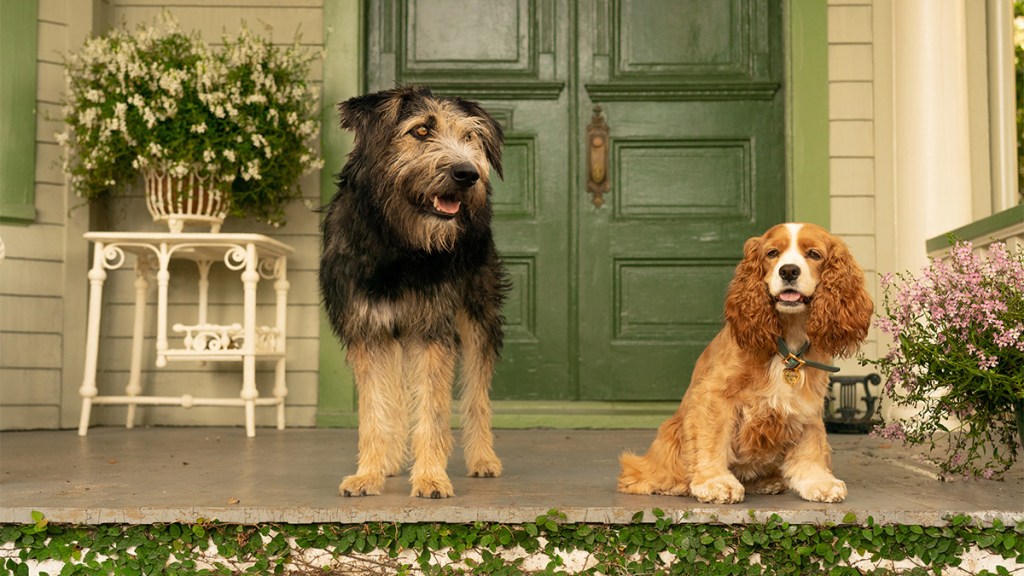 Lady and the Tramp (2019)
This is a heartwarming retelling of the 1955 animated classic using a combination of real animals and computer animation. The stars are Lady, a sweet, pampered American cocker spaniel, and Tramp, a mixed-breed street dog. Lady ends up in the wrong section of town when left in the care of a mean relative. Tramp comes to her rescue, teaching her to howl at the moon and they share a spaghetti-and-meatball dinner compliments of Tramp's friends. But unlike the animated classic, this version ends a little differently — but you'll have to watch to find out how.
Worth noting: The Disney team was determined to rescue dogs for the star roles. Lady is played by Rose, an American cocker spaniel whose family was looking to rehome her. Tramp is played by Monte, a stray who was discovered in a shelter and adopted by the movie's dog trainer. Rose was also adopted by a trainer.
Homeward Bound: The Incredible Journey (1993)
Shadow, a senior golden retriever, Chance, an American bulldog, and Sassy, a Himalayan cat, are left at a friend's farm when their family takes a trip. After a few days of separation, Shadow worries that "his" boy, Peter, is in trouble. The three friends take a treacherous journey across the mountains to find their way home. Along the way, they confront bears, a porcupine, a mountain lion, and a waterfall. The movie does have a happy ending, but be prepared with tissues.
Worth noting: According to Hollywood Paws, a training facility, four golden retrievers and four American bulldogs played the roles of Shadow and Chance, respectively, while eight Himalayan cats played the part of Sassy.
Because of Winn-Dixie (2005)
The movie is based on Kate DiCamillo's 2000 book of the same name. Opal, a 10-year-old girl, has just moved to a new town with her father when she encounters a large, scruffy dog creating a mess inside a supermarket. To protect the stray from being impounded, Opal claims that he belongs to her and names him Winn-Dixie after the store. Winn-Dixie turns out to be an outgoing dog who introduces Opal to some wonderful friends. He also brings the young girl and her father closer together.
Worth noting: According to Humane Hollywood, the role of Winn-Dixie is played by five Berger Picards, French herding dogs, chosen because they resemble the dog on the cover of DiCamillo's book.
Greyfriars Bobby (1961)
Bobby, a Skye terrier, belongs to a Scottish farming family and is devoted to their shepherd, Auld Jock. When the shepherd loses his job on the farm, the terrier follows him to Edinburgh. The two are united in the city, but shortly after, Jock dies of pneumonia. The faithful Bobby follows his friend's casket to Greyfriars Cemetery and spends every night lying on the shepherd's grave. The local community watches over the terrier, but he's brought before court because he doesn't have an owner or a license — of course, the local community doesn't like that one bit.
Worth noting: This movie was inspired by the true story of a Skye terrier named Bobby who lived in Edinburgh in the 19th century. After his owner — a local police officer — died, Bobby followed the casket to the Greyfriars Cemetery. The little dog lingered near the grave until his death at age 16. He became known as Greyfriars Bobby, and a statue was erected in his honor outside the cemetery.
So many of these movies highlight the importance of respect, kindness, love, and loyalty. If you watch them with kids, be sure to take full advantage of all the teachable moments. And don't forget to make your pets part of movie night. They'll appreciate snuggling up beside you on the couch.
Editors' Recommendations