When you have an active pup, having the right walking accessories is a must. With a high-energy wiggle worm like my dog, Carter, his walking accessories have been essential to both his safety and our comfort. We've experimented with a lot over the years, but nothing quite as trendsetting and Instagram-worthy as the OverLand set from Wolfgang Man & Beast.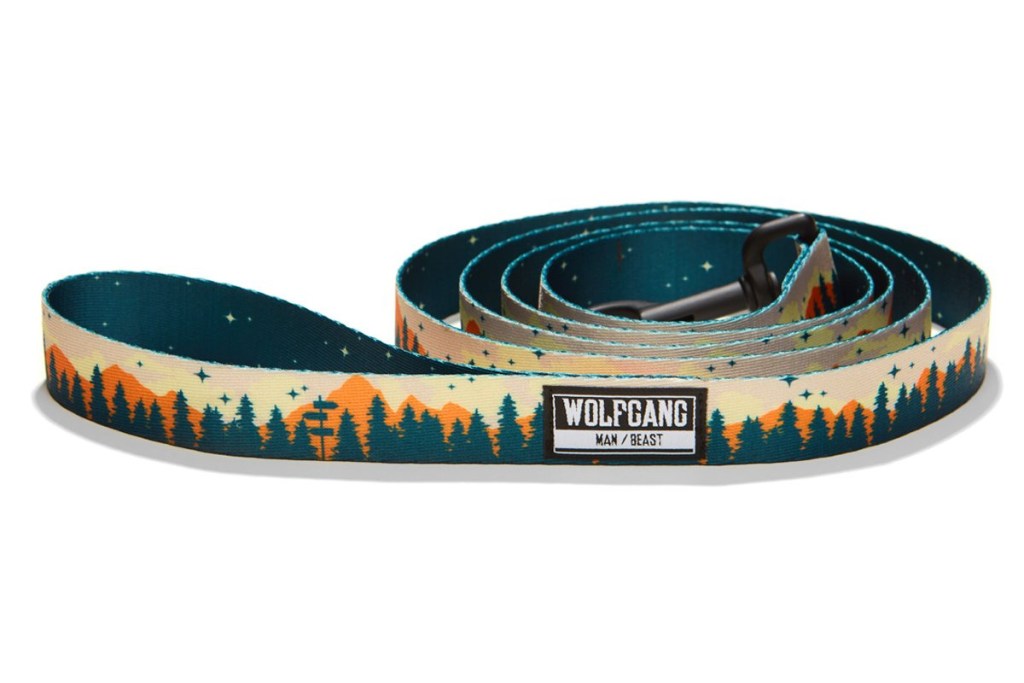 Delivery, unboxing, and the first look
When it comes to getting packages in the mail, no news is good news — right? Everything went exactly as expected, even in the midst of a pandemic, and zero products were damaged in the process.
Carter and I had the honor of trying out a leash, standard collar, and harness from one of Wolfgang Man & Beast's nature-inspired collections. I chose this pattern because of its foresty design and rich color scheme, which did not disappoint when I saw them in person. The layers of trees that line the bottom of the pattern remind me so much of my family's new home in the mountains, where Carter is fitting right in.
The material of all three items is thick and felt incredibly durable. Even the hooks and clips seem high-quality — much more so than the cheap plastic parts that some dog gear has.
Perhaps my favorite feature is the starry-sky pattern on the reverse side of the fabric; the cream and blue colors are calming to the eye, and the celestial theme brings back so many happy memories of stargazing. In fact, I love it so much, I wish the patterns were reversible!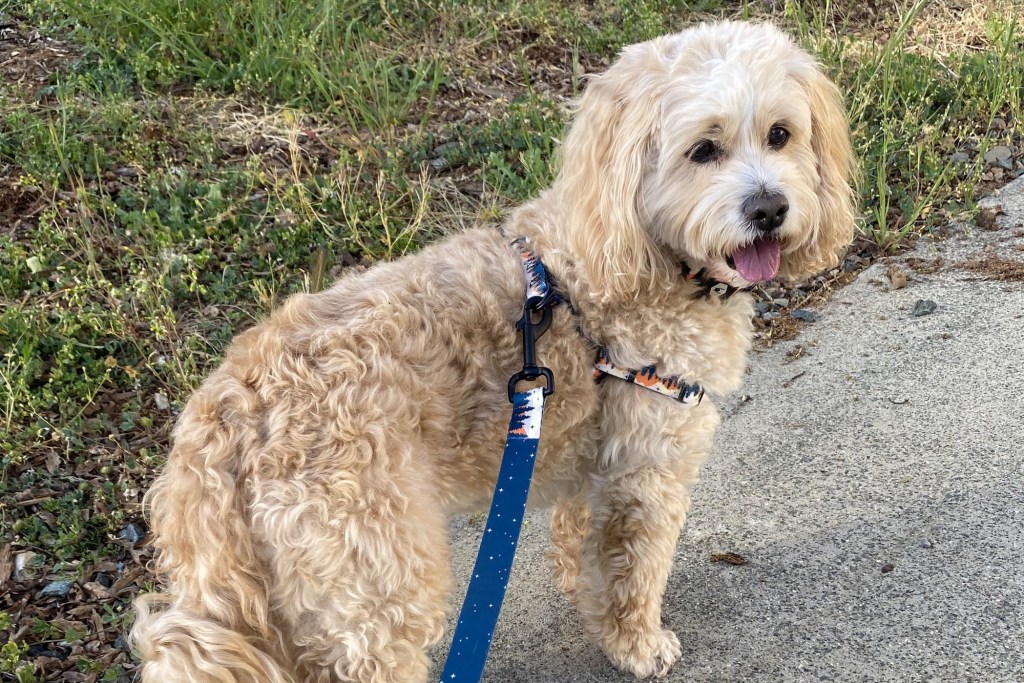 What others say
I was very excited to give Wolfgang's products a try after reading so many positive Amazon reviews. I was impressed, too —after over 3,000 reviews, the Wolfgang Man & Beast OverLand Collar has a nearly perfect 4.8-star rating.
One review praises the high-quality materials and durability of the collar: "We're very active with daily runs through fields, woods, going swimming, etc., and this collar hasn't shown even the smallest amount of wear & tear. Yeah, it might be a little more expensive than many available, but the quality is worth it no question."
When it comes to the OverLand leash, reviews are equally as positive. One mama of a Lab/Dane mix called the leash "sturdy, vibrant, and true to size," praising both the beautiful designs (you can choose from many gorgeous ones!) and the thickness of the material. She notes that while the clip feels "gritty" when opening and closing it, it seems equally as durable.
As for the OverLand harness, reviews are slightly lower: averaging around 4.5 stars for comfort, 4.1 for durability, and a 4.0 score for sturdiness. Dog dad Bryan gave the harness 5 stars despite "lack of a second handle and that the material is a bit slick." He likes the strength of the material and the effective front leash hook, which can be extra helpful for pups who like to pull on their leash.
Initial impressions
The look of the design is one thing, but the real test came when it was time to try on the gear. Collars have never been an issue for Carter, so he barely noticed when I made the switch from his old collar to this one. I noticed, though! The Wolfgang Man & Beast OverLand Collar weighs a lot less than the thick layers of sewn fabric that make up his old one, which I'm sure will be easier on his neck and fur over time. The plastic buckle that clasps the collar closed seems as sturdy as any you would expect to find on a dog collar, though we didn't get a chance to see it in action since we clipped his leash to his brand-new harness instead.
I knew my real challenge would be navigating the OverLand Comfort Dog Harness, but it was pleasantly simple to take on once I could picture how it should fit my dog. Once it's on, the harness fastens in the back, so the easiest method I could find was to lay the harness flat on the ground, have Carter step with his front paws into the leg holes, and lift the harness up around his body.
There are two D rings on the back of the harness to attach the leash to, making me feel extra safe while on a walk. We got to test the strength of both the harness and the OverLand Dog Leash rather soon once we left the house: Carter got very excited to see the neighbor's new puppy and took off running. Even though he pulled, he couldn't get far — Wolfgang follows leash-length standards at six feet.
The leash was thinner than the leather leash we'd used before, but it was equally as comfortable in my hand. It was even easier to use with the wrist strap at its end, which, in my opinion, is a necessary safety feature that all fabric leashes should have.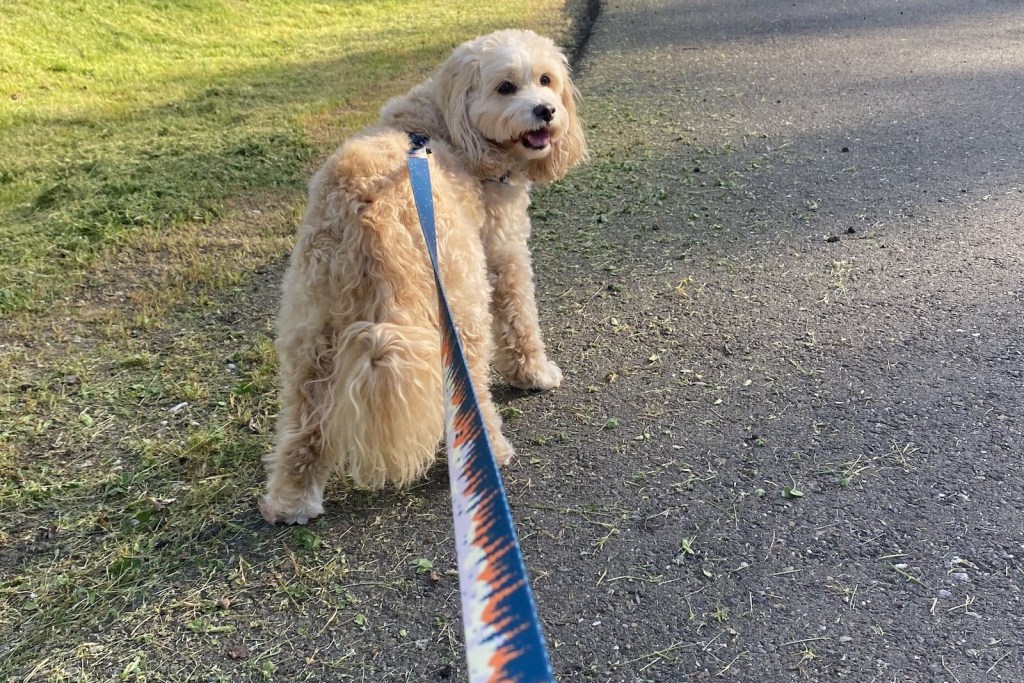 After one week of use
After one week and several walks in his brand new gear, Carter was as happy as ever. We haven't switched back to his old accessories at all and have felt just as safe while out walking. Although the material does look sleek, the harness doesn't slide on Carter's fluffy coat, though I'd like to think this has something to do with my careful adjustments of the straps (that took a minute, but works exactly the same way as other standard harnesses).
It's only been one week, but I saw zero signs of wear and tear in any of the products. His collar looks a little dirty from his daily rolls in the dirt, but there are no frays or loose threads to worry about. My only note is that this collar is significantly louder than his previous one, though his tags are completely the same.
Pros and cons
Here are some of my favorite things about the OverLand products from Wolfgang Man & Beast:
Many gorgeous, nature-inspired designs to choose from
Thin, soft material that feels comfortable in one's hands
Multiple places to attach leashes and tags to the harness
All accessories are easily adjustable
Here are a few of the cons to consider as well:
Some reviews note that the material is slick and can slide around on shorter coats
More expensive than similar products
The metal clips and buckles can feel "gritty" due to the paint
Overall, I was and am very pleased with all three products from Wolfgang Man & Beast. I don't feel worried about my crazy boy making a great escape, and I just can't get over how handsome Carter looks in the woodsy color scheme I chose.
Am I about to buy the OverLand Huntington Socks so I can match my adorable adventure buddy? Yes, yes, I am. And I will wear them just as proudly as Carter wears his new gear. Talk about twinning!
Editors' Recommendations