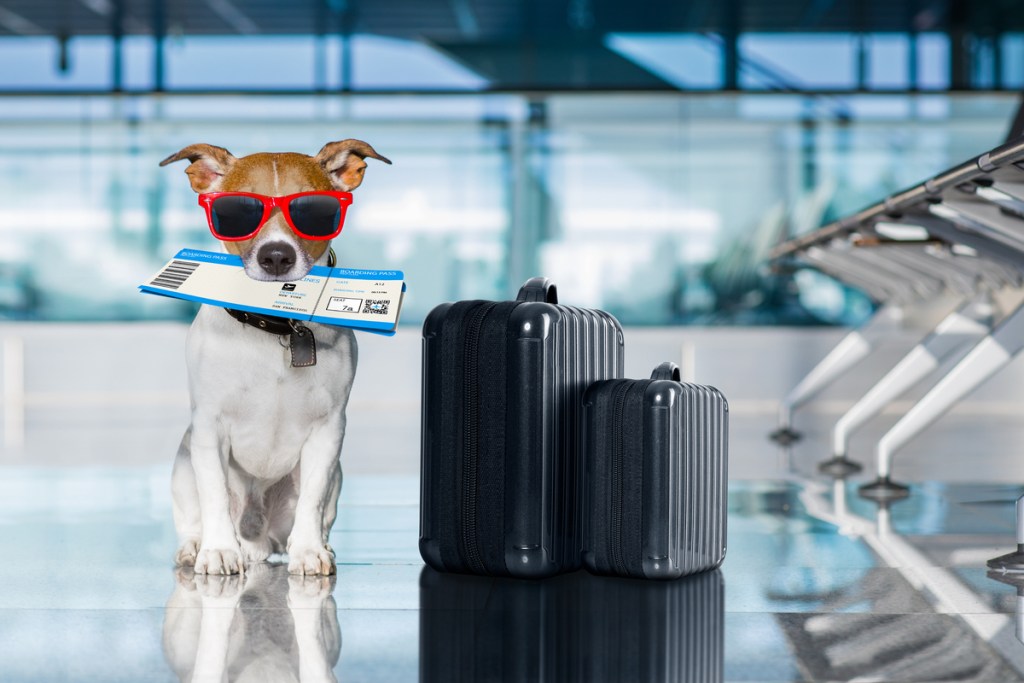 While most airlines won't allow pets to earn frequent flier miles for their travel, dogs or cats can often accompany you on domestic flights. When it comes to taking your dog (or cat) on an airplane, there are two options — one for smaller pets (less than 15 pounds) and the other for animals weighing more than 15 pounds.
With the proper preparation, small dogs or cats can be brought into an airplane's cabin, kept within a carrier, and placed under the seat in front of the pet parent for the duration of a flight. Unless you're traveling with a documented emotional support animal or service animal, the airline will charge a fee for traveling with a pet.
All the major domestic airlines have their own guidelines for traveling with a small dog or cat since there are few preset guidelines from the FAA or TSA. These rules must be followed precisely, or you and your pet will not be allowed to board the aircraft even if you're a ticketed passenger. Long before your pet's first flight, start preparing them for the travel experience by getting them accustomed to spending time in their airline-approved pet carrier.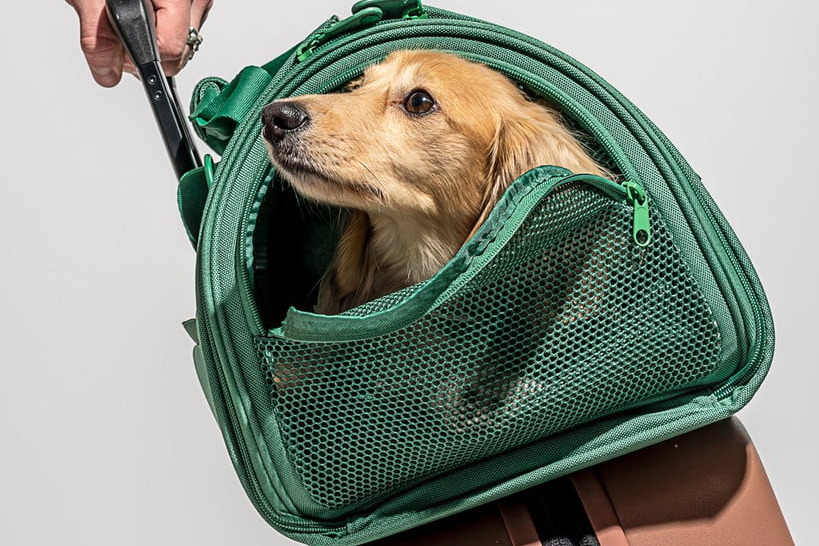 Safe airline travel starts with the right carrier
You'll need to purchase a pet carrier designed for airline travel, that easily fits under the airline seat, that offers proper ventilation, and that your pet will be comfortable traveling in. These carriers are designed for your pet to lie down in, but your pet should be able to reposition themselves comfortably.
Companies like Sherpa, Sleepypod, and Wild One each offer carriers designed for airline travel that can double as a general-purpose pet carrier. They're priced between $50 and $175.
"Whether in transit or trying to create a cozy space for your dog in a new environment, you want to make sure they feel at ease," explained Veronica Becchetti, co-founder of Wild One. "It's always important to make sure your dog's weight and length can be accommodated by a carrier. You don't want them to feel cramped! A good sign of a nice fit is if your pup can comfortably lie down inside, with all the panels closed. When it comes to air travel, each airline has its own set of standards for what size dog carriers they allow on planes. Choose a travel carrier designed to fit universal airline standards."
When choosing the perfect carrier for your pet, Becchetti added, "Don't overlook the carrier's perks that make traveling with a pet more comfortable for you. Extra pockets, padded handles, a shoulder strap, a handy travel leash, and a luggage sleeve [for attaching the pet carrier to a wheeled carry-on] are the features included in Wild One's Travel Carrier that can make your experience traveling with a pet so much smoother.
"Also, you know your pet best, including their likes, dislikes, fears, and typical behaviors," she added. "For example, if you have a pet that squirms frequently and doesn't love being in a carrier, find one with mesh walls and zip-open flaps that are more breathable, and that includes a tether or buckle for securing them inside. For nervous pups, make sure there are multiple easy access points between you and them, so you can reach inside and give pets and treats while on the go."
After acquiring a suitable carrier, long before the pet's first flight, get them acclimated to being in the case for extended periods. If you're not sure how to do this properly, consult with a certified trainer.
Preparing for a flight
As you make your travel plans, keep your dog's needs in mind. For example, consider the pros and cons of a nonstop flight versus a flight with one or more segments. Can your pet stay within the case long enough for a coast-to-coast, non-stop flight, or would it be better to book a flight with at least one stop where you can leave the aircraft, take the dog out of their carrier, and allow them to relieve themselves within an airport's pet relief area (located inside many terminals), for example.
Since most domestic airlines limit the number of pets that can travel aboard a single flight, it's best to make your reservations as early as possible. Once you book your flight, call the airline directly and inform them you'll be traveling with a pet. Keep in mind, if your pet is a documented emotional support animal or service dog, different rules apply.
As you're researching available flights, know that once you pass through TSA security checkpoints at an airport, you will not be allowed to go outside with your pet, so determine if and where animal relief areas can be found within the airport. These can be found by looking at an airport map.
When choosing your airplane seat, many pet parents prefer a window seat for several reasons. If you sit in an aisle seat, every time your pet senses another passenger walking down the aisle, this can be unsettling for them. Also, know that planes with video monitors built into the seatbacks often house the electronics for this equipment under the center seat. Not only does this leave less space for your pet's carrier, but these housings often generate extra heat and should be avoided. 
Before traveling with a pet, make sure they're up to date on all of their vaccines, and be sure to bring that documentation to the airport. It's also a good idea to request a health certificate from your veterinarian, as some airlines require you to present this document upon checking in for a flight.
What to do on the day of the flight
On the day of your flight, arrive at the airport early to check in. After checking in with the airline at its ticket counter, take your dog for a walk outside before passing through TSA security. 
Once you place your pet (within their carrier) under the seat in front of you, be sure to inform the passenger who will be sitting in front of you that your dog or cat is directly beneath them. If your pet makes any noise during a flight, you don't want the other passenger to get startled.
Consult with your veterinarian about whether you should feed your pet and give them access to water before a long flight. Typically, not feeding your pet for six hours prior to a flight is a good strategy. Whatever you do, make sure the pet can relieve themselves before a flight, as most airlines will not allow animals to be taken out of their carrier during a flight. Depending on the temperament of your pet, some veterinarians may prescribe a sedative.
Some vets will have no problem with you giving a pet a prescribed sedative before or during a flight, while others may have concerns about the animal's ability to adjust for changes in cabin air pressure if they are heavily sedated. Once your pet gets accustomed to air travel, chances are they'll fall asleep on their own after takeoff and sleep for most of the flight.
What should you take with you on a flight?
Air travel is unpredictable, so you must be ready for flight delays, canceled connecting flights, and lost luggage. For this reason, within your carry-on, make sure you pack everything you'll need for your dog for one full day and night, including:
Favorite toy
Food (Bring an unopened can of dog food or one day's worth of kibble in a sealable container).
Health certificate (from the veterinarian showing your pet is fully vaccinated and safe to travel)
Leash/harness
Medications (if applicable)
Paper towels (or pet safe wet wipes) for cleaning up messes
Pee pads
Poop bags
Portable (collapsible) food/water bowl
Treats
Keep in mind, you're not allowed to bring liquids through airport security. You can purchase a bottle of water or use a water fountain to provide your dog with water once you pass through TSA security, but be mindful of your pet's need to pee during a flight if they drink too much. When traveling, it's best to give your dog bottled water, as local tap water that's different from what they're accustomed to can cause an upset stomach.
Follow your airline's rules
Once you know which airline you'll be traveling with, review that specific airline's policy for passengers traveling with a pet. While documented emotional support animals can often travel for free (which is now at the airline's discretion), service animals can always travel for free. However, all airlines charge passengers to bring along a regular dog or cat on an aircraft. Depending on the airline, the cost will be anywhere from $50 to $150 each way for in-cabin travel.
All domestic airlines only allow one pet to travel with each passenger. As travel guidelines are constantly changing, it's best to visit an airline's website prior to a flight. You will discover that some airlines are less expensive and more accommodating to pets than others.
The following websites are where you'll find the pet policies of popular domestic airlines: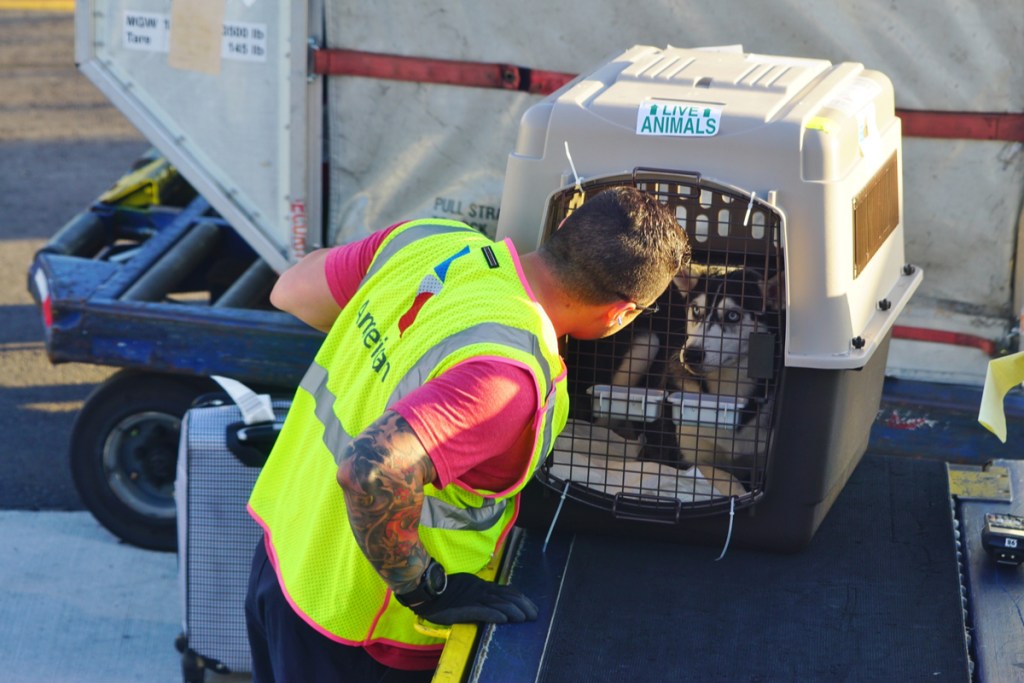 Airline travel for larger (or exotic) pets
The air travel option for larger animals is much less desirable. It involves your pet being placed within an airline-approved, hardshell crate and turned over to the airline, where they'll travel in a pressurized area of the airplane's cargo hold.
While airlines will take extra steps to ensure the safety of an animal, problems can arise if the pet is placed on the wrong flight, misses a connecting flight, or has an issue during a flight, so be sure to research this option carefully before pursuing it. If your pet is traveling in cargo on the same flight as you, specifically ask the captain to visually confirm your pet is on the airplane prior to takeoff.
In situations when you need to transport a larger pet by air, there are animal transport services that are expensive, but that offer a much safer and less stressful travel experience for your larger or exotic pet. To learn more about this option and to access a directory of accredited pet shippers, visit the International Pet and Animal Transport Association (IPATA)'s website.
When it comes to traveling by air with your pet, research and proper planning are the keys to a successful and safe journey.
Editors' Recommendations