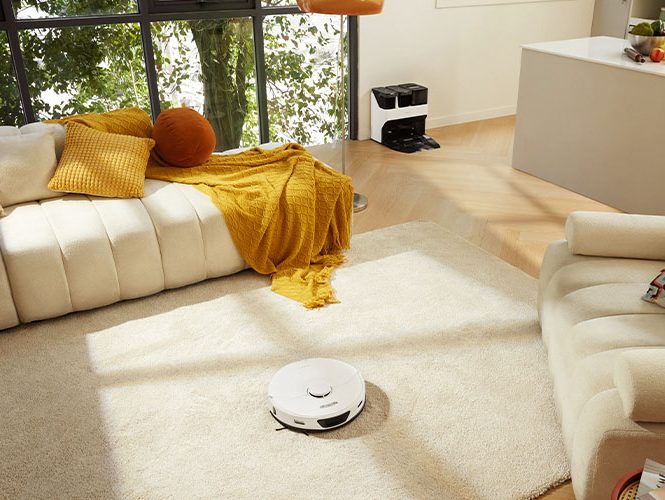 This content was produced in partnership with Roborock.
Everyone wants a pristine and clean home but we all also have very busy lifestyles and that's not always as easy to achieve as you might think. Homes get messy no matter how hard you try to keep up, with pet hair, dander, dirt, and even mud all having their own role to play in messing up your delightful carpet or hardwood flooring. When it comes to cleaning your home, and keeping it clean, you should never compromise, but concurrently, that's going to require a lot of time and effort on your part. That's why you need the Roborock S7 Max Ultra in your life.
We hate cleaning as much as you and it always feels like you need to spend half your day vacuuming to see great results. Smart vacuums, for the most part, change that by automatically cleaning your home for you. Even so, you still have to empty the dustbin when its full of debris, guide the vacuum around the home when it gets stuck, or clean out brushes which can get pretty dirty over time. Buy the Roborock S7 Max Ultra and that problem goes away. It does all the hard work for you including both vacuuming and mopping, and it's even smart enough to deal with drying and emptying itself. It's the ultimate robot vacuum for the modern age, and it pulls no punches. It's a little robot helper in your home that you almost don't need to pay any attention to. We did say no compromises, didn't we?
The last thing you want after a busy day is more work
Imagine coming home, after a long and tiring day, getting ready to put your feet up, relax, and binge-watch your favorite show, only to realize your home is filthy and you need to do some cleaning. It's more work, after a long, grueling day of work. Nobody wants that. So, why not enlist some help?
The problem is that, most of the time, the help you'll enlist tends to create more work. By now, most of us have dabbled in trying robot vacuum technology and you really get what you pay for. These vacuums get stuck, you have to empty the dustbins often — making even bigger messes with the debris — and you'd be lucky if they do a good job cleaning. If they don't, you'll have to make another pass with your broom or mop, begging the question, what's the point anyway?
The Roborock S7 Max Ultra is high-end stuff. No compromises are made here with the robot vacuum packed with all the features you could need. It works just as well on a hard floor as it is when dealing with carpets. It's also incredibly smart and liable to find areas you regularly forget to clean up. Above all, it does the opposite of making more work for you, it handles everything. Allow us to explain.
The cleverest little robot vacuum that could
The Max 7 Ultra design means it's clever enough to know when to mop and when to vacuum. It has a VibraRise system that is capable of removing dried stains 30% more effectively than a regular robot mop. We've got a sneaky feeling it's a ton better at scrubbing than we are too. It cleans up anything and everything, all without grimacing at a horrible smell. That includes everything from spilled milk to a dried-on footprint from your furry friend who's gone rushing through the room without a care in the world for your clean floor. Kids and pets leaving messes and wreaking havoc upon the home are no more.
Due to how clever the Roborock S7 Max Ultra is, it's capable of isolating vacuuming and mopping in a single clean. It can either do both simultaneously, or it can just do one or the other. It can even vacuum and then return to mop later. The lifted mop means you don't have to worry about your carpets getting wet unless you want them to be. While doing its mopping and passing over soft or fabric areas it will lift that attachment, keeping everything clean, shiny, and dry.
In terms of vacuuming prowess, the Roborock S7 Max Ultra is powerful. It has 5,500 Pascals of suction so it's going to collect up everything possible that's causing you bother. You'll be amazed at the dirt it can pick up. Fortunately, you won't have to worry about it making a mistake as it's capable of avoiding obstacles in a timely manner so there's no need to tidy up before the Roborock S7 Max Ultra gets to work. It can also spot a drop so it won't fall down the stairs. Plus, it has a multi-level mapping system so it figures out the best route for the most efficient clean. All of that combined requires less attention from you. The S7 Max Ultra won't get stuck, won't run into furniture, obstacles, or toys, and you can leave it to its own devices, figuratively.
While for the most part you'll probably want to leave the Roborock S7 Max Ultra to get to work, you can set up custom cleaning schedules if that works best for you, or you can simply hit the app button to clean everywhere. LiDAR quick mapping means the Roborock S7 Max Ultra can adapt quickly to any situation, and in time, it learns the layout of your home and property probably even much better than you. It's a local navigation genius.
A mobile app that makes it all better
Simplifying the entire experience is the mobile app that puts you in full control with just a tap or two. It's super easy to use and customizable with smart suggestions for no-go zones, to prevent your little robot from getting stuck or falling down, carpet boost activation for deeper cleaning, and much more. You can also see the mapped layout of your home to get a feel for how accurate the Lidar system is, and how well the robot navigates around.
Fully customizable maps, cleaning personalization, and custom cleaning routines add to the individual experience, allowing you to truly fine-tune the S7 Max Ultra's routine. Additional and thoughtful features include off-peak charging information, accessories and vacuum status notifications, and a virtual remote control so you can direct the vacuum with more precise button controls. The app puts you in the hot seat.
Maintenance free, more time for thee
You also don't have to worry about much maintenance. The Roborock S7 Max Ultra has a cool docking system that does all the hard work for you. It's capable of emptying itself without you needing to do anything for up to seven weeks. There's also auto mop washing and drying so you don't end up with a stinky mop. The water tank is also automatically refilled so there's hardly anything that's required of you. The Roborock S7 Max Ultra simply looks after itself, saving you even more time. Oh, and it makes sure to recharge during off-peak hours to keep your electricity bill cheaper. How cool is that? We wish all electronics were smart enough to do that.
The Roborock S7 Max Ultra is your new favorite robot vacuum. Think of it as your little friend hanging around your home, making sure everything is as clean as it can be. In particular, in a home with children and pets all keen to turn things a little dirtier, the Roborock S7 Max Ultra is a fantastic time saver. By the time you get home, everything is already clean and the tasks have already been handled. The S7 Max Ultra will vacuum and mop, return to its dock to clean itself up — and empty the proper bins — and then begin charging. If it needs to, it will even leave the dock for a second round of cleaning, all on its own. That's full service cleaning done right, with no compromises, and no concessions.
Once you set up the Roborock S7 Max Ultra in your home, you're free to relax, watch your shows, and recover your time. It doesn't matter if you live alone, with friends or roommates, have kids, or even pets, this genius little vacuum will clean your abode and keep it clean, for weeks and weeks at a time.
Here's the best part. The Roborock S7 Max Ultra available, right now, for $1,300, but you can get it for even less. Simply spend $19 on a coupon and you get $299 off the Roborock S7 Max Ultra bringing it down to $1,020. A $280 discount on the latest in robot vacuum technology is a pretty awesome deal. We certainly can't wait to see our homes become cleaner without us having to lift a finger.
Editors' Recommendations