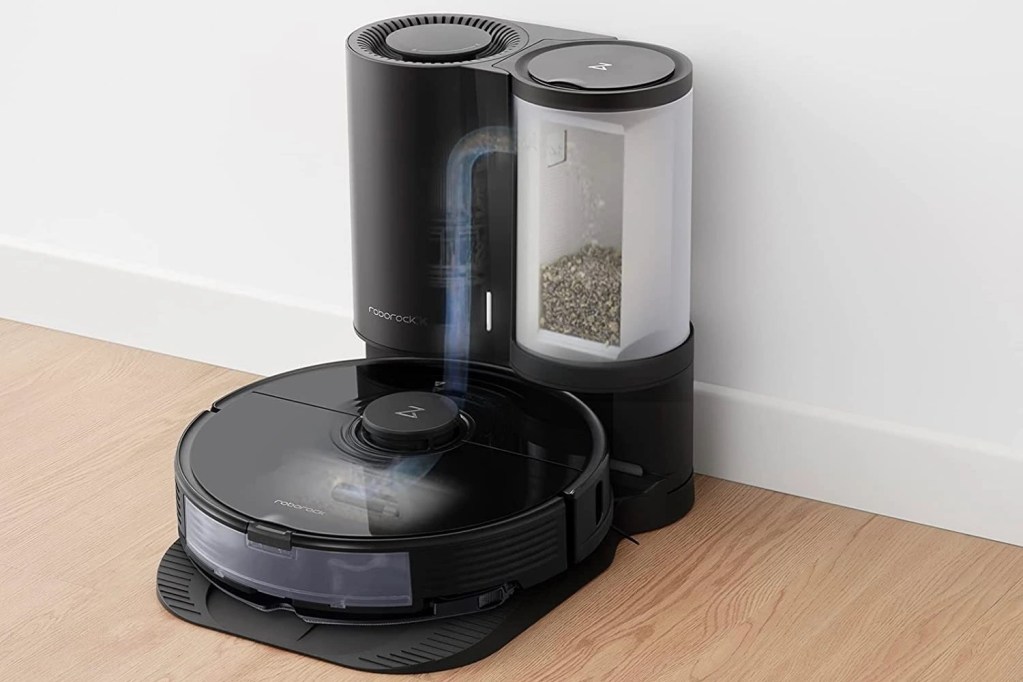 This content was produced in partnership with Roborock.
Amazon is back with another series of Prime Day offers, but this time the focus is on holiday deals and it's called the Prime Early Access Sale. There are a plethora of brands and sellers offering discounts, and it's a great time to jump on anything you need before the major holiday sales kick off. But listen up pet owners! If any of you have been waiting around for a great deal on a smart vacuum, particularly one that allows you "set it and forget it," well, now's the perfect opportunity! Roborock's S7+ smart robot vacuum with the auto-empty dock is part of the main event, which means it's on sale for an incredible price.
From October 11 to October 15, you can grab the S7+ for 28% off. Normally $950, the price is now $680, which nets you a cool savings of about $270. If you're not familiar with Roborock's excellent smart vacuum, it's both a mop — with Sonic Mopping Technology — and a vacuum that can clean for up to 180 minutes per charge. More importantly, it comes with the auto-empty dock that allows the vacuum to continue cleaning, hands-free, for up to 60 days before the dock's dustbin and bag need to be emptied. That's a long time and a lot of personal hours saved right there. Check out the deal yourself below, or keep reading to learn a little more about the S7+ robot vacuum and dock.
For eagle-eyed folks, you might notice that the S7+ is really just Roborock's S7 smart vacuum paired up with the auto-empty dock, which is normally sold separately. In this case, the bundle includes everything you need to keep your vacuum going for days, nay weeks, at a time. It really is a great setup if you want to recover personal time that you'd otherwise spend manually cleaning your floors and home. Plus, since the S7 handles both vacuuming and mopping, you'll have extra-clean floors when it's done!
The sonic vibration technology scrubs up to 3,000 times per minute to remove dried or caked-on dirt and residue, effectively polishing your floors. You don't have to worry about a wet mop sullying your carpets or rugs either, as it will auto-lift when passing over soft flooring thanks to built-in sensors. When the vacuum passes over a carpet, an auto boost mode will kick in too, giving the floor an ultrasonic clean and removing any dirt, debris, hair, fur — you name it. That's accentuated by the 2500 pascals of suction power, of course.
LiDAR navigation is capable of mapping a home, and separate rooms, quickly all while recognizing obstacles and furniture. Adaptive route algorithms ensure it won't get stuck on anything, run anything over, or have any mobility issues. All said, this is one of the better robot vacuums to have if you want to kick back and relax on the couch for a bit while it cleans.
It's yours for $680 right now, saving you $270 off the regular price, thanks to the Amazon Prime event. Hurry, though — the deal will only last until October 15, which isn't very long!
Wait, there's more!
While the S7 Plus is certainly one of the best Roborock has to offer, they have plenty more up their sleeves, and there are even more smart robot vacuums on sale. Here's what else you can nab until the sale event ends on October 15th:
Those are great deals, especially if you want something that's a little easier on the wallet or bank account.
Editors' Recommendations