Pets are messy, even when they're not causing mischief and mayhem. Pet hair and dander, for example, tend to get everywhere. It tucks into every corner, every nook, and every cranny, and compiles on couches, under furniture, and, well, you get the idea. Then there's food, which can spill onto the floor, right along with treats and their crumbs. It can be a lot to keep up with, especially if you have more than one pet. And if you suffer from common allergies, forget about it. All of those particles and contaminants are going to make you sneeze, cough, and have a rough time. But what if there were an easier way to clean it all up and keep it clean?
The answer is a smart robot vacuum, but not just any smart vacuum — one that's specifically designed for pet owners. Roborock offers a series of vacuums just for pet lovers, like the S7 MaxV Plus, which even comes with its very own auto-empty dock. The S7 and many others are on sale right now at a hefty discount, so it's an excellent time to grab one for your home. Starting October 11 and through October 15, you can save up to 44% off select Roborock smart vacuums. We'll take a closer look at some of the best options for pet owners below!
The best: Roborock S7 MaxV Plus — $870, was $1,160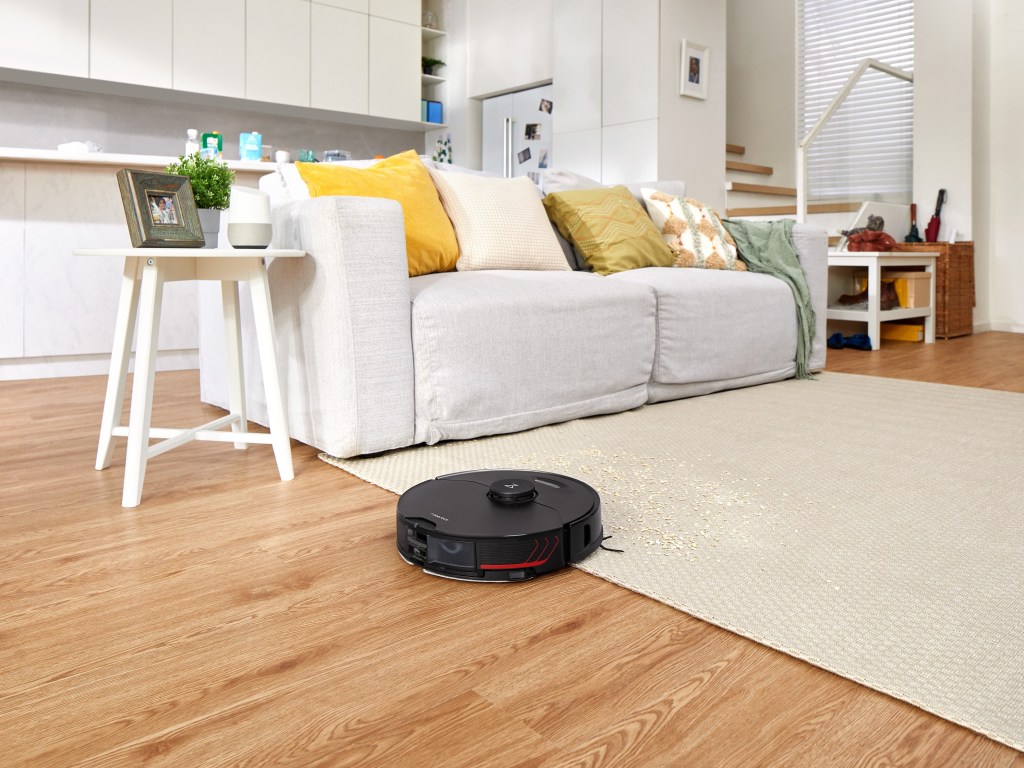 The S7 MaxV Plus is the ultimate pet owner's vacuum. Why? Because it will clean, unhindered, for up to 120 days, including pet hair. Moreover, it has a multistage filtration system to collect and clean dust, particles, and other allergens — so it really gets the job done. It will leave its dock, clean your home, and return to empty the internal dustbin. That dock doesn't need to be emptied until it's full, which is where the 120-day timeline comes from.
In addition, the S7 MaxV Plus will mop, on top of vacuuming carpets, all in one go. Sonic vibration technology allows the mop and vacuum to clean more debris. A unique mop-lifting function will make sure the mop does not sully any carpets or rugs, especially while wet.
LiDAR navigation and 3D mapping technology ensure the vacuum can move about your home without getting stuck on or under furniture. You can also specify no-go and no-mop zones to keep it out of areas of your home that are problematic, or that you don't want to be cleaned. As if that weren't enough, thanks to a built-in system, you can check in on family and pets in real time using live video. Yes, that means you can video call anywhere in your home to talk to your kids or spouse or yell at Fido to get off the couch.
Most of all, we cannot stress enough the convenience and power the S7 MaxV Plus offers pet owners when it comes to cleanup time. Traditionally, hair and fur are not easy to clean even with a powerful vacuum, but this one makes it a breeze.
Here's what else it can do:
It works with Alexa and Google Home.
It has a child lock feature.
Fully-washable E12-rated air filters for unlimited reuse.
Advanced hazard recognition to avoid obstacles.
Multi-layered HEPA air filtration for better air quality.
ScratchSafe wheels and brushes that won't damage your home or furniture.
Much more.
Best affordable: Roborock Q5 Robot Vacuum — $300, was $430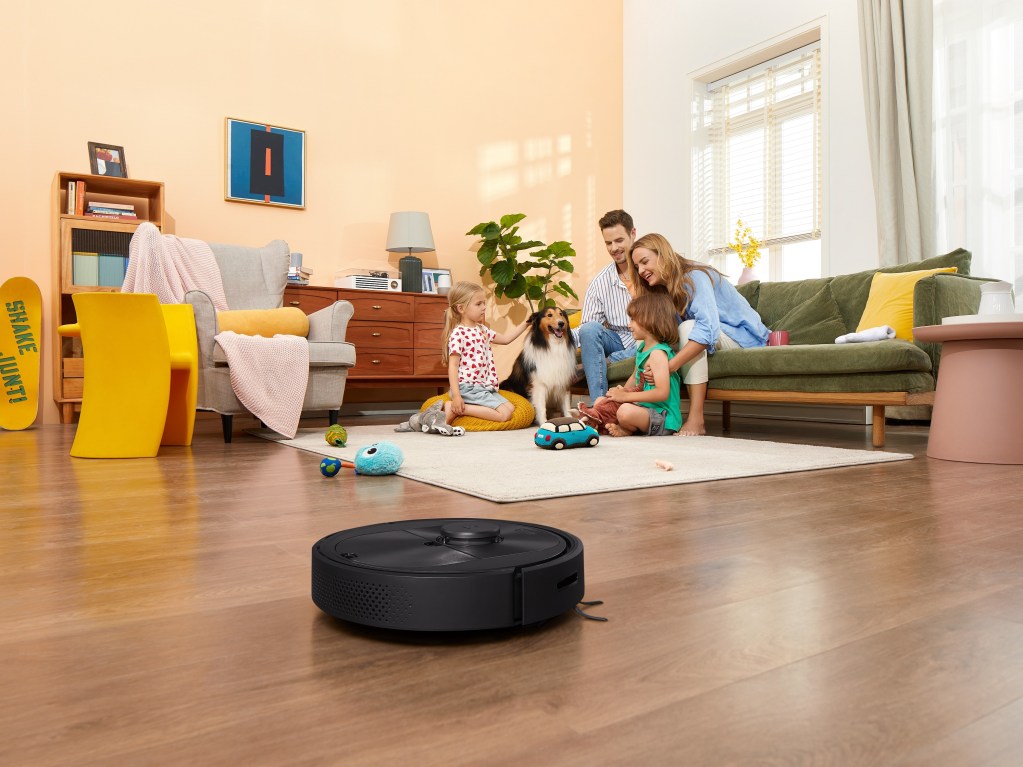 The Q5 is another robot vacuum capable of cleaning pet hair, but it's also budget-friendly. You can always spring for the Q5 Plus too, a blessing in disguise for pet owners, which comes with an auto-empty dock.
The Q5 features 2700-pascals of suction power, with a runtime of up to 180 minutes on a single charge. That means it will continue its powerful cleaning that long, before returning to its dock — and if you pair it with the auto-empty dock it can go even longer! LiDAR navigation with multi-level mapping means it can safely move around your home and keep things memorized in multi-story homes too. Of course, you can always specify no-go zones if you don't want a room or area patrolled.
It works with Alexa and Google Home, so you can start cleaning all via your voice. The low-seated floating rubber brushes sit closer to the floor, making the vacuum a much better tool for cleaning pet hair and related debris. It can truly deep clean the floors, rugs, and carpets during a standard pass. The powerful suction adds enhanced cleaning for uneven surfaces and terrain to boot. That means if you have a unique design in your home with a mixture of hard and soft surfaces, you don't have to worry about the Q5 getting around efficiently. It's a great little cleaning machine.
Here's what else it can do:
It can easily clean large homes of up to 3,230 square feet.
Low-profile and close to the ground for solid suction and cleaning.
Configure invisible walls and no-go zones to prevent patrolling.
Works with Alexa and Google Home voice assistants.
Auto-top-up means it will return to its dock to charge as needed, and continue cleaning after.
Advanced mobile app controls through the Roborock app.
Set up custom routines and cleaning sessions.
Best DIY: Dyad Cordless Wet-Dry Vacuum — $315, was $450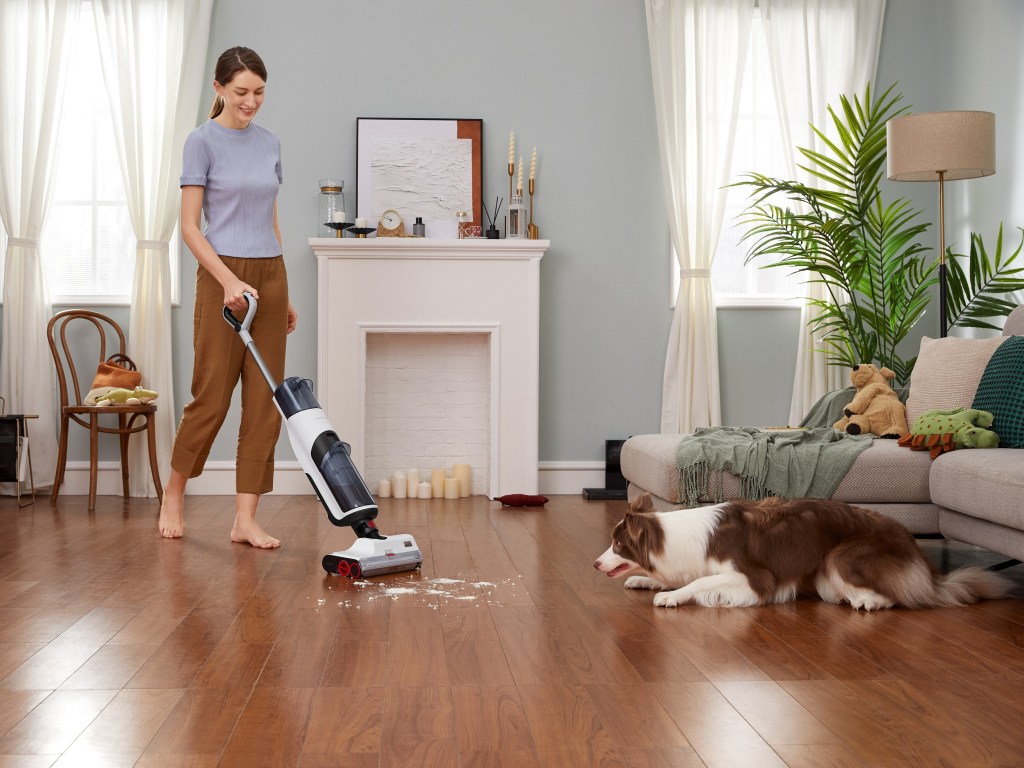 Look, sometimes you just want to take the reins and do it yourself — we get it. In that case, a robot vacuum isn't going to be your top pick, but this Dyad cordless vacuum just might. It offers a host of advanced features like adaptive cleaning, voice alerts, and a 180-degree rotating cleaning head, and it handles both wet and dry cleanups with ease.
Dual roller motors and a multi-roller head allow for better cleaning that can "vanquish" stains pretty easily. Edge-to-edge cleaning from the front roller means you won't miss anything on your first pass, and certainly not your second. Moreover, onboard sensors detect how much dirt is being cleaned, and then automatically adjust water flow and suction power. That way you get an optimized clean every time.
The super-agile cleaning head makes it easy to pass tougher areas, including corners and nooks, so nothing gets left behind. That's going to be phenomenal when you're trying to clean balls of fur and dirt that have accumulated in various areas around your home. The dual-tank design makes it easier to clean and empty too — as the wet and dry debris remains separate. After giving this one a try, you'll never want to go back to a regular vacuum again.
Here's what else it can do:
It has three cleaning modes: Auto, Max, and Drying.
Wash, vacuum, and mop all from one unit.
The 4,925mAh battery offers up to 35 minutes of cleaning per charge.
One-touch self-cleaning keeps the rollers fresh.
Voice alerts tell you important notifications during use.
An advanced digital display shows stats like dirt level, tank capacities, battery, errors, and more.
Roborock is an excellent cleaning companion
Like your furry friends, Roborock's robot vacuums make excellent companions, and they keep your house clean, reducing the amount of time you have to spend doing it all manually. That means you get more time with your best friend(s). Even with the Dryad, which is a standard manual vacuum, the entire process is made better through powerful suction and advanced features, like adaptive cleaning support. If you've ever had to stoop real low to pick up clumps of pet fur or scrape them out of corners and crevices, you'll be grateful to have one of Roborock's exceptional cleaning devices.
While the models featured here are some of the best, there are many more to choose from, and many more are on sale and worth checking out. You can always head on over to Roborock's storefront to see the rest! Don't forget, from October 11-15, you can save up to 44% off select models!
Editors' Recommendations