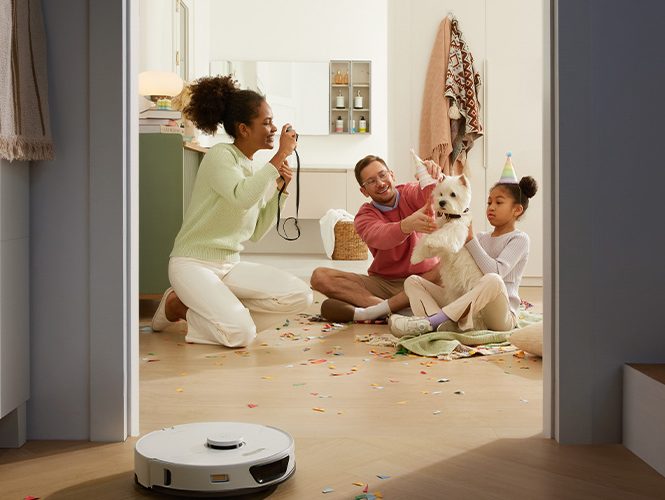 This content was produced in partnership with Roborock.
Admittedly, it's difficult to clean and avoid compromise when you have a beloved pooch or cat wandering around. Having a furry member of the family is fantastic but it does add to your cleaning routine. They're naturally messy, whether it's that time of year where they're shedding fur or they've just rushed through a muddy area outdoors they really shouldn't have, a clean home can be a challenge. The same is true if you have kids, as they also have a penchant for messes. If you skip cleaning one day, you'll have more to clean another day. Moreover, you can only kick that can down the road so much before you're living in filth and squalor.
Fortunately, there's an answer, and a convenient one at that. With the Roborock S7 Max Ultra patrolling your home, there's truly no reason why you need to compromise. It's designed to help you keep your home clean, your pets happy, and your time still your own. It's an incredibly convenient robot vacuum that will save you time and effort not only by keeping the house clean automatically, but also because it leverages several smart features — like self-cleaning or self-emptying for the dustbin. We're seriously impressed and we're excited to tell you all about it.
No compromise: Saving you time and effort
These days, there's no shortage of robot vacuums. Sure, a cheap and small robot vacuum will help a little when it comes to cleaning up dander and allergens, but you're almost certainly going to spend more time than you'd like cleaning up brushes on the device or simply having to order it around. That's before you even consider how well it cleans. If that cheap vacuum does a poor or ineffective job, well, guess what? You'll still be doing a pass or two around your home with a broom or mop.
The Roborock S7 Max Ultra changes that, by being way smarter and much more effective. It has a unique cleaning system that's part mop, part vacuum. After all, most homes have varying floor materials, maybe some wood and some carpets, right? Accurately cleaning and navigating these different environments is going to be key to a thorough run.
There's 5,500 Pascals of HyperForce suction power available here which — yes — is a lot, but that also means it does an excellent job sucking up all of the nasties. Its upgraded floating brush can stay close to uneven floors so it's fine if your house is a little less than perfect, and it gives them a nice scrub for good measure.
No compromise: Smarter than ever
The Roborock S7 Max Ultra can tackle all kinds of obstacles. It's smart enough to know how to dodge toys your child might have left in its path plus it has drop detection so it's not going to plummet down the stairs. Thanks to its LiDAR scanner, it's smart enough to map out your home learning the layout perhaps more intimately than even you know it. It means it can clean faster and more efficiently, all without you needing to get involved. If you do want to get more hands-on, you can set custom cleaning schedules based on your preferences but you can always ask your faithful Roborock S7 Max Ultra to clean the whole home with one tap of the app.
All of those smart features allow you more free time to kick up your feet and relax, or maybe some extra time to spend with your kids, family, and pets. The S7 Max Ultra does all the heavy lifting and even returns to its dock to keep itself going — whether that means emptying a full dustbin or recharging the battery.
That goes for mopping too. Its VibraRise mopping system is super smart. It can remove dried stains 30% more effectively than a traditional robot mop and we can only imagine how much faster that is than you having to do it yourself. It has high-speed scrubbing and provides consistent pressure on the floor so, honestly, it's better than you at mopping. A liftable brush and mop can completely isolate vacuuming and mopping in one single clean so you can divide up what needs doing.
Too tired after a long day of wrangling kids? Come home to a messy floor after a long day at work? Don't let either of these scenarios get you down — or anything comparable — because the S7 Max Ultra will clean while you wind down and enjoy some rest.
No compromise: Low-key maintenance
You're probably already thinking about maintenance. This is an electronic device and robot, after all, so how do you keep it clean? How do you keep it going run after run? Like we said, there's no need to compromise here. Once it's all set up, the Roborock S7 Max Ultra basically does everything for itself. It's self-drying so it can dry the mop and bottom of the dock so there are no pesky odors. It's also self-washing so you don't need to wash the mop yourself afterwards. It's capable of refilling its water tank automatically for a maximum mopping range of up to 3,230 square feet. For vacuuming, it's also self-cleaning and self-emptying with you not needing to worry about emptying anything for up to seven weeks.
Life is busy and the Roborock S7 Max Ultra gets that. You love having your dog rushing around but not so much the pet dander or cleaning involved with your furry companion's freedom. Fortunately, the Roborock S7 Max Ultra has your back. It's even smart enough to charge during off-peak hours to keep your electricity bills lower. You don't even have to micromanage when it charges or how much energy it's using. How's that for convenience?
Designed to make your life so much easier, the Roborock S7 Max Ultra costs from $1,300 and will be available starting June 1st. It's a worthwhile investment for anyone that constantly finds themselves short on time, and you're going to love how much cleaner your home becomes once you set the Roborock S7 Max Ultra to work. It truly cleans in your favor to bring you no compromises.
Editors' Recommendations