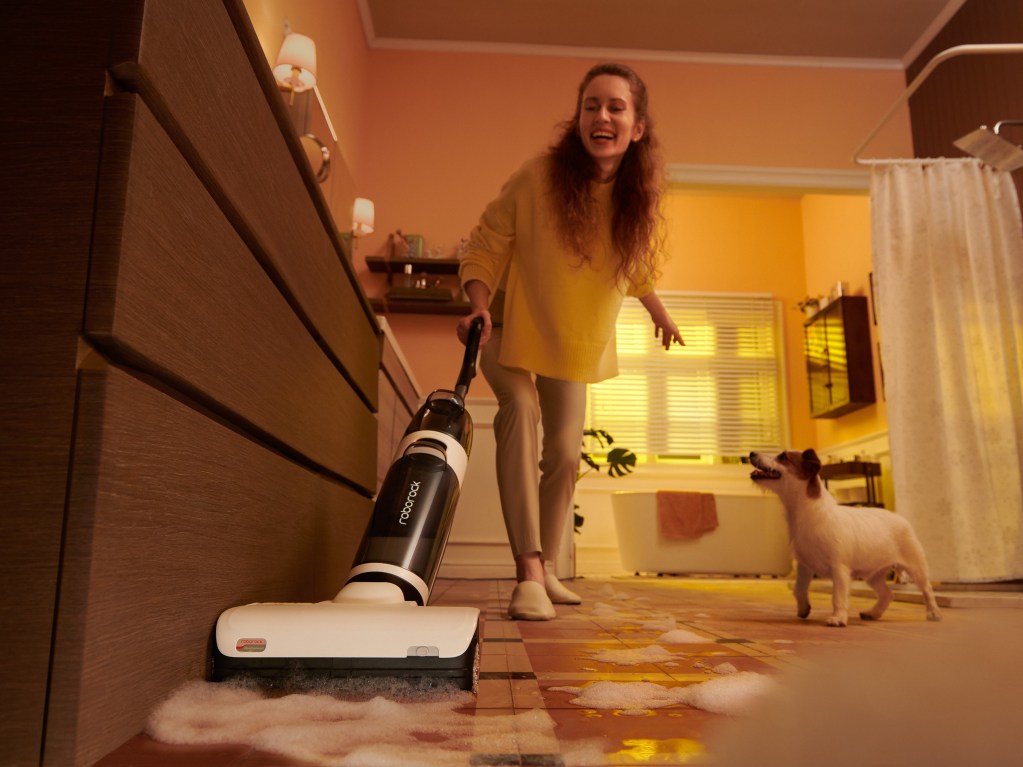 This content was produced in partnership with Roborock.
Whether you're dealing with potty messes, tracks that your furry companion brought in from the outside, or crumbs from treats and food, pet messes can be rough — or, should we say, ruff. That's because the messes can be stubborn and stick around if you're not there to clean them up immediately, especially liquid spills that dry or dust, mud, and dirt that tend to litter your floors. Whatever the case may be, you need some help cleaning, or more importantly, you need some time to relax, and you're not going to get that with all the work you have to do. But that's where Roborock's Dyad Pro wet and dry vacuum cleaner comes in handy. It speeds up and simplifies all that hard work, so you can get back to playing with little Fido and the rest of your family.
Here's the best part. For Prime Day, Roborock has discounted the Dyad Pro, so now's your chance to save $100, with the price down to $350 instead of its usual $450. Hurry, the deal won't be available for long, as is true of most Prime Day deals that are currently live. If you want to know more about the Dyad Pro, keep reading.
Why you should buy the Roborock Dyad Pro wet and dry vacuum cleaner
With most vacuums, you get the dry component, meaning the system is capable of cleaning dry messes, like minor spills, dirt, and all of that nonsense. But with Roborock's Dyad Pro, you can use the same device to clean both wet and dry misses, including some pretty wild spills. It offers 17,000 Pascals of suction power, which is incredibly strong, so nothing will escape its cleaning power. Plus, with the well-designed rollers, edge-to-edge cleaning design, a full-length front roller, and two rear rollers, this vacuum is a cleaning beast. It won't just bark; it roars.
Adaptive cleaning with Roborock's DirTect smart sensor means that it automatically adjusts both the cleaning power and water flow to match the dirtiness of the floor. The messier the surface, the harder the Dyad Pro works. Self-drying for the rollers means they auto-dry thanks to real hot air, so there are no lingering odors, and there's no extra work for you after a cleaning session. The RevoBrush self-cleaning rollers alternate scrubbing to clean debris out of those after each use, as well. It all comes together for a truly convenient and simplified vacuuming and mopping experience that's still wildly effective at getting rid of messes. And we all know how messy pets can be.
There are some spot-on extra features too! An auto-cleaning solution dispenser ensures that any cleaning solution you add is properly mixed with water and evenly sprayed on the rollers. You can also use voice alerts and app controls to adjust settings, change cleaning modes, turn on self-cleaning, and much more. Finally but not least is the large battery — with a 30% higher efficiency than comparable models — allowing you to clean for up to 43 minutes continuously, enough for about 300 square meters. You'll be able to clean your whole home and more at that rate.
Even with all of these features, it's best to look for a great deal, and that's precisely what Roborock is offering as part of the Amazon Prime Day festivities. Normally $450, you can grab the Dyad Pro on Amazon for $350, saving you $100, which you could effectively use elsewhere, maybe to get Fido some new toys. If you want a little more help cleaning your home, especially while keeping up with Fido's disarray, you can't go wrong with the Dyad Pro.
Now is also a great time to mention that Roborock is having a big sale to coincide with the Amazon Prime Day event. You can save big on not just the Dyad Pro but also a lot of other models, including smart vacuums and more. If you truly want a hands-free experience you might consider the Roborock Q Revo which auto-dries the mop, auto washes, self-refills, self-empties, and much more.
Editors' Recommendations